REQUIREMENTS TO THE EQUIPMENT OF PARTICIPANTS 
of the 2nd Youth KWU Kyokushin European Championship in weight categories, which will be held on 17.05.2019-19.05.2019 Berlin, Germany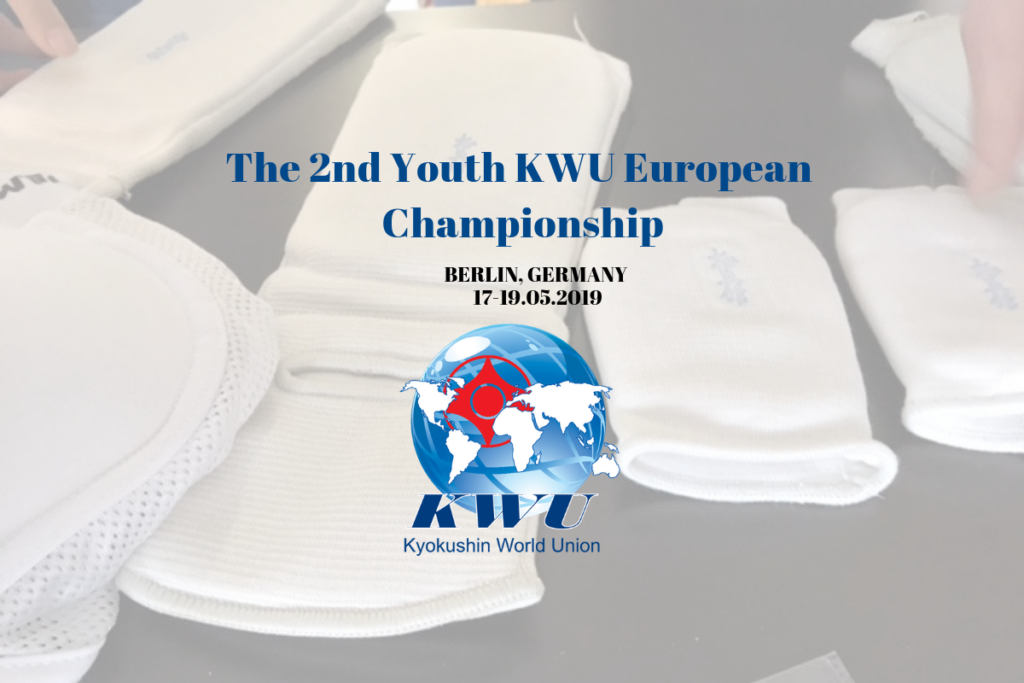 Each fighter, allowed to participate in the competitions, must have individual protective equipment.
Protective equipment must be of white colour and in good condition (clean, intact, without scuffs). The size of protective equipment must reliably protect the impacting surface of fists and shins.
ATTENTION! ALL THE PROTECTIVE EQUIPMENT MUST BE PRESENTED TO THE CREDENTIALS COMMITTEE!
We kindly draw your attention to the fact, that this provision is the most recent and actual, as it was updated. The deadline for applications is 13.04.2019.
Contact persons:
Alexey Demanov
+49 176 41 42 88 59
Prolet Vasileva
---
ТРЕБОВАНИЯ К ЭКИПИРОВКЕ УЧАСТНИКОВ ПЕРВЕНСТВА ЕВРОПЫ KWU ПО КИОКУСИНКАЙ, БЕРЛИН 2019
Каждый участник, допущенный к соревнованиям, должен иметь индивидуальное защитное снаряжение.
Защитное снаряжение должно быть белого цвета, в хорошем состоянии – чистое, целое, без потертостей с потерей цвета. Размер экипировки должен обеспечивать надежную защиту ударных поверхностей кулака и голени.
ВНИМАНИЕ! ЗАЩИТНОЕ СНАРЯЖЕНИЕ НЕОБХОДИМО ПРЕДЪЯВИТЬ НА КОМИССИИ ПО ДОПУСКУ!
ПОЛОЖЕНИЕ: Первенство Европы КВЮ 2019 год
Заявки от сборной команды каждой страны принимаются до 13.04.2019.
Контактные лица:
Алексей Деманов
E-Mail: dankezu@gmx.de
T:  +49 176 41 42 88 59
www.dankezu.de
Пролет Василева
E-Mail: prolet_vasileva@abv.bg
Просим Вас также ознакомиться с важной информацией для судей и кандидатов на судейство: Информация для судей, которые желают пройти судейский семинар и получить допуск к участию в судействе 
Список судей, утверждённых на судейство на Первенстве Европы
До встречи в Берлине!