25-29 May, participant from 6 Different State of India gathered together at a place called Digha in West Bengal State (India)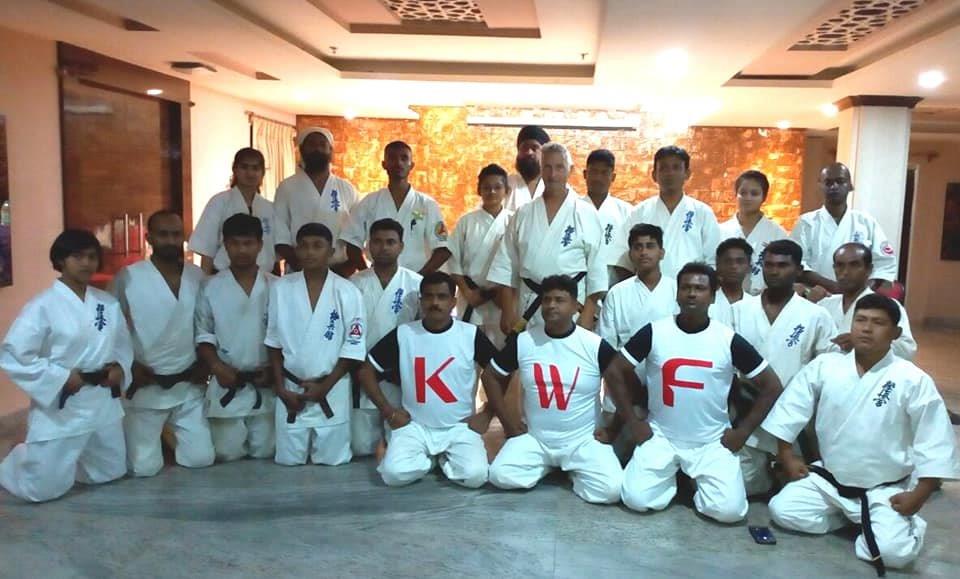 Over 130 participant boys and girls of different belt and around 18 Black Belts gone through a tough training schedule morning, afternoon, evening training. Shihan Antonio Pinero took a great trouble to come from the other end of the World and took a long long very tiring journey from Ibiza to Digha. Shihan was greatly welcomed and felicitated by every dojo INCHARGE of KWF. Students stood in line on both side of the road and when Shihan was walking to the Felicitation Area, all students were showering flowers on Shihan.
Training began at Sea Side and everyone went through a great learning from Shihan Antonio Pinero where he explained the fine details of Kyokushin. It was hard and tough training under the heat (45 Degree). Everyone was with a great spirit and enthusiasm. Boys and Girls were amazed by the teaching method of Shihan. They all agree today that KWF is the best organization in the World for Kyokushin who are holding the true spirit of Sosai.
18 Black Belts and 7 Brown Que attended the Referee and Judging Seminar. Shihan Antonio Pinero taken them through a thorough learning of KWF Fighting Rules. India KWF now got knowledgeable Corner Judge and Referee and will be able to manage tournament in a better way.
4 Nidan Appeared for Sandan, 3 Appeared for Nidan and 7 Appeared for Sodan but unfortunately 3 of them were under age and was refused by Shihan. They will wait till they are at the right age for Sodan. 11 Successful Participant got the Dan Promotion. All were greatly motivated by Shihan and now taking preparation to participate in Kazagisthan KWF World Tournament. This Summer Camp for India KWF will always be written in history as a stepping stone to build India in a big way in coming days.
OSU. INDIA KWF