The first open National Azerbaijan Championship, organized by the KWU Azerbaijan, was held among children, juniors, youth, men and women on the 2nd of November, 2019. The championship was attended by 240 athletes of Kyokushin-kan, KWF, IFK, IKO-Matsushima, Yasudakaikan, Kyokushin Union and Ashihara.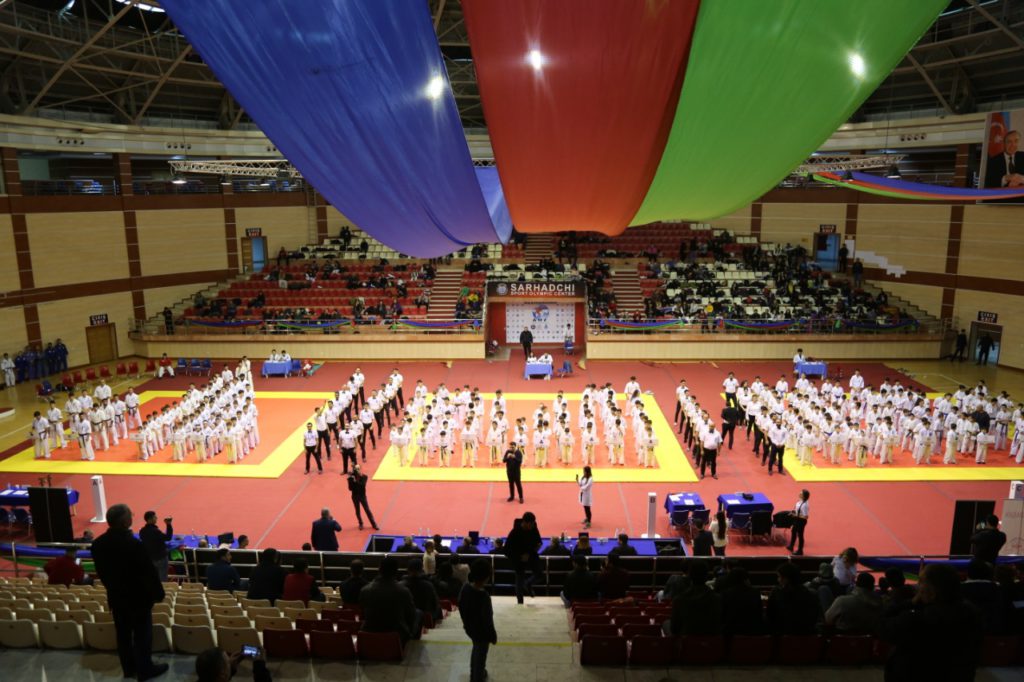 Prior to the start of the tournament, Galandar Aslanov, the Chief Judge of the Championship, gathered the team leaders, coaches and referees in the conference hall of the Sarhadchi Sports Olympic Center and instructed the referees to avoid negative situations during the fights. Then the fights were started at 3 tatamis.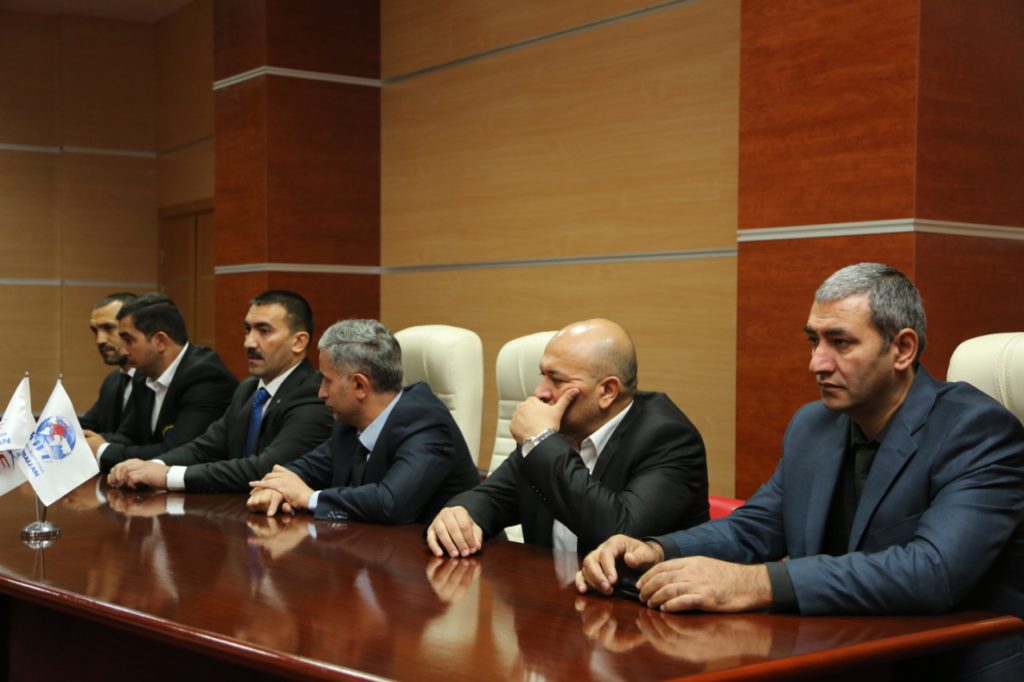 At 14:00 the official opening ceremony of the championship was held. The leaders of the organization were promised to congratulate the athletes. On behalf of the President of the Association Azer Hasansoy, the Secretary-General of the Azerbaijan Fighting Federation congratulated the athletes and wished them success. Among the speakers, Deputy Director of the Ministry of Education of the Republic of Azerbaijan, the Republican Center for Physical Culture and Sports Tahir Shamilov congratulated the contestants on behalf of the director of the center Giyas Najafov and presented honorary medals to successful athletes at the international and national championships in the 2018-2019 academic year. The championship was also attended by the head of the sector of the Ministry of Youth and Sport of Azerbaijan and representative of Baku City Youth and Sports Department. At the end of the speech, the chairman of the Kyokushin World Union – Azerbaijan, an international referee and honored coach – Galandar Aslanov greeted the participants, parents, referees, and guests, wished them success and briefed on the upcoming competitions.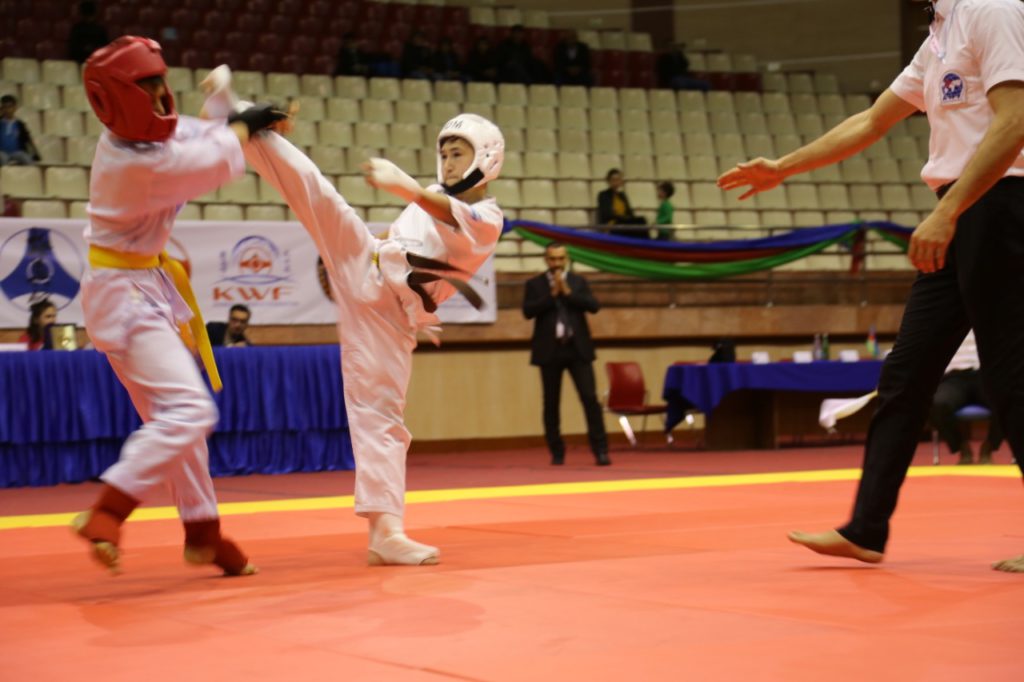 The championship continued with the semifinal and final fights following the opening ceremony. The winners were awarded medals, diplomas, and gifts. By the number of medals in the team event, the Kyokushin-kan team took the first place, the IFK team took the second place, the KWF team took the third place. Other medals were won by the Samurai sports club, Yasudakaikan organization, Ashihara organization, and clubs.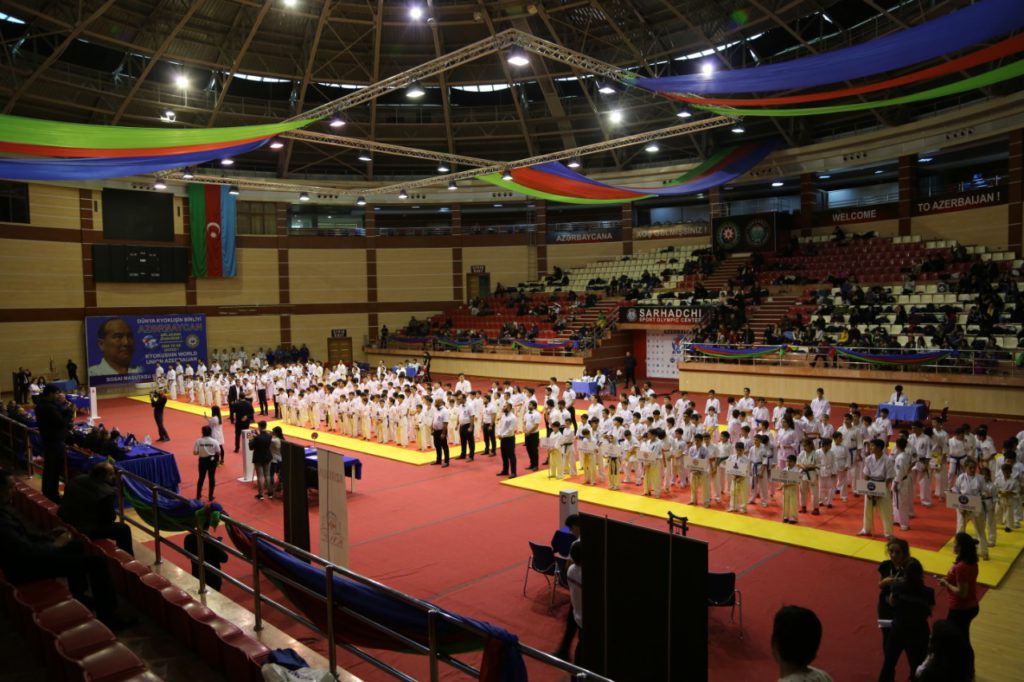 8 – 9 years old – 25 kg
Abbasli Rayyan – (Kankuday club)
Nasirov Elman – (Kyokushin Union organization)
Ibrahimli Ughur – (IFK organization)
Azimli Sunar – (Ughur club)
8 – 9 years old – 30 kg
Huseynzada Mahammadali – (Kyokushin-kan organization)
Humbatli Khalid – (Kankuday club)
Piriyev Oghuzkhan – (Ashihara organization)
Abdullayev Said – (Katana club)
8 – 9 years old – 35 kg
Safarli Safar – (Kyokushin-kan organization)
Valiyev Zamir – (Vətən club)
Shabanov Renat – (Zaqatala rayonu)
Ahmadov Shakir – (Kyokushin-kan organization)
8 – 9 years old + 35 kg
Mammadli Jusif – (Kankuday club)
Pashayev Atilla – (Kankuday club)
Sharifov Ramal – (Masallı rayonu)
Salamov Javad – (Kyokushin-kan organization)
10 – 11 years old – 30 kg
Gafarli Muzaffar – (IFK organization)
Mammadli Chingiz – (Masallı)
Ibrahimli Nijat – (IFK organization)
Rasulov Farid – (Kankuday club)
10 – 11 years old – 35 kg
Musayev Heydar – (Kankuday club)
Abdulrazimov Polad – (Kankuday club)
Huseynov Nihad – (Kyokushin Union)
Alikhanov Arzu – (Mubariz sports club)
10 – 11 years old – 40 kg
Gafarov Mahammad – (IFK organization)
Khichikbayov Ali – (Masallı rayonu)
Huseynli Khanoglan – (Kankuday club)
Jusubov Sadig – (Khazar sports club)
10 – 11 years old – 45 kg
Baghirov Ravan – (Yasudakaikan organization)
Shikhbalayev Eljan – (Xudat şəh.Mübariz idman klubu)
Aliyev Yagub – (Ughur sports club)
Ahmadzada Mirkamil – (Yasudakaikan organization)
10 – 11 years old – 50 kg
Guliyev Said – (Torakay club)
Khasiyev Javadkhan – (Ashihara organization)
Aliyev Nihad – (Yasudakaikan organization)
Banatiyev Jafar – (Kankuday club)
10 – 11 years old + 50 kg
Hacıyev Arif – (Samuray sports club)
Hüseynov Ramil – (Ashihara organization)
Zeynalov Huseyn (Kyokushin-kan organization)
Sadatov Amil – (IKO-Matsushima organization)
12 – 13 years old – 35 kg
Huseynov Mehdi – (Kyokushin-kan organization)
Aliyev Heydarali – (Kankuday club)
Asadli Said – (IFK organization)
Huseynzada Rafig – (Kyokushin-kan organization)
12 – 13 years old – 40 kg
Mursalli Alam – (Kankuday club)
Sadigli Nijat – (Kyokushin-kan organization)
Abiyev Nihad – (Kankuday club)
Ahmadov Ali – (Katana club)
12 – 13 years old – 45 kg
Gurbanov Shahlar – (IFK Garadagh)
Mammadli Zakir – (Kankuday Club)
Aliyev Turan – (Masallı rayonu)
Ahmadov Riyad – (Ashihara organization)
12 – 13 years old – 50 kg
Suleymanov Emil – (Kyokushin-kan organization)
Bayramzada Kanan – (Ashihara organization)
Amirkhanli Tunjay – (Ughur club)
Hajizada Aykhan – (Ashihara organization)
12 – 13 years old – 55 kg
Gurbanov Shahin – (IFK Gharadagh)
Teymurov Jusif – (Samuray sports club)
Ahmadzade Goshghar – (Kyokushin-kan organization)
Salimov Turan – (Jasur club)
12 – 13 years old + 55 kg
Guliyev Ughur – (Kyokushin-kan organization)
Əlirzayev Nijat – (Kyokushin-kan organization)
Teymurov Niyaz – (Samuray sports club)
Aliyev Ayyub – (Ughur club)
14 – 15 years old – 45 kg
İsayev Kənan – (IFK organization)
Bəbirov Kamil – (Masalli rayonu)
Nasirli Toghrul – (Khazar sports club)
Aliyev Aghaali – (Kyokushin-kan organization)
14 – 15 years old – 50 kg
Mammadov Amil – (IFK Gharadagh)
Khalilzada Muhammad – (IFK organization)
Javadli Eljan – (Kyokuşin-kan organization)
Nuriyev Alimammad – (Samray sports club)
14 – 15 years old – 55 kg
Balakishiyev Parviz – (IFK Gharadagh)
Suleymanov Vugar – (Ashihara organization)
Aslanov Farhad – (Kyokushin-kan organization)
Aghabeyov Hasan – (Mubariz sports club)
14 – 15 years old – 60 kg
Mustafazada Amin – (Kyokushin-kan organization)
Aliyev Vagif – (Samuray sports club)
Ismailov Elgun – (Ashihara organization)
Mammadov Arzu – (Katana club)
14 – 15 years old – 65 kg
Hashimov Murad – (IFK organization)
Sadigov Kanan – (Sadarak sports club)
Orujov Shahin – (IKO Matsushima organization)
Gadirli Huseyn – (Kyokushin-kan organization)
14 – 15 years old + 65 kg
Jabbarlı Tunar – (Kyokushin-kan organization)
Ghojayev Nihad – (Samuray sports club)
Gasimzada Orkhan – (Kankuday club)
Mirzayev Sabir – (Sadarak sports club)
16 – 17 years old – 55 kg
Aliyev Vagif – (IFK organization)
Maharramov Rahid – (Masalli rayonu)
Alakbarov Masud – (Torakay club)
Safarov Imran – (Kyokushin-kan organization)
16 – 17 years old – 60 kg
Sadigov Elman – (Masalli rayonu)
Panahov Khayal – (Kankuday club)
Mammadov Abasgulu – (Torakay club)
Rustamli Yusif – (Kyokushin-kan organization)
16 – 17 years old + 60 kg
Yagubov Kanan – (Kankuday club)
Huseynov Farzali – (Kyokushin Union)
Valiyev Ulfat – (Ashihara organization)
Allahverdiyev Ravan – (Kyokushin-kan organization)
Men – 60 kg
Abdullazada Ilgar – (IFK organization)
Aliyev Tughay – (Kankuday club)
Aliyev Shamkhal – (Samuray sports club)
Jafarli Jabbar – (Yasudakaykan organization)
Men – 70 kg
Mammadov Samran – (IFK organization)
Afandiyev Ramil – (Kankuday club)
Adilzada Khalid – (Masalli rayonu)
Asgarov Akbar– (Ashihara organization)
Men + 70 kg
Namazov Seyfaddin – (Kempo club)
Nughayev Emin – (Khazar sports club)
Hajiyev Oruj – (Ashihara organization)
Omarov Khalig – (Yasudakaikan organization)
Women – 60 kg
Suleymanova Laman – (Kankuday club)
Mahmudova Aysel – (Mubariz sports club)
Khudiyeva Leyla – (Kyokushin-kan organization)
Women – 65 kg
Gharari Nastaran – (Kyokushin-kan organization)
Samadova Gullu – (Katana club)
Aslanli Nigar – (Kyokushin-kan organization)
Women + 65 kg
Kheyrullahniya Nesa – (Kyokushin-kan organization)
Ghalabayova Narmina – (Kankuday club)