About Sensei Nicholas Pettas: After being beaten up in a street fight when he was fourteen, he decided to join a karate school to learn to defend himself. Not knowing which styles there were, he was introduced to Kyokushin by Michael Mattheson, a friend of his brother Tony. He found himself a new following and needed no more schooling, so at the age of eighteen decided to leave high school to save up money to go to Japan and study with Masutatsu Oyama, the founder of Kyokushin. After getting permission to join the uchi-deshi program, a live-in training of 1000 days, he moved to Japan from Denmark at the age of eighteen. At the age of twenty-one, he completed the rigorous training course to become the second non-Japanese ever to finalize the program (the first being Judd Reid). He was the last uchi-deshi of Master Oyama, who died soon after Pettas' graduation.
After he graduated from the program, he competed in several tournaments and achieved many significant titles and honors such as reaching the title European Karate Championships and placing 5th and 3rd place in the World Championships, respectively in 1995 and 1997.
Read the interview that Sensei Nicholas Pettas give to www.kick24.info in 1997
Many martial arts fans dream of living and training in Japan. Tough training and learning "secret" techniques that nobody in Germany knows are often associated with it. In addition, there is also the spiritual-ethical component, and after a short time, you are both a perfect fighter and a sage. One way or another, it is presented to us in numerous martial arts films. But the truth is different too. We looked around Japan and interviewed foreigners who eke out an existence in Japan as an uchi-deshi (internal students, ie they live in the dojo). But not at any karate club, but in the Kyokushinkai Honbu Dojo, the toughest dojo in the world (at least Kyokushinkai Karate is described by many as the "toughest karate in the world", and so it is is can be assumed that the Honbu Dojo is the toughest in the world). The interviewee was not just any athlete, but a very well-known athlete.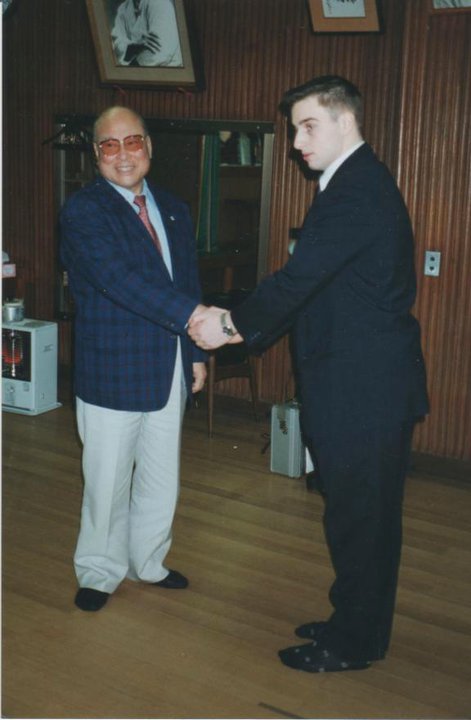 KICK: Could you please briefly introduce yourself to our readers?
Pettas: My name is Nicolas Pettas. I'm from Denmark, I'm 24 years old, I've been doing karate for ten years and I'm a third dan. I was at the 1995 European Championships and 5th at the 1995 World Championships. At the 1997 Karate World Games, I was 3rd super heavyweight.
KICK: How long have you been in Japan?
Pettas: For seven years, of which I lived as an uchi-deshi for the first four years.
KICK: How did you get to Japan?
Pettas: At the age of 14 I started Kyokushin Karate with Humberto Budtz in Denmark. After a year and a half of training, I told him that I wanted to go to Japan for training. Then he just laughed. He had been in Japan for a year and he knew why. I asked him again later and he said I should give it a try. I wrote a letter to Honbu Dojo and Oyama Sosai wrote back that I could come in April. The Uchi Deshi program at the Honbu Dojo lasts for three years. After three years, Oyama asked me if I wanted to stay. I said I had no money and he replied that I could teach at Honbu Dojo to earn money. So I stayed.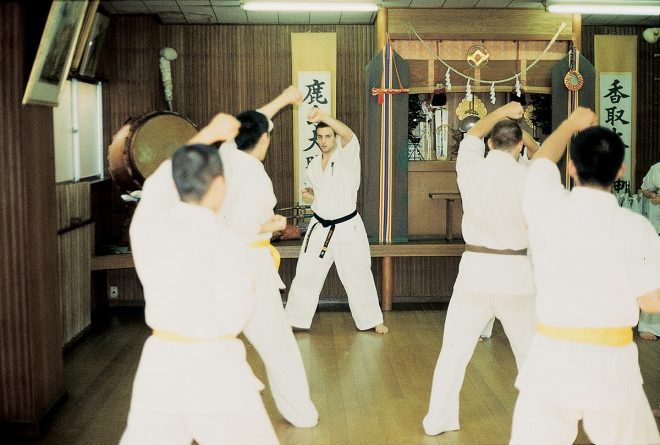 KICK: What does a typical uchi-deshi day look like?
Pettas: At 6:30 you start cleaning in front of the dojo. The first training is from 7:00 to 8:00. Mostly conditioning, running, and weight training. Breakfast is at 8:30 a.m. At 9:30 the morning ceremony takes place. all the Uchi-deshis and instructors gather in the dojo, Kancho Matsui comes and reads out the schedule for the day. But that's nothing out of the ordinary, Japanese companies do that too. After that, there are two more training sessions that the Uchi-deshis have to attend. There are also special training units: fighting classes, black belt classes, etc. As an uchi-deshi, you often have to teach the children's classes or do temporary work, for example teaching the white belts during normal training.
KICK: What are the problems with that?
Pettas: The biggest problem is that you don't have a private life. To be an uchi deshi, one must be available 24 hours a day. One must always be at the service of one's sempai (higher, higher graduate) one must not walk slowly, one must always run. Another problem is the language. When I came to Japan I didn't know any Japanese, which made it incredibly difficult to deal with the other uchi deshis. Then there was the psychological pressure. Each of the uchi deshis wanted to be the best, and there was a lot of competition. Especially towards the non-Japanese. Your sempais beat you up in training. The mental stress was the worst at the beginning. I was well prepared for the physical exertion when I came here, but not the mental side. After a year it went. That's when I got my black belt exam. As a dan bearer, you have a normal life again. Who helped me a lot was Sosai Oyama. He always lifted me up. For example, he brought me forward to show Mae-keage, even though I was still a color belt and there were third and fourth dan holders. I was already well stretched by then, so it wasn't a problem to show it off.
Pettas: One thing to keep in mind when you come here is that Japan is extremely expensive. I could live for a long time in Denmark on the money I need here in one month. Added to this is the stress from the people. Tokyo is a big city with almost 15 million inhabitants. There are people everywhere. If you're not used to it, it can really get you down. In that sense, training has always been a kind of escape from reality for me. When I stand in the dojo with the others and do my kiais, I just feel good.
KICK: When it comes to competition, Kyokushin is known for being "Japanese". It is often not possible for foreign fighters to win against the Japanese because all judges are Japanese. Many well-known fighters such as Andy Hug, Michael Thompson, Gerard Gordeau, and Peter Smit have stopped using the Kyokushin because of this. What do you say to that?
Pettas: That's true, but I think you have to bow to the system. In the long run, that makes us stronger. If we do our best and we still can't win, next time we just have to try harder. But there have been a lot of changes here lately. Sport has become fairer. Among other things, the Japanese see that we won't let ourselves down.
KICK: Those were nice closing words. Thank you for the interview and good luck.
Pettas: Thank you. We can use that too.