Toshio Fujiwara was born on March 3rd, 1948 in the city of Iwate Miyako which is situated in 300 km the North of Tokyo.
Toshio Fujiwara left for Tokyo to study. To finance his studies, he's a deliveryman half-time milk. During his tour, he delivers milk to a martial arts club, the Mejiro Gym. It's in this club which was established by Kenji Kurosaki that he discovers 1969 a new contact sport, Kickboxing. Kenji Kurosaki was the pioneer of Kickboxing in Japan in the 70s, he created his club in the district of Mejiro of the district from Toshima to Tokyo and named it simply "Mejiro Gym".
Kenji Kurosaki created 1953 with Mas Oyama a style of karate which is called Kyokushinkai (The ultimate truth), this style of karate is very hard and authorizes the KO.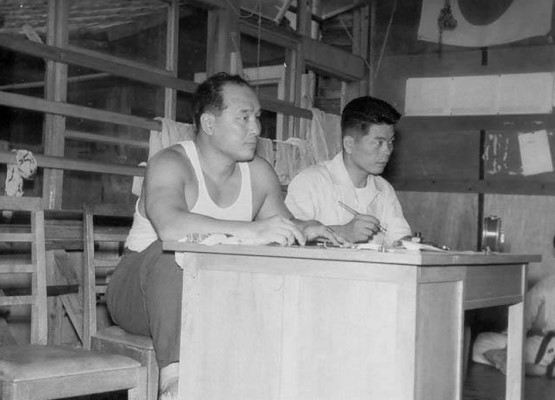 SENSEI MAS OYAMA AND SENSEI KENJI KUROSAKI
Kenji Kurosaki makes several journeys in Thailand in the 60s and in he comes back to Thailand with master Naront Siri, they develop Kickboxing in Japan. The Japanese Kickboxing practiced in the 60s was a shape of Muay Thai which also included techniques of Karate Kyokushinkai. There was a clinch, knocks of knees and pokes, more the projections authorized the passage of hips. The rounds were of 3 minutes also but the minute of rest lasted one minute against one minute thirty in Thailand.
Master Kurosaki has had many great champions as pupils such as Mitsuo Shima, Kunimitsu Okao, and Toshio Fujiwara.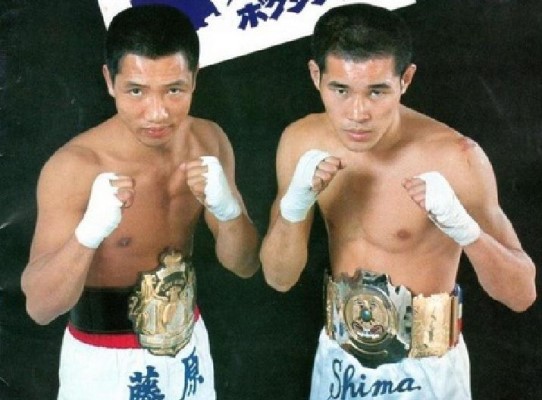 BOTH PEARLS WERE FORMED BY MASTER KUROSAKI, TOSHIO FUJIWARA, AND MITSUO SHIMA
There are so many foreigners who came to Mejiro Gym in the 70s as Jon Bluming, Jan Van Looijen, Jan Plas, and Peter Van de Hemel. It's these Dutch boxers who then imported kickboxing and Muay Thai to the Netherlands. Jan Plas moreover based, in 1978, his club in Amsterdam which he named Mejiro Gym in reference to his professor Kurosaki. A mythical club of which the biggest champions Dutch went out as Lucien Carbin, Johan Vos, Rob Kaman, André Brilleman, Fred Royers, Milo el Geubli, Mustafa Yamali, Tom Van de Berg, André Mannaart, Leo de Snoo, Remy Bonjasky.
For his first professional fight in Kick Boxing Toshio Fujiwara beat by KO in the second round Sakai Takao on 1 October 1969. But he then lost to points against Thai Nanpon Cartesuk and suffered another defeat at points against Thai Sakuchai Rakanton. On December 19, he beat Sakamoto Eiji by points.
In 1970, he fought 21 fights, fought every fifteen days, and wins against all his opponents. Of his 21 fights, he won 16 by knockout, including 4 in the first round and five points victories, nobody can stop the Japanese war machine…
The year 1971 is also performed with victories, on his 17 fights, the Japanese takes away 16 fights by KO among which three in the first round. But he loses by referee stop against the Thai Srasak Wayupak. Toshio Fujiwara fights enormously, he makes many hard fights and is going to be often hurt, which is why he's going to lose some fights by stopping wounds. Japanese has sudden several operations because of his wounds during his long career…
Toshi Fujiwara won his first major trophy on 5 November 1971, winning the All Japan Kickboxing Association (AJKA) by defeating Tamaki Yoshimitsu at the points. He then defended this title AJKA six times, a title that is the equivalent of a Japanese champion in Kick Boxing.
In the year 1973, Toshio Fujiwara has suddenly only one defeat in his 16 fights.
---
1978 is the year of the consecration for Toshio Fujiwara because it will win the famous belt of the mythical stadium of Ratchadamnoen.
On March 18th, 1978, in Japan, in Tokyo, Toshio Fujiwara faces the champion of the Radja titular, the Thai Mongsawan Ruk Changmai. The belt of the stadium of Radja in 135 lbs (-61 kg) made for the first time outside the Thailand. Toshio Fujiwara is determined to gain a victory, he will declare later " I was ready to die on the boxing ring to have this title, no matter if I had an arm or a broken leg, I had to gain! ". The Japanese made perfect performance fight, beating by KO Mongsawan in the fourth round and becoming champion of the Radja in 135 lbs (- 61 Kg). Toshio Fujiwara go down in history of Muay Thai by becoming the first foreigner in the world to win a title from a Thai stadium!
For his last fight, on February 5th, 1983, in Korakuen Hall of Tokyo, Toshio Fujiwara meets a young Japanese very strong champion who is called Adachi Hidéo. Toshio Fujiwara loses first round in points but he puts finally his fellow countryman KO in the third round. Toshio Fujiwara definitively retires boxing rings in 35 years…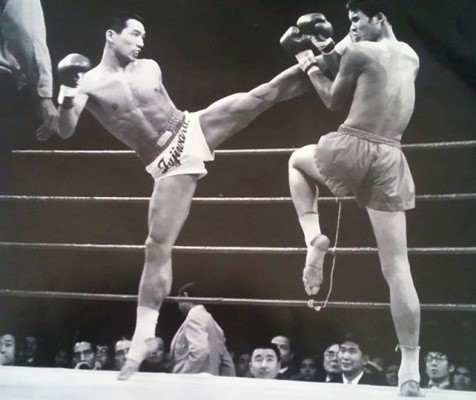 Toshio Fujiwara, during his career in Thai boxing, faced 109 Thai fighters, he beat 77 by KO and 19 by points, he lost in points against 7 Thai and by referee stop against 5 Thai, and he made a draw. He met 30 Japanese fighters with 20 victories by KO, 8 wins on points, a defeat by referee stop, and a draw. Finally, Toshio Fujiwara was brought down by KO two American champions!
He made all his fights in the category of – 61 Kg. Toshio Fujiwara fought only in Japan and Thailand. Thailand is the only foreign country where it has fought. He practically did all his great matches in Thailand and when he was going to prepare himself in Thailand, he went to the camp of the famous Put Laolek, a camp that Put Laolek had opened at the time, in the suburbs of Bangkok.
His fighting number is 141 fights for 126 wins with 13 losses and 2 draws. Toshio Fujiwara won 99 fights by knockout, including 16 in the first round, a real record. He won the Ratchadamnoen stadium belt, four times the World Championship belt, and seven times the Japanese championship title. This great Japanese champion has marked the history of Muay Thai forever!
In 1997, Toshio Fujiwara went up his gym and named it "Fujiwara Gym", the gym is in the district from Arakawa to Tokyo. He formed many champions, one of his most famous pupils is Satoshi Kobayashi (World champion WKA, world champion WPKC), a formidable fighter who beat by KO the great champions Jean-Charles Skarbowsky, Tepparit Por Tawatchai, and Yigin Osman and faced the Thai terror such as Buakaw, Samkor, Namsaknoi.
---
by Serge TREFEU (2017)