Masutatsu Oyama (大山 倍達)
In 1953 Sosai Oyama opened his own karate dojo, named Oyama Dojo, in Tokyo but continued to travel around Japan and the world giving martial arts demonstrations, including the fighting and killing of live bulls with his bare hands (sometimes grabbing them by the horn, and snapping the horn off). His dojo was first located outside in an empty lot but eventually moved into a ballet school in 1956. The senior instructors under him were K. Mizushima, E. Yasuda, M. ishibashi, and T. Minamimoto. Oyama's own curriculum soon developed a reputation as a tough, intense, hard-hitting but practical style which was finally named Kyokushin. Which means 'the ultimate truth,' in a ceremony in 1957. He also developed a reputation for being 'rough' with his students, as the training sessions were grueling and students injuring themselves in practice fighting (kumite) was quite common. Along with practice fighting that distinguished Oyama's teaching style from other karate schools, emphasis on breaking objects such as boards, tiles. Or bricks to measure one's offensive ability became Kyokushin's trademark. Oyama believed in the practical application of karate and declared that ignoring 'breaking practice is no more useful than a fruit tree that bears no fruit.  As the reputation of the dojo grew students were attracted to come to train there from inside and outside Japan and the number of students grew. Many of the eventual senior leaders of today's various Kyokushin based organisations began training in the style during this time. In 1964 Oyama moved the dojo into the building that would from then on serve as the Kyokushin home dojo and world headquarters. In connection with this he also formally founded the 'International Karate Organization Kyokushin kaikan' (commonly abbreviated to IKO or IKOK) to organise the many schools that were by then teaching the kyokushin style.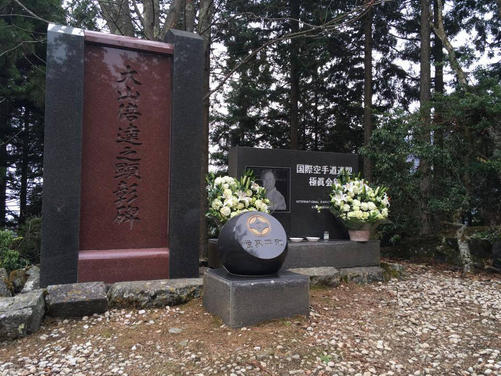 In 1969, Oyama staged the first All-Japan Full Contact Karate Open Championships which took Japan. Terutomo Yamazaki became the first champion, which have been held every year since. In 1975, the first World Full Contact Karate Open Championships were held in Tokyo. World championships have been held at four-yearly intervals since. After formally establishing Kyokushin-kai, Oyama directed the organization through a period of expansion. Oyama and his staff of hand-picked instructors displayed great ability in marketing the style and gaining new members[citation needed]. Oyama would choose an instructor to open a dojo in another town or city in Japan. Whereupon the instructor would move to that town, and, typically demonstrate his karate skills in public places. Such as at the civic gymnasium, the local police gym (where many judo students would practice), a local park, or conduct martial arts demonstrations at local festivals or school events. In this way, the instructor would soon gain a few students for his new dojo. After that, word of mouth would spread through the local area until the dojo had a dedicated core of students.
Oyama also sent instructors to other countries such as the United States, Netherlands, England, Australia and Brazil to spread Kyokushin in the same way. Oyama also promoted Kyokushin by holding The All-Japan Full Contact Karate Open Championships. Every year and World Full Contact Karate Open Championships once every four years in which anyone could enter from any style.
Before dying, Sosai built his Tokyo-based International Karate Organization, Kyokushinkai, into one of the world's foremost martial arts associations, with branches in more than 120 countries boasting over 10 million registered members.