Do not allow anyone to swing a sharp sword at you. You'd think that would be common sense—like "Don't walk in front of a speeding bus." Apparently, though, while people walking directly and deliberately in front of oncoming traffic is blessedly rare, it's fairly easy to see videos of people in a dojo or a demo standing or sitting while some "master" swings a sharp sword at them. Sometimes, they're prostrate, with watermelon or some other fruit on their exposed belly, allowing Master Bozo to hack it to pieces. Other times, they're in various poses, looking like department-store mannequins, holding fresh produce in different ways while the master wanders around, whacking away as if he's creating a salad. This is almost insanely stupid. Let's get some initial observations out of the way. First, cutting fruits and veggies laid on bare skin or held in the hand without cutting into the flesh below is easy to do, even with a dull blade. Japanese swords cut not from the touch but from the horizontal sawing action. Teachers in classical swords schools in Japan sometimes explain the mechanics of good cutting by tapping a blade against their palm. As long as they just hit straight on, the blade, although razor-sharp, doesn't cut. Further, just as it's possible to slice into the rind of melon and split it using a butter knife, a dull sword can work the same way. So these masters aren't proving anything about their supposedly incredible control.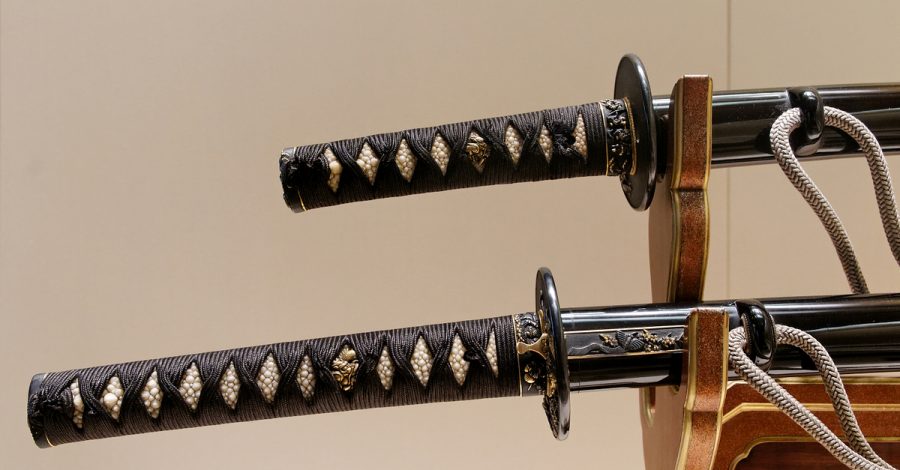 Second, no classical school of Japanese swordsmanship has any training that's even remotely like this. Chopping stuff balanced on a student's body has never been an aspect of traditional martial arts. No matter what ridiculous tale has been told to you by the master in question, aside from solo iai training designed to teach students how to get the sword out of the scabbard and cut with it, live blades almost never appear in a classical dojo.
Certainly, they're never used to slice and dice. For one thing, it's too dangerous. Even among experts, accidents happen. Exponents of these old schools regularly get bruises and dings from dull wooden bokken. What would happen with just a tiny slip or error in distancing when using a live blade? Contrary to a lot of romantic goofiness, the traditional martial arts weren't about courting death; they were about building a strong, cohesive unit that could protect the group. You don't do that by killing or maiming your own guys in training.
For another, swords are too expensive to be put to such abuse regularly.
What exactly is the point of such demonstrations then? Are they intended to impress an audience? To show how great the master is? If so, somebody's got an ego problem.
If they're to bring in students who are supposed to want to learn from this guy, it's not particularly effective. Were I to witness one of these displays, I'd be tempted to ask the master if he'd switch places with his student. Isn't the proof of a good teacher in his student? Shouldn't he be willing to risk his safety to demonstrate the quality of his students? After all, he's asking those students to do that for him.
There's always been a romance, a mystique, about the Japanese sword. Tales of its incredible sharpness and power are legendary. A lot of tripe has been written about how it was the "soul of the samurai." (In reality, it was a tool. Tools in Japan, whether a warrior's sword or a carpenter's saw, have always been thought to have an indwelling spirit, and they're typically treated with respect we don't have for tools in the West.) So a lot of martial artists take up the sword in their dojo, even if the dojo is devoted to karate or some other art that doesn't involve such weapons. That's a sure sign of trouble.
Japanese budo teachers are not immune to this. I've seen Japanese karate teachers suddenly appear at tournaments, outfitted in hakama and wearing a sword, doing some sort of kata they've created, clearly imagining they're embodying the spirit of their ancient samurai ancestors.
It's all laughable. Until there's an accident. And the master is standing there, watching the paramedics wade through a pool of blood to work on the student. At best, these displays pervert the real nature of the martial arts. At worst, they can cost someone his life.
There's no reason, rationale, or legitimate explanation for putting yourself in the path of a sword during a demonstration. Trust your teacher, yes, but do not throw away your common sense. Do not, if such a demo is being planned in your dojo, be afraid to ask questions. What's the point of the stunt? What's the risk if something goes wrong? And who, exactly, will suffer if something does go wrong?
In a classical dojo, the teacher or the senior always takes the role of the attacker first during training. He puts himself in harm's way for the sake of the student. That's not a tradition in the modern budo like karate, and that's fine. If the teacher wishes to make himself the center of attention in public, that's his right. However, if a teacher is asking you to risk your health or your life, it's time to think about what's really going on.
By Black Belt Magazine