Originally posted on CONTACT KICKS:
My name is Steve Fogarasi, I am 42 years old and I have been practicing karate for 27 years. I hold a black belt 3rd Dan under the IFK (International Federation of Karate – Hanshi Steve Arneil) and I represent Canada. Currently I am the owner and operator of Contact Kicks Martial Arts in Toronto. [Editor's note: Sensei Fogarasi is now 4th Dan – 2015]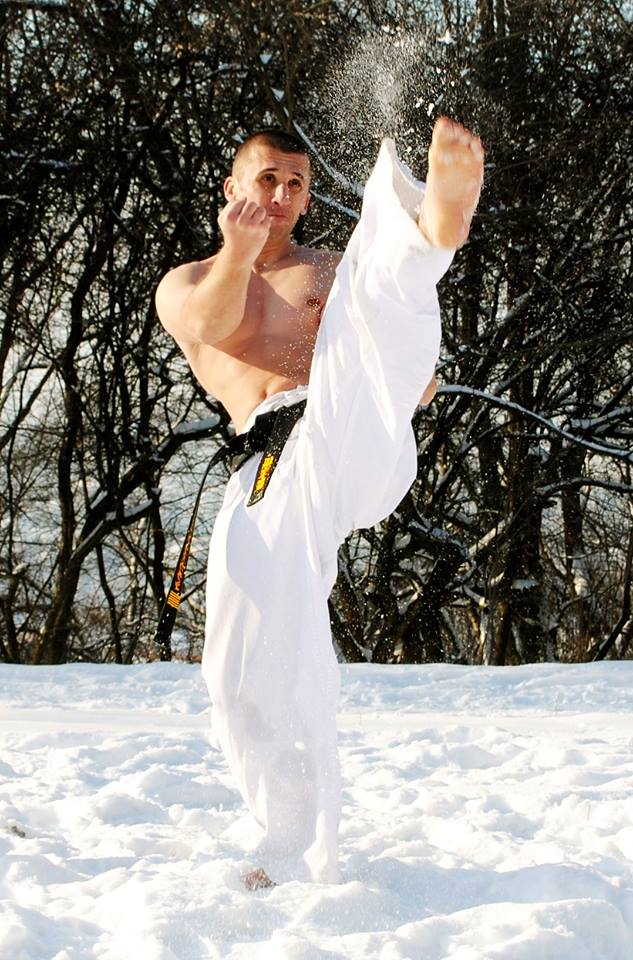 Beginning :
At age 15 in 1987 , I joined the judo club in my hometown Ludus, Romania. Under the communist regime , judo was the only legal martial art . After about 6 months of judo I noticed that the advance belts holders would stay later and practice kicks and punches, what later I learned it was Shotokan Karate.
Our karate group grew bigger fast and we moved outdoors in the nearby forest. For about 2 years we practiced karate in the woods , rain or shine we would be there . From time to time we had foreign guest instructors , exchange students from a university from the biggest city in the county.
At age 17 I went to school in Sibiu where I discovered Kyokushin Karate and I joined the dojo under Sensei Bradu Gheorghe. I achived the rank of 7 kyu, blue belt and after I finished school I moved back to my hometown in 1990.
Decision :
At age 18 and only blue belt holder I was back in my hometown where no karate dojos existed and nobody knew nothing about kyokushin karate. I was faced with a dilemma – how do I continue my journey in karate ? The decision came quickly – I will open my own dojo ! … and I did ! In short time I gathered about 10-15 students and we were the first karate dojo in the history of my town.
Twice a year we would go to national seminars and training camps at the Black Sea and in The Carpathian Mountains. I tested for belts and learned from master like : Shihan Furko Kalman, Shihan Adamy Istvan, Shihan Somogyi Zsolt, Sihan Howard Collins, Kancho Shokei Matsui, Sensei Kenji Yamaki, Sensei Brezovai Sandor and others.
Competition :
I started competing in full-contact knock-down karate in 1992 when I won 1st place at the regional championship . I competed for about 10 years in more then 20 events and I was almost always on the podium. Competition for me was a way to challenge myself and try to be in the top 10 best karateka in Romania. I never wanted to be an absolute champion and hold the title ! I also had a dojo to lead and students to teach and inspire. Now our dojo was up to about 40 members.
Black Belt :
In 1996 I tested and received my black belt 1 Dan from Kancho Shokei Matsui in Szentes , Hungary. After 5 years I tested for 2nd Dan in Romania at the Black Sea Summer Camp, again with Kancho Matsui.
In 2007 I received my 3rd Dan and the rank of Sensei from Hanshi Steve Arneil 10th Dan in the United States , Rochester NY.
United States :
In 2001 I moved to USA , Denver Colorado . I lived there for almost 8 years. In Denver I founded and opened Contact Kicks dojo and I joined the USA IFK. I started training in kickboxing muay thai at 3D Martial Arts with Sensei Clarence Thacht .
In 2006 I competed again in full-contact karate, after a 5 year break . I got 3rd place at the All American International in Rochester NY. This was my last competition.
Also in Denver I met my wife Mici, who started training in kyokushin karate at Contact Kicks Dojo in 2006.
Canada :
We moved to Canada in 2010 and we are representing the IFK .
Contact Kicks Dojo was reopened in 2011 . We added kickboxing and jiu-jitsu to our disciplines and the dojo is also the Headquarters for IFK Canada Kyokushin Organization .
Goals :
My main goal is to make CKMA a full-time martial arts school and offer a wide range of classes for everyone , kids and adults, amateur and professional fighters.
I am in the dojo up to 18 hours a week teaching and training. In the weekends I teach private one-on-one sessions . We compete in full-contact karate , kickboxing and jiu-jitsu events across Canada and United States.
Thank you :
I want to thank to all my teachers and students , who inspired and guided me all this 27 years in my journey in martial arts. I am planning to continue to practice and learn all my life and through martial arts become a better human being , healthy and strong until old age !
Osu !
Sensei Steve Fogarasi 3 Dan
IFK Canada Country Representative