When I was a Branch Chief of Saitama Prefecture,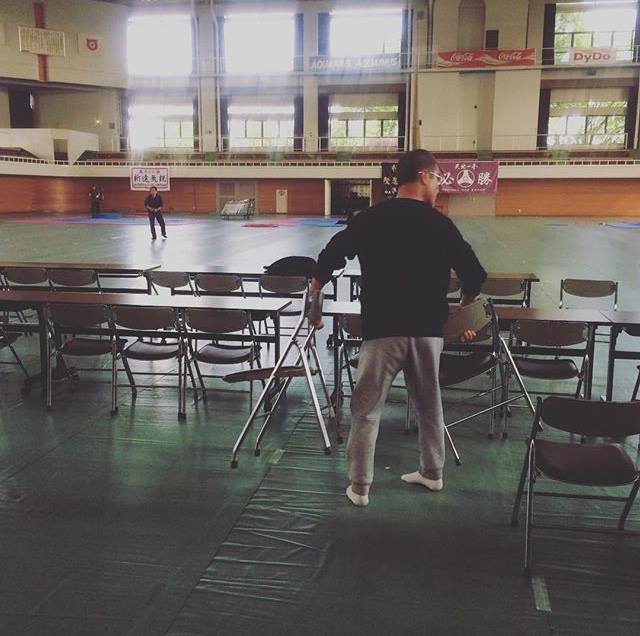 it was my job to pick up Sosai Mas Oyama from Honbu and drive to Tokyo Metropolitan Gymnasium where the All Japan and World Karate Tournament was held. I remember one time there was organization disorder, and right after, I was driving Sosai to Tokyo Metropolitan Gymnasium for the All Japan Tournament. In the car to the venue, Sosai had no usual dignity, rounded his back and sighed, "Royama, I do not want to go to the venue!" Every year, this sight will appear in my mind when the tournament comes closer. Although I am far from Sosai, as I became head of the organization, I feel that I understand the distress which Sosai went through.
It is well known that Sosai preserved the principle of Budo (martial arts), which was also reflected in the tournament. In recent years, tournament draw is announced a few weeks before the tournament, but in the early days of Kyokushinkaikan, the draw was not disclosed until the day of the tournament. I think the meaning of this is that the fighter should be prepared to fight against any kind of opponent with all his strength fearlessly, just as Samurai will have to act unruffled when encountering an enemy at any time.
Sosai was also fair to the fighters. When Mr. Okuyama, administrative director of Honbu, Ikebukuro, was making a tournament pamphlet, he made suggestion to Sosai to put articles and photos of leading fighters in the pamphlet, but Sosai without saying a word, pulled out and discarded the articles and photos from the sample pamphlet. Favorable view of the specific fighters was completely denied. Putting a white cloth on top of the organization name on dogi also indicated that the judges should judge the game fairly regardless of the organization.
The attractiveness of Kyokushin Karate is where you fight with bare feet and knuckles with all your strength. There is a purpose of raising strong fighter in the tournament, but the judgement should be made fairly based on a simple idea that "strong one will win" without distinguishing between nationality, race, organization, etc. I believe that emergence of strong fighters will lead to the revitalization of the organization and excites the whole karate world, which will also contribute to the development of full contact karate.