One of the biggest fighting events in Russia will be conducted under the SENSHI rules.
On November 1 at the "Luzhniki" Palace of Sport in Moscow, Russian fighting fans will be able to enjoy one of the top events of the year – "The Battle of Champions 11: School vs. School". The fight night is being organized by the Russia Union of Martial Arts.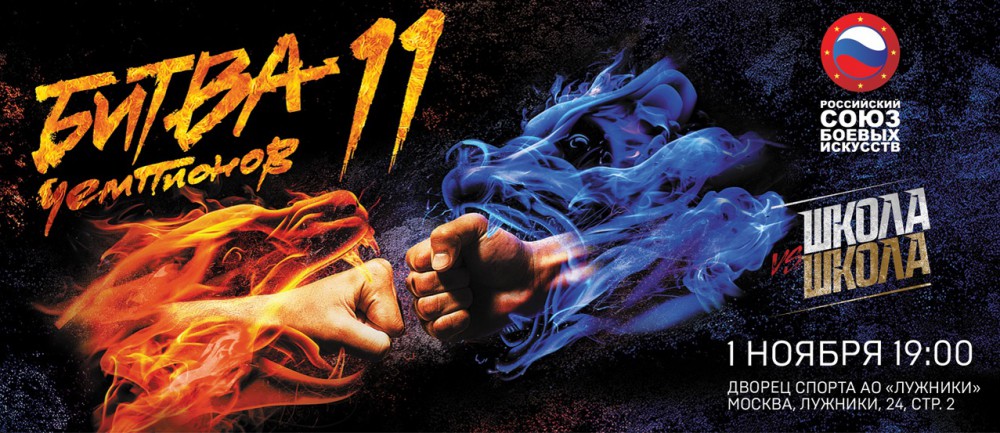 Ashabali Magomedov (Ashihara karate, 2-times world champion) vs. Andrey Chekhonin (Kyokushinkai karate, WAKO world champion, winner in the "Battle of Champions 7", World Cup prize winner)
Ivan Shped (Kudo, multiple World Championships prizer winner) vs. Arslan Gadziev (grappling, world champion)
Rasul Omarov (wushu, 2-times European champion, winner in the "Battle of Champions 10") vs. Yuri Zaatov (kickboxing, champion of Russia)
Maxim Futin (sambo, European champion) vs. Dmitry Marchenko (jiu-jitsu, a world, and European champion)
Maxim Slugin (Muay Thai, a two-time Russia champion) vs. Giannis Budagov (kickboxing, champion of Russia and prize-winner from European championships)
Alexander Zaharov (two-time world champion) and Zakaria Laaouatni (ISKA European champion and a three-time France champion) will fight for the WAKO world kickboxing belt.
Timur Gastashev (Russia) will square off against Jan Soukup (Czech Republic) in a Kyokushin match conducted under the SENSHI KWU's Professional League rules.
Magomed Zainukov (Russia champion and a two-time world champion) and Masoud Minaei (Iran muay thai champion and a European kickboxing champion) will compete for the WMC Intercontinental muay thai title.
01.11.2019 19:00 Moscow time