The IFK Canada Kyokushin Karate Seminar
is open to all kyokushin students from any organization. Ages 6 and up are welcome.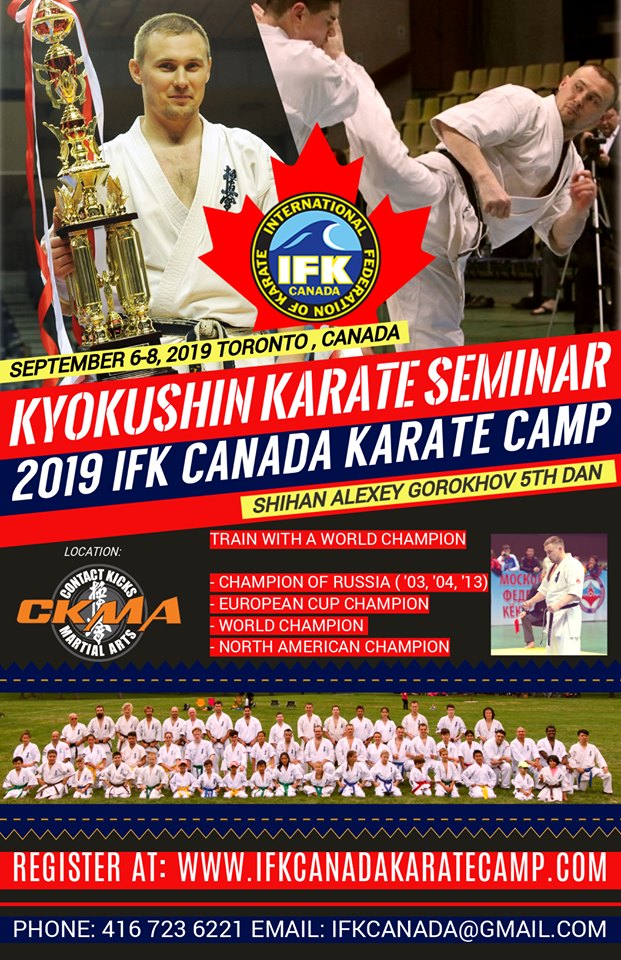 Dates: September 6-8, 2019
Place: Toronto, Canada
The seminar starts on Friday 10 AM and ends on Sunday at noon, with 2 training sessions a day by top Kyokushin instructors. Although hosted by the IFK Canada, seminar is open to all Kyokushin practitioners and organisations from around the World.
The seminar location is at the IFK Canada Kyokushin Organization Headquarters, at Contact Kicks Martial Arts Dojo in Vaughan, Ontario
​Prepare to have a great time and learn something new!
GUEST INSTRUCTOR: Shihan Alexey Gorokhov 5th Dan, Russia
​

– Champion of Russia (99, 03, 04, 13).
– Russian Cup Champion (01,06)
– European Cup Champion
– World Cup Champion no weight division in Japan
– North American Champion .
– Member of the head referring comity of IFK Russia
– Head of methodology comity of professional league of Kyokushin in Russia
– Many student are top 3 and champs of Russian, Euro and World tournaments.
INSTRUCTORS: Sensei Steve Fogarasi 4th Dan and Sensei Mikhail Zimerman 4th Dan