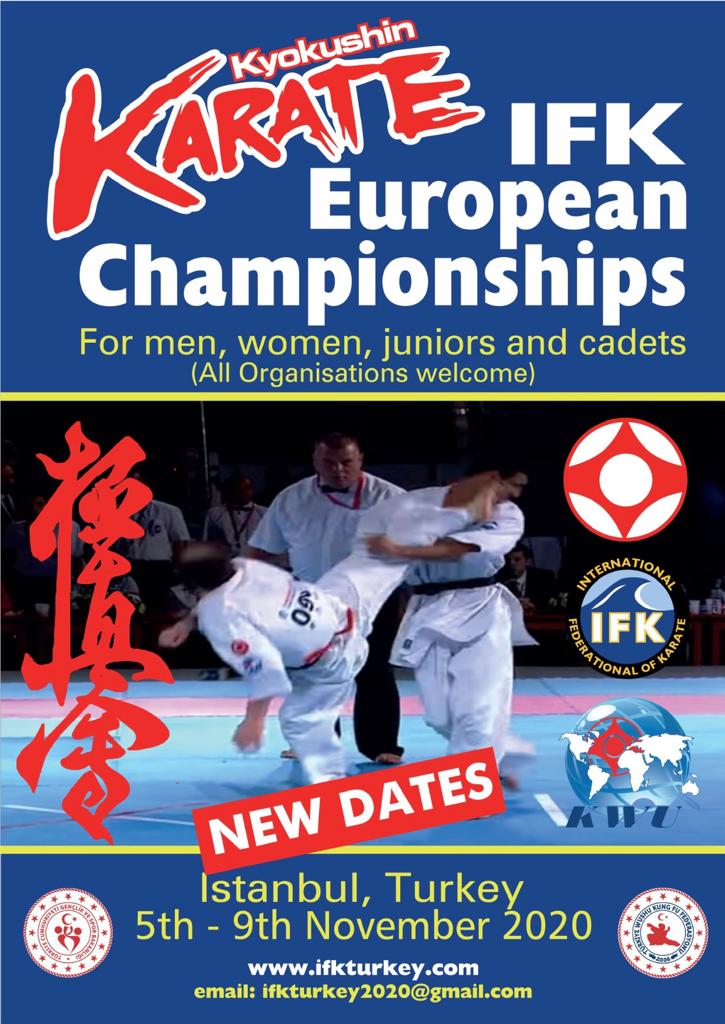 Dear Hanshi, Shihan, Sensei and Senpai
NEW DATES FOR THE EUROPEAN CHAMPIONSHIP
I hope you are all keeping well and safe in these strange and difficult times. With all the planning that has already been done, we are still planning on going ahead with the European Championship in Istanbul. However, after much discussion with Country Representatives, The IFK Board has decided to move the tournament to 5-9 November. Whilst some of you were still keen to hold it in September, the majority were of the opinion that it should be held in November in order for fighters to have the maximum training time now that the world is starting to get back to some kind of normality.
We have negotiated the same deal so that the cost, venue, hotels, etc., will remain the same.
I can advise you that Turkey seems to have Covid19 under as much control as possible and has removed almost all of the curfews. At present, apart from general social distancing, people aged 65 and above must currently remain home after certain hours. We are hopeful that this will of course change for the better in the coming weeks. Turkey, itself had far fewer deaths than a lot of other countries due to COVID 19, 5225 recorded as of 6 July 2020. But dojos are now open together with sports venues, wedding venues, restaurants and bars, and large sports events have been arranged from August.
We will, of course, monitor the situation closely but hopefully, things will continue to positively move forward.
With that in mind, we thank you for your support thus far and hope that you will still be able to take part in what promises to be a fantastic event in the Kyokushin calendar.
We will shortly be sending out the full details of the tournament with registration details.
Time to be United
Osu
Sensei Ismail Yildirim
IFK Turkey Country Representative