To work at the World Championship, media representatives must have an accreditation card (name badge), which is provided by the Championship Press Office after passing the accreditation procedure.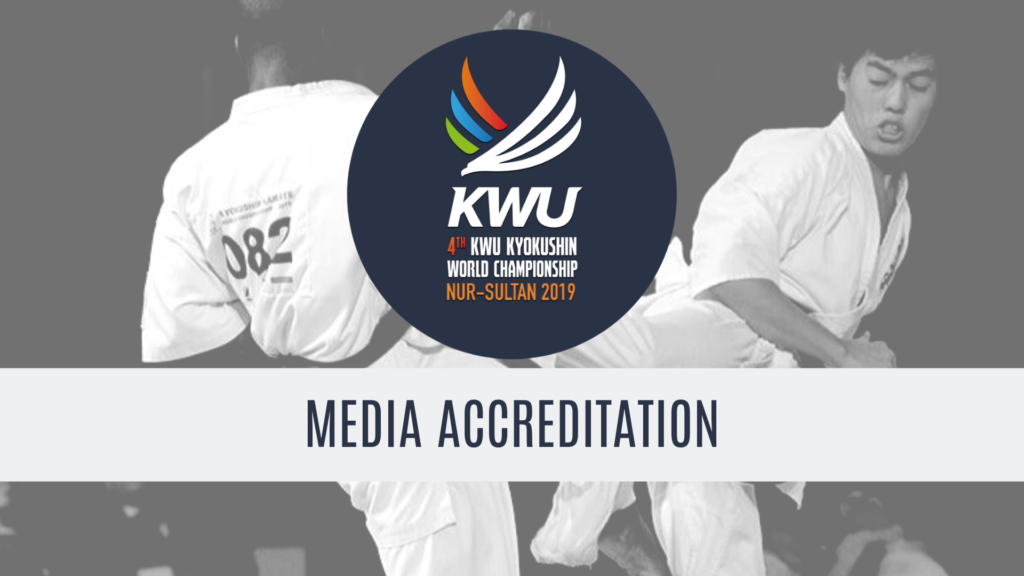 The deadline for accepting lists for accreditation for the Championship events are November 20th – December 3rd, 2019. Please note that after the specified date, applications for accreditation or amendments to the submitted registration forms will not be accepted.
Accreditation Procedure:
You are required within the period from November 20th to December 3rd to send an application form and photos of the journalists to the email of the Championship Press Office: rauhan_13@bk.ru
To receive confirmation of your accreditation by email.
To receive an accreditation card at the pre-competition press conference at the Martial Arts Palace "Jekpe-jek" or at the Championship Press Office.
ATTENTION!
The Championship Directorate does not guarantee that a duplicate accreditation card will be provided in case of a damage or loss of the first card.
By sending an application for accreditation to the Championship Directorate, the media representative accepts the principles of work at World Championship events:
Compliance with media regulations at the Martial Arts Palace "Jekpe-jek".
In order to optimize the work of the Press Office, the Championship Directorate kindly asks you to send your preliminary wish list on speakers and interview topics by December 5th, to the email rauhan_13@bk.ru
When using official information or quoting the World Championship participants' statements, the final materials should include reference to the Championship and a link to the source of the information received. Any changes, additions or distortions to the copied (quoted) information are not allowed.
Attention! The application form must be written on the official letterhead of your editors office.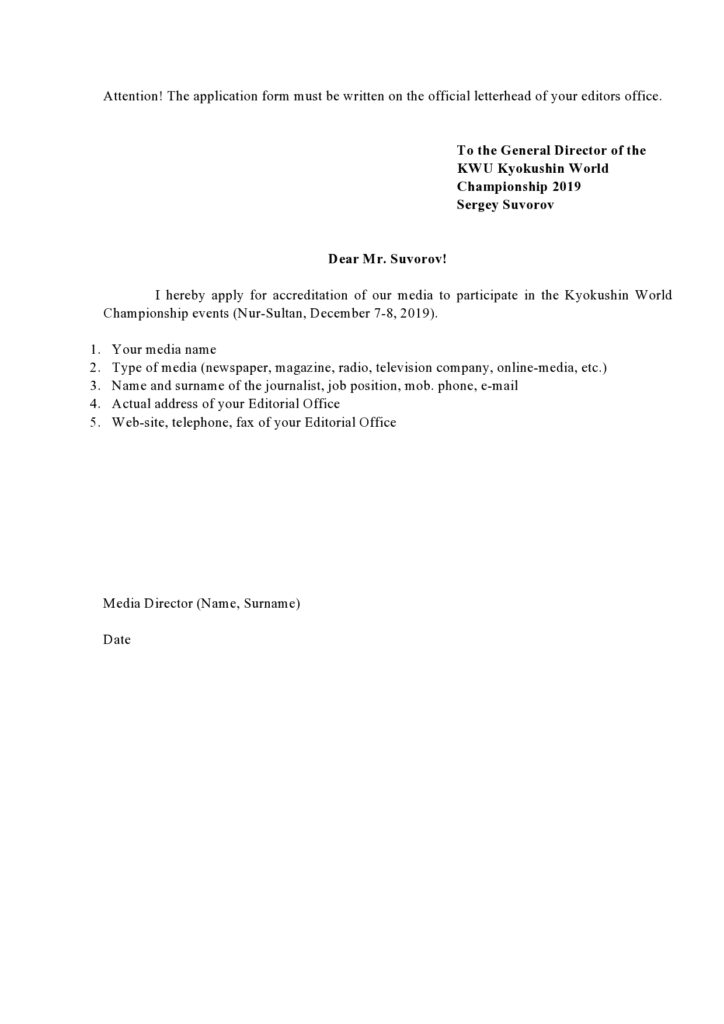 ---
Аккредитация СМИ на IV Чемпионат мира KWU по киокусинкай
Представителям СМИ для работы на Чемпионате мира необходимо иметь при себе аккредитационную карту (именной бейдж), который выдаётся пресс-службой Чемпионата после прохождения процедуры аккредитации.
Сроки приема списков на аккредитацию на мероприятия Чемпионата: с 20 ноября по 03 декабря 2019 года. Обращаем Ваше внимание на то, что после указанной даты, заявки на аккредитацию, а также изменения в отправленные ранее регистрационные формы приниматься не будут.
Процедура аккредитации:
Необходимо в период с 20 ноября по 03 декабря отправить заявку и фото журналистов в пресс-службу Чемпионата по адресу: rauhan_13@bk.ru.
Получить подтверждение аккредитации по электронной почте.
Получить аккредитационную карту на предстартовой пресс-конференции во Дворце Единоборств Жекпе-жек или в пресс-центре соревнований.
ВНИМАНИЕ!
Дирекция Чемпионата не может гарантировать выдачи дубликата аккредитационной карты в случае ее порчи или утери.
Отправляя заявку на аккредитацию в Дирекцию Чемпионата, представитель СМИ принимает принципы работы на мероприятиях Чемпионата мира:
Соблюдение регламента работы СМИ во Дворце боевых искусств «Жекпе-Жек».
В целях оптимизации работы пресс-центра Дирекция Чемпионата просит Вас присылать Ваши предварительные пожелания по спикерам и темам для проведения интервью до 5 декабря на почту rauhan_13@bk.ru
При использовании официальной информации, цитировании высказываний участников Чемпионата мира, итоговые материалы должны содержать упоминание о Чемпионате и ссылку на источник полученной информации. Внесение каких-либо изменений, добавлений или искажений в копируемую (цитируемую) информацию не допускается.