At the dawn of the new edition of the combat gala evening SENSHI 9 and the first Open European Championship of SENSHI, we present you an interview with the man behind the combat gala chain and the revival of authentic Kyokushin – the executive director of the KWU Professional League and chairman of the National Combat Sports Association in Bulgaria Shihan Ivo Kamenov.
During the International Kyokushin World Union's camp in Kamchia, Bulgaria, in 2018 the Kyokushin karate master gave a special interview in which he spoke in-depth about the tradition and philosophy of martial arts. He also revealed his plans to create a Professional League in order to help Kyokushin fighters develop their techniques and abilities. Today, these plans are already a fact – and they are visible thanks to SENSHI and the KWU Professional League, led by Shihan Ivo Kamenov. Watch one of his training during the 14th International Kyokushin Karate Camp of KWU and BKKF in Kamchia in 2020:
---
Now, during the 15th International Kyokushin Karate Camp of KWU and BKKF (July 4-11, 2021) in Kamchia will be held the first of its kind Open European Championship under the rules of the Professional League KWU SENSHI (8-10 July). It was supposed to take place in early December 2020 in Sofia, but due to the coronavirus pandemic in this period, the health authorities in Bulgaria banned sports events on such a large scale and therefore the European SENSHI Championship was postponed. However, now, we will be able to enjoy it during the 15th International Kyokushin Karate Camp of KWU and BKKF.
More about the philosophy behind the creation of the Professional League of KWU and SENSHI and the organization of the largest Kyokushin camp in the world, we present you Igor Petrukhin's interview with Shihan Ivo Kamenov from 2018:
Everyone who lives on this earth has a hobby: some collect flowers, others collect stamps or banknotes, and some live with their deep, inner interest. You, for absolutely everyone, are a mystery. This may be because nowadays, in the post-Soviet space, and probably in the whole world, there are no people who invest so much, love so much, and take their place in Kyokushin so seriously. Could you explain where and why is this interesting?
Shihan Ivo Kamenov: First of all, as you say, some collect flowers, others go after girls, third people collect banknotes, and there are those who do absolutely nothing. This is a rather difficult question, deeply philosophical and at the same time complex. As for the world of Kyokushin – today there are many federations and many places for the development of this fighting style, and once again the question arises: Why is there a division between the different federations and not a union? Maybe, as some masters say, it's a matter of "ego", others say it's a matter of money … Our theory is that Sosai Masutatsu Oyama, the founder of the Kyokushin style, had created too many masters, some of whom have found their way and others have ruined everything. We are doing everything in our power to at least improve the sport in a highly technical way, while at the same time we hope that this martial art will develop further in a deeper aspect – so that the positive energy and the bright thought could be the basis of every man.
For us personally, Kyokushin can be a very deep foundation in the upbringing of both young children and adolescents, as well as people who have matured as age and as a spirit. For me, this is the biggest school, actually not the biggest – this is not the right word. It is the deepest school that can help you through your entire life.
Another question I would very much like to ask you is why are you organizing the camp on such a large scale? I've been to many camps – summer, winter, I've been to Japan, to Russia, to Brazil, to America. But I have never seen camps on such a scale anywhere. Why did you decide to hold the camp in such a large volume?
Shihan Ivo Kamenov: This has been the case for a long time. This is neither for the first year nor for the second. This is a tradition. In Soviet times, Varna was one of the leading centers for conducting Kyokushin karate camps in Eastern Europe and the post-Soviet space. This tradition dates back to 1978 because then it was difficult to travel abroad for a number of reasons. In Varna, especially in the summer, this type of seminars began to be held as far back as 1978.
And then, with great efforts, both on the part of the management and the founders of the Bulgarian Kyokushin School, one of whom is Konstantin Bozhilov, and with the assistance of other serious sensei and shihans, including the leading shihans in the world, such as Luke Hollander, Collins, Drevniak, we have held here quite serious camps with wide popularity from the very beginning.
In addition to the camp training, tournaments were held here and I can tell you that the camps that took place in Varna were the basis of the development of this sport, especially in Eastern Europe. Because you know that to this date, in Eastern Europe as a whole, Kyokushin is developed at the highest level.
I think that these camps, which had begun in Varna in 1978, have shown the way to many masters, sempais, sensei, shihans – and I believe this way is largely positive. That's why we revived this tradition 12 years ago – every year an international kyokushin camp is held here so that the fighters can expand their horizons in Kyokushin techniques and take a deeper look at this sport from its philosophical side.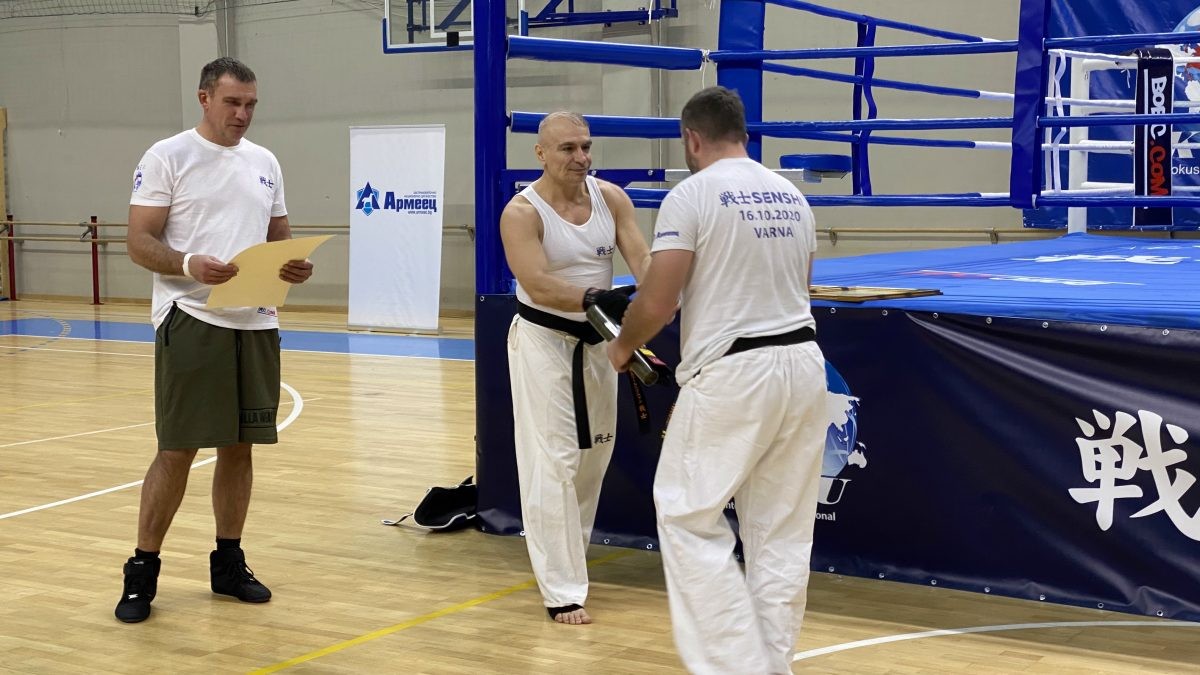 You have now mentioned the philosophical side of the issue. And since you and I have touched on this topic several times, in this regard, I will ask you to clarify and to answer the question: what is fear? And can one get rid of this fear by training, in particular, say, Kyokushin karate?
Shihan Ivo Kamenov: To get rid of fear, you need constant and thorough work. I wouldn't say that training is the right word. Here things are based on an instinct – you have to process and work on your inner instincts constantly so that they can become deep enough. Just as it is a matter of instinct to prepare and learn to ride a bike, or drive a car, or swim… It's the same with overcoming fear. You work on yourself constantly drop by drop, step by step, to overcome fear, because everything around us is fear. I think that in order to overcome fear, you have to be strong, to strengthen your psyche.
What are the future prospects? What will happen to Varna, what will happen to this camp, how do you plan to develop this martial art in the future?
Shihan Ivo Kamenov: Ever since we gathered and founded the federation, this camp has been and remains an integral part of the whole process, and the greatest masters from each federation have gathered here. As for the guidelines for development, I think that there are a few steps that need to be taken: the first and main thing that makes the difference in tournaments are the different categories. Creating different categories will open up very wide prospects for most of the fighters. The most popular competitive categories are known to us: 70, 80, 90, 90+ kg. So far so good. But let's not forget that, perhaps millions of people who fall in a different category are still training Kyokushin and these people would also like to compete and establish their names among the Kyokushin professionals.
The other thing that in my opinion should be done soon is creating a Professional League in which Kyokushin fighters as a whole, from the whole world, could develop, prove themselves, and strengthen the Kyokushin authority on the global combat stage. Expect news on this topic soon, as well as see how this process will develop.