Contact Kicks Martial Arts participated in the 2017 Gold Cup Kyokushin Tournament in Montreal, which included over 425 participants.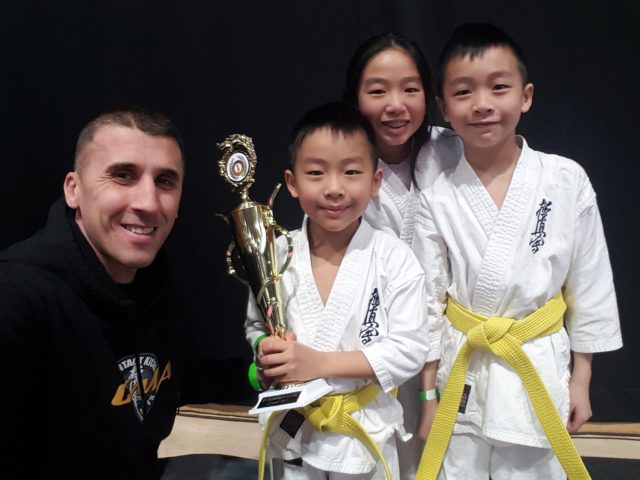 The CKMA team had 11 members competing in kumite semi-contact and kata. Our team brought home 8 trophies: 2 first place, 3 second place and 3 third place.
The day began with kids kata and three students representing CKMA performed Seienchin Kata, the highest level kata in the whole tournament, and displayed by far with the best technique overall. The results were:
8 y/o Quinlan 1st
10 y/o Connor 2nd
12 y/o Kyla 1st
Next was the kid's semi-contact kumite. CKMA was represented by 8 y/o brother and sister twins Arno and Amelie, the first tournament for both. Amelie took home the 2nd place trophy. Arno was injured in the solar plexus in his second fight, but continue to the next fight for 3rd place. He didn't get the Trophy, but he won something much more important. He won the achievement to overcome pain and learned the lesson of perseverance. Osu!
The adults showed great technical display, showing their superior technique and each individual's personal style. Unfortunately, some did not get the "win" due to lack of aggressive strategy, but instead looking for the knockout only. With that being said, it was still a spectacular performance and a great learning experience!
Everyone finished the day feeling proud, bringing home one 2nd and three 3rd place trophies in the adult semi-contact division.
Competition is an important aspect of karate training , but it is not the final goal! Through hard work and commitment needed to achieve great results we are perfecting our body and mind to become better human beings and more valuable members of our society.
Keep up the great work everyone!
Osu!
There is no gallery selected or the gallery was deleted.