Sensei Emma Markwell was part of a select KWU team competing at the WKO's 12th World Open Karate Championships in Tokyo Japan, held over two days on 8-9th November 2019.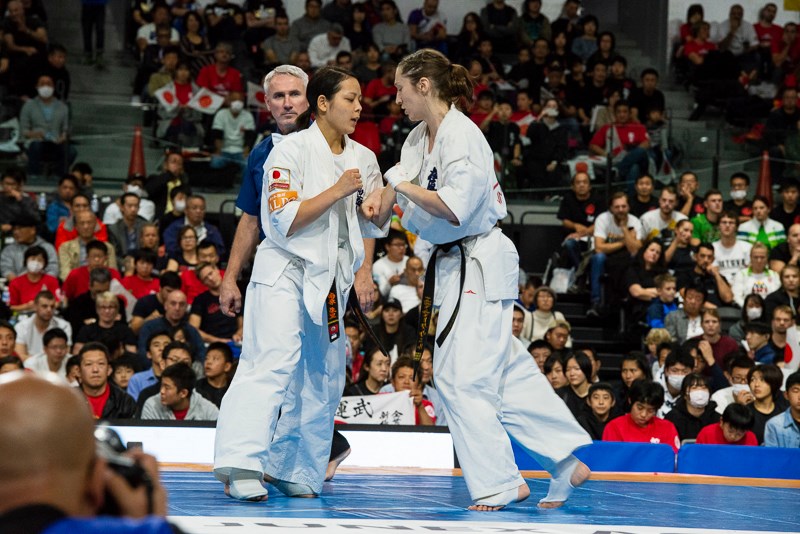 This is an open weight tournament, and Emma had prepared herself well by making a very successful shift to the upper weight categories taking a European title in the process, culminating with an unprecedented British Open win against much heavier opponents in October this year.
Emma was the second fight of the day against a South African opponent with an awkward looping double right-hand punch. She executed her fight plan well, breaking her opponent's balance and rhythm by attacking the inside back leg coupled with hard body shots, then drifting away from her opponent's power-side all the while keeping pressure on her opponent. As the round progressed, Emma brought in knees and front-kicks, dictating the pace. One round, and 3 flags was enough to progress.
Her second opponent from Russia, was taller and more mobile than her first, intent on attacking Emma from the outside with an array of high kicks. Early in the fight, whilst giving her opponent a little too much space and time, Emma took a well-placed spinning back kick to the head. This did little to upset Emma's rhythm who's own tactic was to use head kicks then close the distance at high-tempo, attacking with body punches and solid low-kicks. Each time her opponent looked for space, Emma high-kicked nullifying the Russian's ability to attack effectively – round one was a draw.
First extension, and Emma tactics started to wear her opponent down by beginning the round at an aggressive pace. Running out of space and energy, the Russian engaged Emma at close range, and was being systematically broken down to the body and legs. Sensing her opponent getting weaker, Emma came close with a Do-Mawashi Kaiten geri (rolling kick), then immediately returned to the full arsenal of head kicks, knees to the body, and relentless body shots and low kicks to earn her a place in the final 16.
Her third opponent was the Japanese and tournament favorite, Juri Minamihara. Emma's tactic was to hold ground, firing hard punches and low kick to the calf against Minamihara's aggressive forward style of high chest punches and low-kicks.
Two immovable forces resulted in Emma's opponent leaning against her, grabbing and pushing at times to gain space or advantage. No decision after the first, leading to the same in the second round, now with Minamihara creating more lateral movement in attempts to off-balance Emma. To no avail, as Emma continued to pile on pressure, adding knees into each lateral movement from her opponent.
Round two, a draw. The final round saw an increase in pace and aggression from both fighters. The pressure was beginning to show, as Emma started to find success in creating space with low-kicks set up through her punches, with Minamihara reduced to small backward movements to gain space, grabbing at times to stem the flow. The two stood toe to toe throwing punches, and Emma hitting low kicks to off-balance her opponent, both finishing the fight aggressively with an incredibly vocal crowd. Three flags to Minamihara, who went on to win the tournament, and an incredibly impressive final 16 finish for Emma.
A huge congratulations to Sensei Emma for becoming part of select team to represent the KWU – a huge achievement, and for her tournament progress in a very partisan environment.
Source: gbkyokushinkai.com