On April 21 in Yerevan, Kyokushin karate federation of Armenia
headed by the president of the federation Andranik Hakobyan held an international tournament – "Armenian Grand Prix – 2019", which was attended by sportsmen from different countries.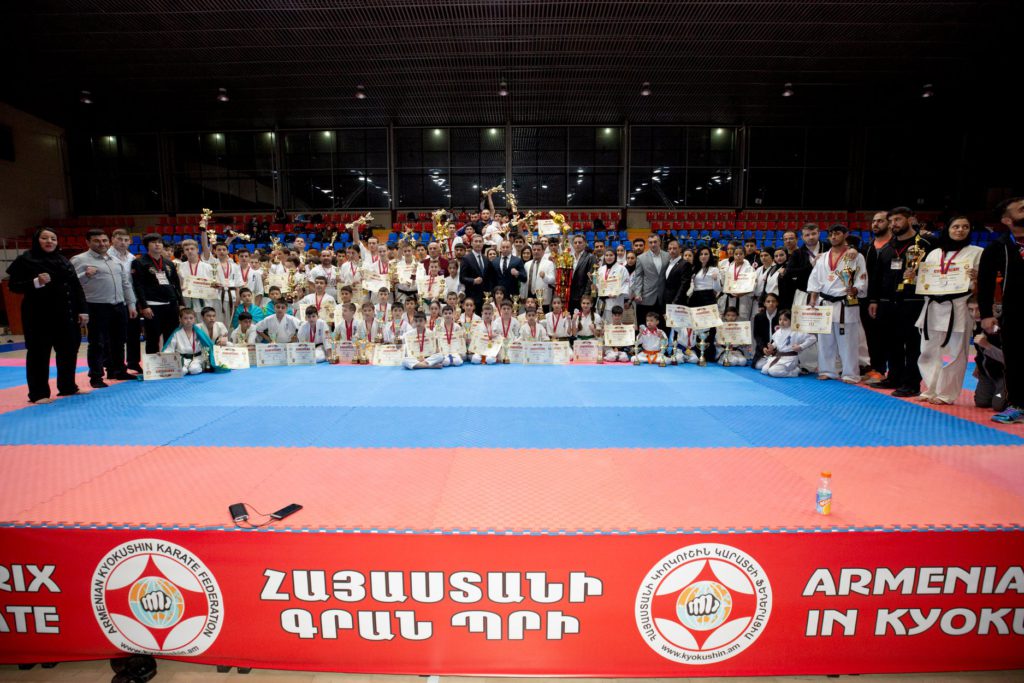 Like all events held over the 14 years of the Federation's activities, this championship also was held at a high level. It should be noted that the sportsmen from different age groups participated in the championship.
«ARMENIAN GRAND PRIX 2019»
Results among men and women in kumite and kata.
Kumite (male) -70 kg
1.place Yosef Dolatshah (Iran)
2.place Vasiko Lomsadze (Georgia)
3.place Petros Hambardzumyan (Armenia)
3.place Hashem Ghorbani Baghrabad (Iran)
Kumite (male) -80 kg
1.place Hrachya Karapetyan (Armenia)
2.place Valerian Safoevi (Georgia)
3.place Taha Sokhango (Iran)
3.place Ali Ahmad Khanloo (Iran)
Kumite (male) +80 kg
1. place Otari Esitashvili (Georgia)
2. place Yuri Kirakosyan (Russia)
3. place Eduard Beglaryan (Armenia)
3. place Erekli Pirveli (Georgia)
Kumite (female) -60 kg
1.place Parisa Razaji (Iran)
2.place Mahboubeh Esfahani (Iran)
3.place Atefeh Jahanifar (Iran)
4.place Zeinab Alizade (Iran)
Kumite (female) +60 kg
1.place Lusine Galustyan (Armenia)
2.place Sara Sheikhmoradi Zahed (Iran)
3.place Zahra Dastranj (Iran)
3.place Farnaz Movasseghi Gargari (Iran)
Kata
1.place Zeinab Alizade (Iran)
2.place Fateme Rastegar (Iran)
3.place Artsrun Misakyan (Armenia)
3.place Konstantin Siranchiev (Russia)
Best technique – Vahagn Khachatryan (Armenia)
For the will to win – Yuri Kirakosyan (Russia)