Fourth all Kabul Kyokushin Kan Karate tournament successfully held in capital state Kabul Afghanistan.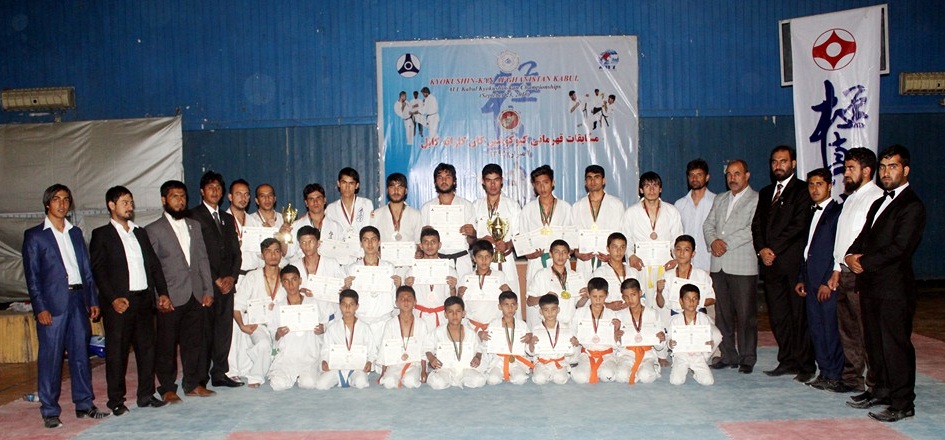 On Sunday 25 September 2016, in capital center Kabul state, a 4th all Kabul Kyokushin Kan Karate tournament successfully held between six affiliated dojos in Kabul Ghazi stadium.
The aim of this tournament was to select provincial team for upcoming open national tournament. And to develop Kyokushin kan Karate in capital center Kabul.
According to the schedule all teams arrived on Thursday, the team were welcomed by organizing committee. The organizing committee jointly managed the weight-draws in three categories including children, cadets, juniors, and seniors and divided in 10 weights. Overall total 50 fighters from six dojos. As per the schedule the tournament started at 09:30am on Friday. More than five hundred spectators watched this remarkable event. The tournament toke place on professional manner by delegations (supreme Judges, Corner Judges and other organizing committee). The competitions demonstrated their talents and in Karate spirits. Competitors participated in friendly environment with mutual respect.
The Director of Afghanistan Karate Federation Mr. Mahbub Serwari appreciated this tournament and Kyokushin-kan organization and as well as encouraged all competitors for professional combat.
All participants compete in 10 different categories.  Children, Cadet, juniors, and Adult, seniors around 50 competitors (fighters) from six different provincial state dojos participated in this tournament. Competition was organized by Abdul Basir Rashidi under the Leadership of Sensei Noor Agha Hashimi – Vice president Kyokushin-kan Afghanistan and Kabul Chief.
This amazing tournament could not held with such quality with the support of Sensei M.Sabiri Kyokushin-Kan Technical – committee member and southeast region Paktya chief and as well as Sensei Maqboul Shah World rank fighter and Nangrahar province Chief.
As a result in winning categories, Razmi Afghan dojo obtained first position – central dojo received second and Etifaq dojo got third position. The tournament ended up late evening.,
Osu.
Ihsan
There is no gallery selected or the gallery was deleted.