KWU International Youth Championship and Championship among boys and girls 14-15 years old, juniors 16-17 years old, cadets 18-21 years old, men and women 21+ years old, veterans (men) 35+ years old in weight categories will be held on November 2-5, 2023, Tunisia, Monastir
General rules: The competitions will be held by the rules of KWU, which are posted on the official website: www.kwunion.com
Judges: The official list of judges will be approved by KWU at the end of the judicial seminar, which will be held on November 3-4, 2023, in Monastir.
*Judges who are not official KWU judges and who wish to attend the seminar can apply by e-mail: kwu.tunisia.media@gmail.com with "judging seminar" in the subject line. The judges themselves must book a hotel and all expenses – accommodation, meals – the judges pay on their own.
Anti-doping control: Winners from 1st to 3rd places will go through a doping test in accordance with the rules of the World Anti-Doping Agency (WADA).
This International Youth Championship and championship of KWU is open to all international organizations of Kyokushinkai in the world without exclusion.
Timetable of the events: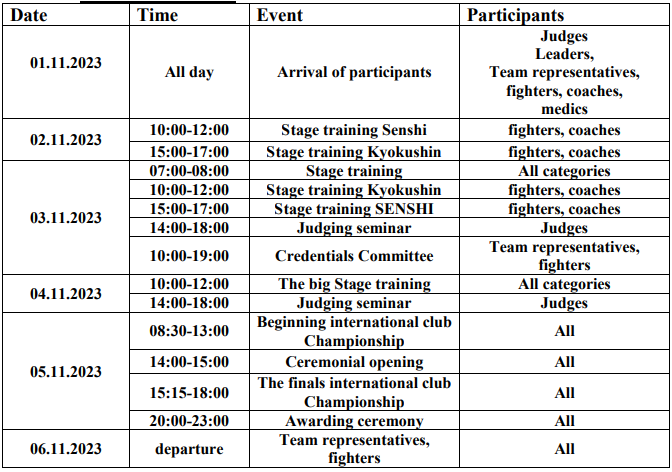 Provision: KWU International Championship 2023