"Apart from my name, I have also written in history the name of my country – Bulgaria"
Interview of Sensei Zahari Damyanov for appkanku.com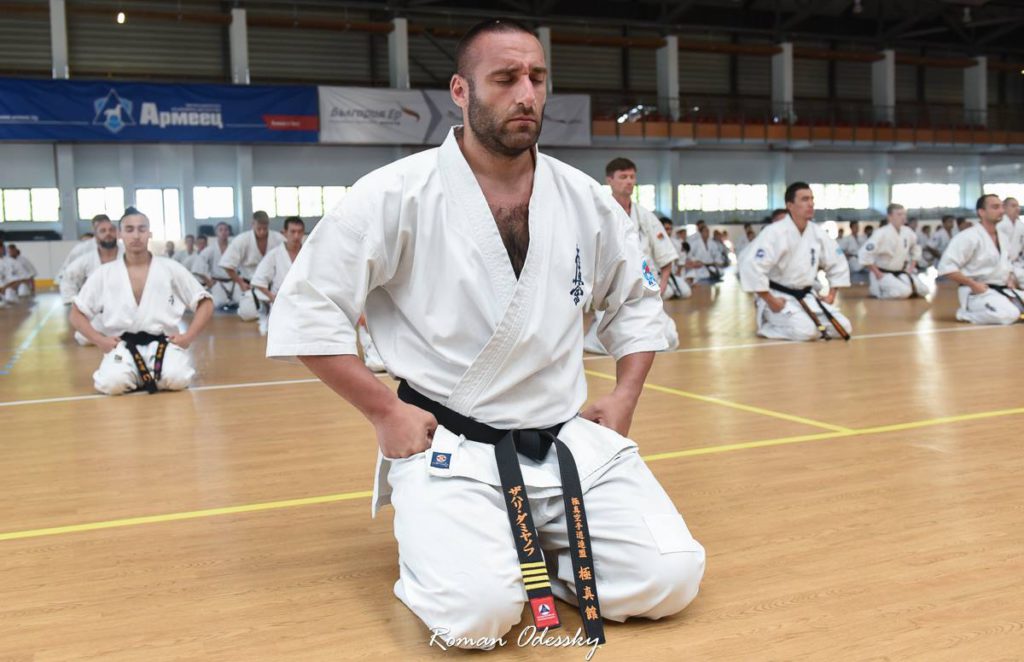 The recently completed career Zahari Damyanov is now coaching Bulgarian athletes, as well as taking part in seminars and camps. He spoke about life after a career, about trying to take a 100-man kumite and working in his own dojo.
— Zahari, after 2016, when you completed the competitive career, you headed the team of Bulgaria. Tell more about your activities as head coach.
— Yes, I am currently the coach of the national team of men and women at the Bulgarian Karate Kyokushin Federation! For me this is an exceptional honor, recognition for all my work as a competitor. Now, thanks to the federation, the team has the opportunity to take part in training camps, seminars and participate in various competitions.
— You opened your dojo. Tell more about it. How long have you dreamed of doing this?
— After finishing my career as a competitor, I thought the next step was to open my own dojo where I could teach what I had learned.I opened my dojo "Nihonto" in December 2016 thanks to the Bulgarian Karate Kyokushin Federation, and now I have this opportunity. I have imagined such a development for me after my retirement and I am very happy that things turned out to be this way.
— Now you conduct training sessions and seminars, and also train and judge. Tell more about this. What are the goals and challenges facing the coach Damyanov?
— After winning the world championship and terminating my career as a competitor, I began to receive invitations to conduct karate training seminars. Until now, besides the annual Summer Seminars of Kamchia, organized by the Bulgarian Karate Kyokushin Federation, I was an instructor of a seminar in Tunisia, Australia , Canada, Spain. Now, when I am no longer a competitor, the goal is to help as many young people as possible to become number one in the world of karate kyokushin, and why not in other sports as well.
— Tell about your preparation for the 100-man kumite. How soon did you come to your senses after an unsuccessful attempt?There was no desire to try again to go 100-man kumite?
— After winning the World Championship without categories, I was invited to take part in the hardest test in the world of karate kyokushin, namely 100 kumite. Of course, this was a great honor and I accepted the offer. I became world champion in November 2015, and the challenge was in April 2016. Now, when I look back, I think that it was too early after the World Cup and maybe it was the main reason why I could not get to the end. I did not have time to rejoice and realize the success I had made, to recover psychologically and physically from this preparation for the World Championship. And I had to start preparing for the 100 kumite. It is good to know that the preparation for the these two competitions is fundamentally different. But one learns from his mistakes… I finished my 70th fight after muscle-cramping all over my body and this did not allow me to go on. That was the only problem and rather a serious one. I spent a night in a hospital where I got the right medical help. I do not think I would try again.
— You left a mark in the history of the world Kyokushin, becoming the world champion. Do you think that this influenced the popularization of karate in Bulgaria?
— Of course I am very proud of this achievement. Apart from my name, I have also written in history the name of my country – Bulgaria. A small country but with great traditions in Karate Kyokushin. I will be very glad if this is a motivation for karate students, and this somehow helps them to develop.
— Tell us about Kyokushin in Bulgaria. At what level is it now? How many dojo and students?
— Karate kyokushin has been a popular sport in Bulgaria since 1976 thanks to Andrzej Drenvnyak (Poland) and Konstantin Bozhilov (Bulgaria). Since then I can boldly say that Bulgaria has always been one of the main forces in karate kyokushin. There are many European and World champions.
— Can you name someone your heir in the Bulgarian Kyokushin?
— In the current team, there are many young and forward-looking competitors and it depends on each of them to become one day a world champion.
— What fighters in the history of the world Kyokushin you could single out? What is the difference between the schools of different countries in the technique of kumite and kata?
— Everyone who has managed to become an absolute world champion from the conduct of the first world championship to the present day.
— During your career, you visited many cities and countries. Where did you like most and what did you remember?
— The most exciting for me were the first trips to Japan and America. Maybe I will not be wrong if I say that for each karate student is a dream to have the opportunity to go to the homeland of karate.
— Probably, now you have more time to give it to your relatives. Tell how you spend time with your family.
— When we are not in a camp or a competition with the team,or I do not lead classes in my dojo, I like spending my free time with my family and my closest friends either on the beach in the summer or going out for a walk. Despite all the commitments and trips, I always find time to train and maintain my shape.
— What would you wish future champions, who are equal to Zahari Damyanov?
— First of all, to be healthy! Perseverance and no quitting!
---
Short questions:
What is the point of defeat?
The loss very often turns out to be a good teacher
Kyokushin taught me…
Respect and patience
The best place on Earth?
Home
It seems to me that Kyokushin in 10 years…
I hope karate kyokushin will be even more popular in 10 years and that many more people will practice it and prove it as the hardest style in martial sports
---
Now Zahari Damyanov gives his rich experience to younger karatekas and it is quite possible that coach Zahari will be no less successful than athlete Zahari.
OSU!