When some fighters use focus mitts, they tend to center their attention on power and speed. While this is a great use of mitts, they are a versatile training tool in many other ways. When you want to mix things up for a more personalized and complete martial arts workout, add focus mitt training to your program.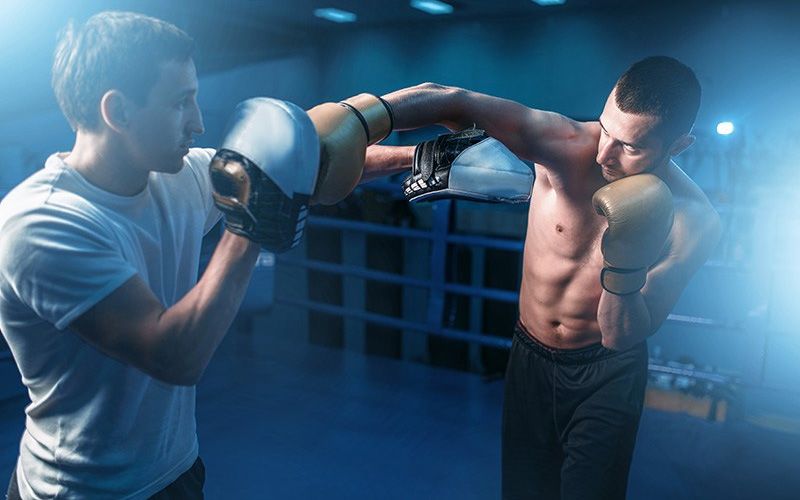 Basic Benefits
When you train with mitts, you focus on realistic maneuvers that you couldn't work on otherwise, such as bobbing and weaving around a partner swinging at you. Some realistic benefits and skills you could obtain include:
Live Movements – Because you practice against a moving, live person, you gain live movement skills such as counter-punching, strategy, footwork, and style mimicking.
Offensive Skills – When on the offense, you need to focus on combinations, angles, and other similar skills, which are easy to obtain with mitt training.
Defensive Skills – Just like offensive skills, defensive skills are more easily obtained against a live person. This includes rolling, parrying, slipping, and blocking.
Punching Skills – This technique improves more than just power and speed in your punching skills. You'll also improve your technique, timing, endurance, and accuracy.
Fighting against a martial arts trainer gives you an opportunity for constructive criticism and feedback. Any time your martial arts training includes someone either with more advanced skills or someone who recognizes the need for improvement, you can become a better fighter. In addition to productive feedback, it can boost your confidence when someone encourages you and lets you know when you're doing it right.
The Social Benefits
Focus mitt training is a social way to work out. As one of the most intense partner training routines, you are able to engage in fighting games and other drills that you couldn't do without someone else. If you're someone who enjoys a workout partner, or if you just need to mix it up so you're not alone all the time, this is a great way to achieve your goals. Not only that, but it can be fun!
The Rhythm
Fighting against a bag or a machine doesn't help you get into a rhythm. If you want to be a skilled martial arts fighter, there's more to it than just learning to punch. You have to understand rhythms, and that only comes from boxing against a live person. Once you find your rhythm, you'll gain confidence and skill.
Financial Benefits
Who would have guessed you could get one of the best martial arts training tools out there for the same price as dinner for two at a decent restaurant? A basic pair of mitts costs around $40. So whether you're buying one pair for personal use or are a gym owner and need to buy multiple pairs, know that you're easily getting your money's worth!
The Workout
When completing a focus mitt training session, the typical adult could burn about 500 calories, depending on how hard he or she goes at it. This type of training includes both aerobic and anaerobic benefits, giving you more definition and density to your muscles. With such a rigorous routine, your body will feel well-worked and ready for a nice rest, which means it could improve your sleep patterns.
Defensive Benefits
After repeating focus mitt training moves over and over again, it becomes second nature. Your muscles almost go on auto pilot, dodging and striking without you having to think about it. This skill is essential for self-defense whether you participate in martial arts regularly, or are someone looking to brush up on defensive skills.
Less Chance of Injury
Someone working toward a higher punching power could find safety with focus mitts. There's not as much resistance when someone hits a mitt, as opposed to hitting a 100 lb. bag. Because of this, it's safer for your joints and muscles, allowing you to work up to a heavier bag without injuring yourself.
Mental Benefits
It's important to be as tough mentally as you are physical. Part of a healthy lifestyle is being able to manage your stressors and find ways to cope with the problems life throws at you. Mitt training helps you mentally focus, and allows you to get out any aggression that has built up.
By Black Belt Team