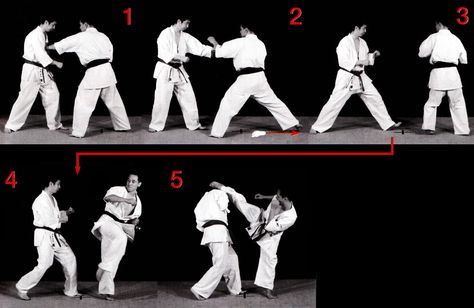 Just check out the crowd reaction when a full-contact fighter successfully lands a fancy spinning kick. The deafening cheers are enough to inspire any kid to make a midnight bedroom window escape and camp out in front of the local dojo's front door. Admit it: When you started training, you dreamed of these flashy kicks.
The problem is that these kicks, although impressive, aren't very practical. Even at a high skill level, there's only a small likelihood of them succeeding.
But effective kicks are boring. What martial art teacher worth the salt in Bruce Lee's sweat wants to teach boring stuff? And what student wants to spend their hard, long training hours learning boring kicks?
Anyone who wants to be effective, that's who. So, I'm going to try to sell you on the super-secret kick that will become one of the absolute most effective moves in your arsenal.
The fact is, there is a single kick that is as effective as a kick can possibly be in nearly every situation that warrants a kick. It can go high. It can go low. It can snap, it can push, it can deliver precision and power; it can break a jaw, and it can crush a groin. This kick is so simple that nearly anyone can throw it at least somewhat well from day one. It's utilized by pros for both offense and defense, and you never need to leap or contort your stance to make it happen.
This kick will also be the fastest kick in your arsenal. It's the most non-telegraphic kick in existence, and it can easily be thrown from the lead or trailing leg.
But wait! There's more! This super-secret kick is straight-line, so it is very difficult to perceive and block. It's a great counter kick and requires very little hip rotation. Plus, it's the perfect setup kick for other kicks, if you're still set on trying those fancy ones.
I can hear you yelling, "Please! Sign me up now!" So, what is this super-secret awesome kick? Drum roll please… The front kick. Yup. That lowly kick that most students abandoned (or wished they could abandon) in their first month so they could learn the fancy stuff.
The front kick is the uncool kick that does it all. I remember many, many years ago seeing the great Joe Lewis on the cover of Black Belt Magazine. He was already a legend and could have wowed readers with any of a number of flashy kicks. But Lewis was all about being effective. More than anything, he wanted to get the job done. So, what did he select for his cover shot? You guessed it: A simple boring front kick. I think I can speak for most of us when I say that the last place we would want to be would be within range of that uncool kick. Learn it. Train it and then, train it some more. It will never let you down. Who wants to sit at the cool kid's table when you can sit at the winner's table?
blackbeltmag.com