Ibiza, 2020 May 5th,
Dear KWF members, Shihans, senseis, senpais and all other Kyokushin friends,
I'm addressing you in a difficult time. The world has changed dramatically with the outbreak of the COVID-19 virus. A virus that causes many casualties and for which there is no solution yet.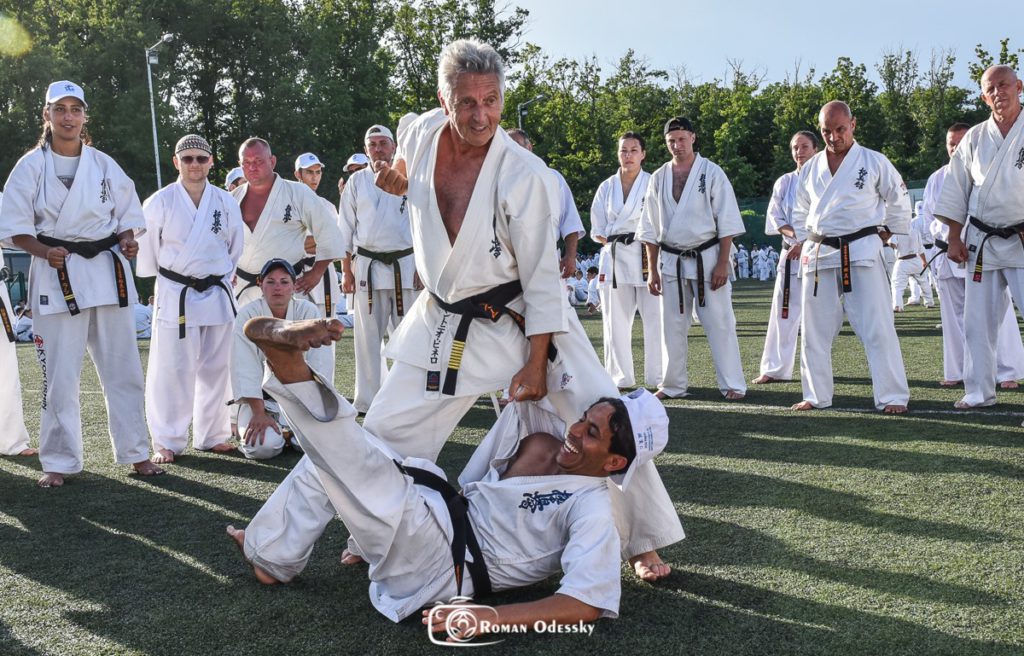 Many countries are facing lockdowns and in some other countries, public life is subject to many restrictions. The aim of all this is to prevent further spread of the COVID-19 virus and to ensure that there are no more victims. The end of these measures is not yet in sight and that makes our lives uncertain and unpredictable at the moment.
Many activities such as the European Championship planned in Sieradz (Poland) as well as several summer camps will not take place this year. This means that we will not meet each other for quite some time, even though this is essential for cooperation within our Federation. This is a great loss and therefore I strongly feel the need to turn to you.
We are faced with many limitations and are confined to our homes. We have more time to think about and see the value of health, happiness, and love. Values that are important within the Kyokushin. At a time like this, there is no escaping self-reflection and rethinking.
We all know the story of our Sosai Oyama who, in complete seclusion from the world, searched for the true values in life and Kyokushin. That period in Sosai's life has had an enormous impact on the Kyokushin way and the path we now take together. A path is full of ups and downs, a road with many turns and temptations next to it. By following your true self and being faithful to where we stand as Kyokushin karateka, we persist in walking the Kyokushin way of life. In the book What is Karate? Sosai Oyama states that in this materialistic world we often forget that our spiritual world is much more important and that the practice of Kyokushin keeps us on the true path: living the way of Kyokushin.
Precisely at this time, these stories give us direction and strength. We continue to follow the way and look for new ways to keep practicing our Kyokushin and passing on our knowledge. I see many beautiful examples of this. Many of you have become proficient in teaching remotely using new technology. People are finding each other through the internet/Facebook or other ways of holding online training sessions together that are free for everyone to follow.
In this way, we stay in contact with each other and train together. We continue to share our passion with each other.
This is also a moment to immerse ourselves again in Kyokushin. Above I already referred to What is Karate by Sosai Oyama. Reading his books keeps surprising me. He wrote them half a century ago, but the content is still relevant today. We all have some books in the bookcase that are probably worth reading again in this specific period.
Sosai Oyama writes in This Is Karate that a person can practice Kyokushin without a physical opponent. He can do it in a small space and in a short time. He states that these exercises are an inexhaustible source of interest that promotes the development of patience and entrepreneurship. Precisely the awareness that training in this way is an essential contribution to the formation of us as a karateka, strengthens our belief that even in this period of forced separation, we can continue to train in a valuable way in order to become stronger, better and healthier.
Let me be clear, the most important objective in Kyokushin and all of our training and study of Kyokushin remains the ability to fight. It must be focused on the fact that we are always looking for new things that will make us grow and make us better. Right now we have to fight with an invisible opponent and we will fight this together. Let us not underestimate this COVID-19 opponent in its strength. It is vitally important that we abide by the rules that currently apply. We have to do this for ourselves, for our family and all the other people around us.
I want to acknowledge the hard times that some of us are going through. Many of us are missing a portion of their income while costs remain the same. Members cancel their membership because they don't train and that doesn't make it easy. Others have to deal with personal losses, e.g. a job and, at worst, loved ones.
Let us not lose each other in the isolation that we are now undergoing but let us cherish the contact. Call each other, mail each other, use all possible means of our time to experience Kyokushin together, with each other, and for each other.
It is vital to support each other in these difficult times. In the spirit of our Kyokushin, we are used to facing the toughest challenges together.
Finally, also on behalf of the rest of the KWF board, I wish you much strength and health. I hope that soon we will meet again and continue together more strongly than ever in the development of Kyokushin in the world.
OSU!