With more than 500 first-place wins,
100 grand championships, 44 world titles and 10 international titles, Tyler Weaver Jr. is used to standing at the top of the podium. In fact, he's been doing just that since he began competing seriously at age 9.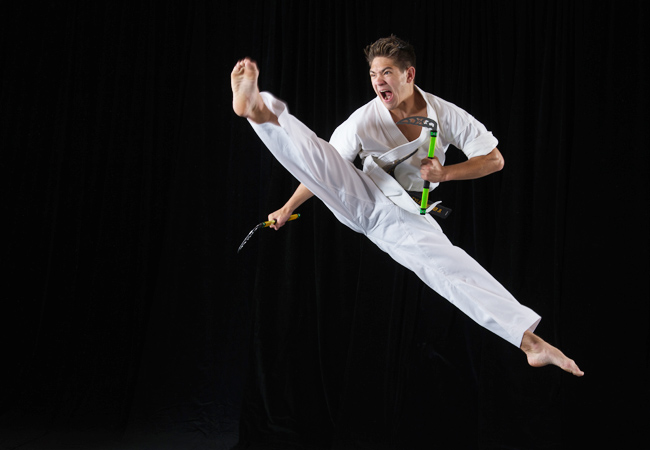 The martial artist started entering tournaments as an amateur two years earlier, at an age when most kids are home playing video games. He crisscrossed the country, showcasing a skill set that grew stronger with each passing year. Meanwhile, his passion for karate blossomed, as did his status in the martial arts community.
Performance after performance, Tyler Weaver Jr.'s flawless execution of weapons techniques and kata left spectators — and judges — in awe. However, few knew that each kick and punch he threw was part of an internal battle the youth was fighting with an affliction that attacks one in 59 children in the United States: autism.
"We noticed that Tyler was having problems with his reading and writing, along with difficulties dealing with basic social skills," his father Tyler Weaver Sr. said. "By the time he was 7, Tyler Jr. had already made a name for himself in the martial arts. He'd been doing a lot of traveling, competing on the NASKA circuit, in the National Blackbelt League, in the ATA (American Taekwondo Association) and in local karate events in Colorado.
"He was still very young, and we thought traveling to all those events just had overwhelmed Tyler Jr. So we got him a private tutor who took him from third grade through high school. At the time, we had no idea that he had a learning disorder."
Because he was being tutored, his parents had no idea how far behind he was falling. They didn't discover the reason until he was 22. "It was then that we learned he was actually autistic," Tyler Sr. said.
Tyler Sr., a career martial artist and the owner of a karate school, struggled to understand his son's diagnosis and the actions the family could take to help him. He knew that Tyler Jr. had always shown an amazing ability to memorize kata and technique sequences, sometimes after a single lesson — things that might take another student weeks or months to pick up. That's when the father put two and two together.
Tyler Weaver Jr. and other martial arts students with autism often excel at weapons use because their propensity to repeat movements over and over lends itself to mastery, Tyler Sr. thought. "Junior has a difficult time interacting socially in situations where it's not repetitive," he said. "He's at his best when he's performing martial arts, talking about martial arts and judging martial arts because he's familiar with the subject."
The Weavers began making a concerted effort to learn everything they could about autism. "We got a lot of help from a lot of people," Tyler Sr. said. "We've joined forces with Developmental Pathways, a group here in Colorado, a nonprofit that helps families like us. We've also worked with the U.S. Autism Society."
At a recent U.S. Autism convention in Las Vegas, Tyler Weaver Jr. was the keynote speaker. "He knows how important it is to spread the word about autism and is eager to give more seminars on the subject," Tyler Sr. said. "Tyler did so well we thought doing speaking engagements like this might be a path for [him]."
After mulling over the circumstances and realizing that this was surely a life-changing situation for the whole family, the Weavers developed a program called Jasper's Journey in honor of younger brother Jasper, who was also diagnosed with the disease. The family hit the road for autism awareness and began advocating for Tyler and Jasper. Among other things, they attend major tournaments around the country to do speaking engagements and set up "sensory rooms."
"We just got back from the AKA Grands in Chicago, where we set up the first sensory room ever at a karate tournament," Tyler Sr. said. "People with autism don't have a filter. They have super hearing, they see everything and they feel everything. So a sensory room is a place for them to relax and decompress. The lights are turned down. A flickering laser light projects designs and images on the wall, which is very calming for them."
The Weavers are attracting lots of attention with their outreach effort. "We had more than 30 people come over to the tent who had kids and knew adults that were autistic, saying this was the best thing they've ever seen at a tournament," Tyler Sr. said.
Now they're picking up sponsors for their autism-awareness campaign. "Our first priority [is] to use grant money to establish sensory rooms at various martial arts events around the country," Tyler Sr. said. "We also pass out literature explaining how martial arts can help someone dealing with autism. And we're developing an online course for martial artists to get certified in order to learn cues and triggers when it comes to teaching students with autism."
Martial arts training is excellent for those who have autism, Tyler Sr. said. "One of the best things karate does is to teach students how to focus and how to communicate better. Communication is important because autistic people tend to shy away; they don't want to get involved or interact. Everything we're taught in martial arts from day one all folds directly into benefiting people with autism."
In particular, students with autism derive great benefit from practicing kata because of the repetition. "It helps improve their memory, and they scream and yell while doing moves, which defuses their anxiety," Tyler Sr. said. "So [in our program], we break down step by step what is the best way to teach and the best way to approach them [because] sometimes they don't like to be touched. Sparring is really hard for them and can be overstimulating."
Tyler Weaver Jr. hatched an idea for a line of martial arts pads and uniforms designed for students with autism. For those who may not know, many autistic people require special socks, clothing without buttons, and shirts without tags and abrasive materials to minimize stimulation. The product line is a work in progress, but it's already getting some serious attention.
Enter John Paul Mitchell Systems and Century Martial Arts. Paul Mitchell, helmed by John Paul DeJoria (see the June/July 2013 issue of Black Belt), supports Tyler Jr.'s travel and logistics, as well as the family's efforts to spread autism awareness through the distribution of pamphlets at martial arts events. In addition, the company donates gentle hair-care products that are suitable for anyone but perfect for those with autism. Century supports Tyler Jr.'s equipment needs and assists with promotional efforts.
With that kind of help — along with his tournament-winning skill set — Tyler Weaver Jr.'s martial arts journey is guaranteed to go far. He plans to continue using his talents to teach students, groom instructors and serve as a role model for everyone who has autism.
Story by Terry L. Wilson • Photos Courtesy of Century Martial Arts
Resources
For more information about Tyler Weaver Jr., visit tylerweaver.com.
For information about the Weavers' Jaspies Journey program, visit https://karateforkidz.org/jaspiesjourney/.
For information about Developmental Pathways, visit https://www.dpcolo.org.