British Kyokushinkai Karate published Shihan Liam Keaveney message on their Facebook and web page: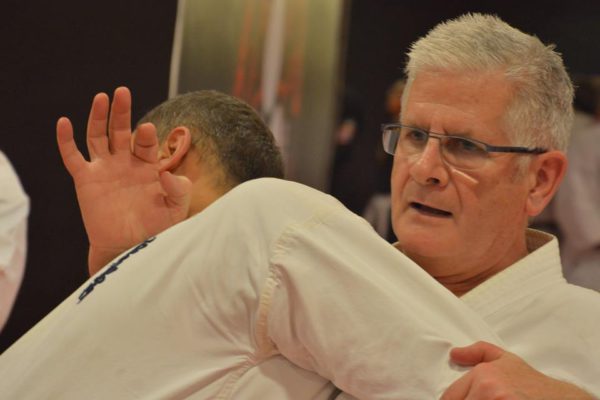 Firstly my thanks for your support through 2016 and my best wishes to you and your students for 2017. I am staggered how quickly the last year has passed.
We are in an age that our organisation is challenged by many outside forces offering a quick journey to martial arts success.It is difficult, as a dojo operator, not to question our path in the BKK sometimes. However I am a firm believer that we must retain (or return to) our core values of traditional karate and indeed a "karate of excellence" – this is an area I wish to focus on, personally, in the coming year.
Sometimes it is easy to see our Tournaments as a goal in themselves and a marker of our success both individually, nationally and internationally. This I feel could be a misrepresentation of the values of Kyokushin Karate. I came across an old IKO Magazine Number 2 from 1978 and an article by Mas Oyama giving his view on Japanese Karate in the 1970's. The article was critical in many ways of the teachings and fighting systems current at that time. This coupled with re-reading Gichin Funakoshi's "The Essence of Karate" led me to re examine many things both within the BKK. "Goal motivated "(ie tournaments) as a measure of achievement can be positive but should not be the measure and total focus of what we do.
I think at Dojo level we need to evaluate what our goals are (and whether we have eight or eighty students) this is crucial.
We need belief in what we are teaching and why we are teaching karate – it is again easy to see numbers as a measure of success or not (another article I wrote a few years ago outlines this). We need to question "why" we are teaching in our dojos – then consequentially an examination of "what" we teach is essential.
[bctt tweet="We need belief in what we are teaching and why we are teaching karate" username="kwunion"]
The inevitability of life is that it changes constantly. Our life and everything around us changes. But there are certain fundamental values within karate that do not change – there needs to be a firm foundation of basics, kata and fighting from the offset. In time our fighting ability and our Bunkai must shine through given our age and ability.
A few years ago I began holding Grading Seminars before the National Black Belt Grading's as I felt there was a need to challenge all those attempting national grading outside of the grading environment. These seminars have proved immensely valuable both to me and the students attempting grading. I endeavour to give a "direction of travel" to each individual – once the grading is over and their fighting career finishes.
Time permitting this year I would like to expand these courses (either regionally or nationally) offering the chance for instructors to come together and exchange views in a relaxed but disciplined environment.
Around this time of year in Japan "Kami Biraki" is celebrated – a renewing of the spirit. I hope we all can, as instructors, renew our spirit and focus.
We have in the years ahead a collective responsibility to retain and maintain our basic Kyokushin Karate standards and I hope through this year we can together discuss (at various forums) the values of our training and dojos and indeed our national organisation.
[bctt tweet="I hope we all can, as instructors, renew our spirit and focus." username="kwunion"]
Progress is dependent on us all – and sometimes progress is dependent on unpopular actions and discussions.
Best wishes for 2017 and my thanks to you all for your continued support.
Liam Keaveney