Once again, the international pro gala fight organization SENSHI has prepared a very promising fight card with battles by the rules of KWU Full contact and KWU SENSHI. The ninth edition of the gala will take place at Kamchia, Bulgaria, on the 10th of July and it will be broadcasted live for the whole world on FITE, as well as on Boec.com, kwunion.com, and Kyokushin Karate News websites. The fight spectacle starts at 8 pm EET/1 pm EST.
The explosive fighting show will start with 6 finals from the first of its kind European Championship of KWU International Professional League. The duels from the championship will be by the rules of KWU Full contact in the categories 70 kg, 75 kg, 80 kg, 85 kg, 90 kg, and 90+ kg. A total of 60 fighters from 15 countries will compete for the European KWU Professional League's belts – the battles started on the 8th of July and the semi-finals are on the 9th of July.
After we see who the first European champions of the KWU Professional League will be, SENSHI 9 will continue with another 7 breath-taking battles between fighters from 11 countries. The K-1 legend trio – the multiple K-1 heavyweight champions and instructors at the KWU Professional League Peter Aerts, Semmy Schilt, and Ernesto Hoost will be referees, commentators, and special guests at the gala. Shihan Ivo Kamenov, Chairman of the Professional League of KWU and of the National Combat Sports Association in Bulgaria, and Shihan Alexandr Pichkunov, Secretary-General of the KWU, will be among the special guest as well.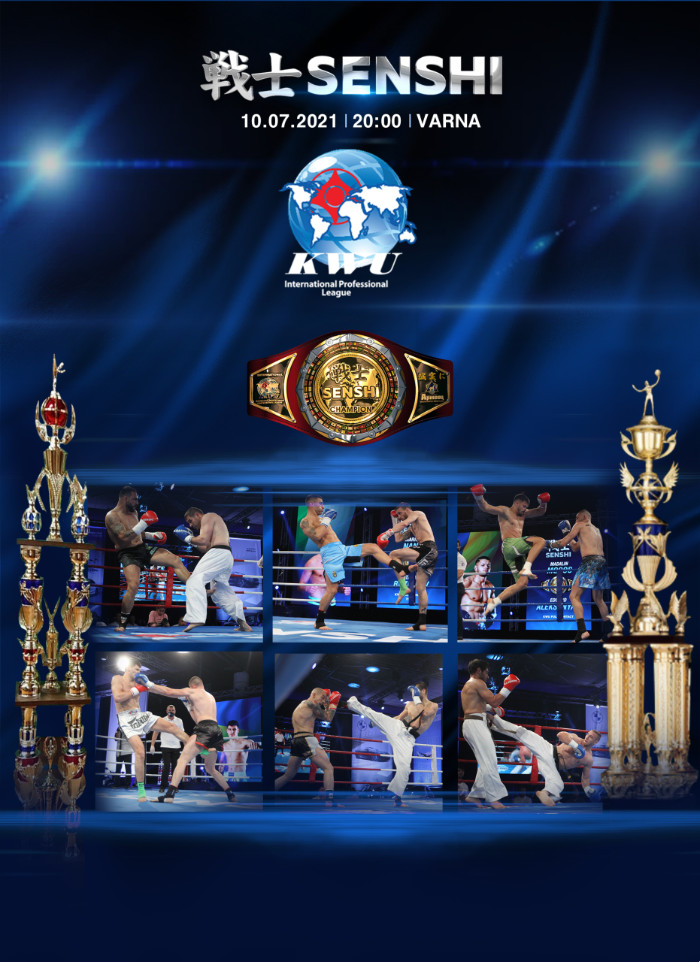 Take a close look which will be the 7 professional fights from the SENSHI 9's fight card:
Battle #7: Carlos Garcia (Spain) vs. Dragomir Petrov (Bulgaria)
Category: 70 kg
Ruleset: KWU Full Contact
The 31-years old Carlos Garcia from Spain will be the opponent of Dragomir Petrov from Bulgaria. Garcia is one of the brightest Spanish stars. He is a K1 Champion of Spain in 2017 and a runner-up for the World title K1 in 2015.
The Bulgarian Dragomir Petrov is 27 years old and he made a debut at SENSHI with a groundbreaking knockout against his opponent Pedro Granjo at the 8th edition of the gala. Petrov is an EMC European muay thai champion, 2019, as well as Champion at Wizard (2019(, Champion at Max Fight 2019, and SENSHI Champion in 2020 and 2021.
Battle #8: Pavel Shelest (Belarus) vs. Eduard Aleksanyan (Bulgaria)
Category: 80 kg
Ruleset: KWU Full Contact
Vice World Kickboxing Champion from 2019 Pavel Shelest from Belarus will make his debut at SENSHI 9. He will compete for the SENSHI Champion belt against the WAKO PRO European champion K1 in the 81 category Eduard Aleksanyan.
Aleksanyan is a Bulgarian kickboxer. In 2018 and 2020 he became National kickboxing champion. He has 2 wins at SENSHI, and at the gala, he actually won his WAKO PRO European title.
Battle #9: Andrej Kedveš (Croatia) vs. Atanas Bozhilov (Bulgaria)
Category: 75 kg
Ruleset: KWU Full Contact
Another amazing fight will be under number 9 in the fight card of SENSHI 9. The WAKO Vice world kickboxing Champion (2019) and Emperor Chok Dee tournament champion (2015) Andrej Kedveš from Croatia will compete for the SENSHI champion belt against one of the best kickboxers in Bulgaria – Atanas Bozhilov.
Bozhilov is a WAKO PRO World K1 kickboxing champion in category 71.8 kg (2019), KGP K1 World champion 72.5 (2018), and WAKO kickboxing World cup champion (2017). He has 6 wins in SENSHI. This will be the debut of Andrej Kedveš.
Battle #10: Oleg Tsvik (Ukraine) vs. Artem Pashporin (Russia)
Category: 70 kg
Ruleset: KWU SENSHI
The World Kickboxing Champion WPKA Oleg Tsvik from Ukraine will face a tough opponent in the ring. Tsvik is a winner of the World Cup kickboxing WAKO and of the professional tournament GLOBAL FIGHT Max MUAY THAI.
His opponent – Artem Pashporin from Russia, has an impressive win record. He is a W5 World champion, GPRO World champion, WKU Intercontinental champion, S1 World champion, and WMC European champion. So, we expect fireworks in the ring!
Battle #11: Francesko Xhaja (Albania) vs. Ahmed Krnjic (Bosna and Herzegovina)
Category: +95 kg
Ruleset: KWU Full contact
Francesco Xhaja from Albania is the next fighter, whom we will see for the first time on the ring of SENSHI. His ring name is "Smile" and he has a record with a total of 21 professional fights, 15 of which with wins.
His opponent in the blue corner is Ahmed Krnjic from Bosna and Herzegovina. He is a WAKO PRO K-1 European champion (2019), he is a silver medalist from the WAKO World Championship (2017), and WAKO European Championship (2018) by the K-1 rules.
Battle #12: Samuel Dbili (France) vs. Sergej Braun (Germany)
Category: 80 kg
Ruleset: KWU Full contact
In the 12th titan clash at SENSHI 9, we will see a fight between the European Champion WKN (2019) Samuel Dbili from France, and the WAKO PRO K1 World champion (2021) Sergej Braun from Germany.
Dbili is a K1 French champion (2018), a double French muay thai champion (2016, 2017), and a bronze medalist from the Muay Thai world championship IFMA.
His opponent from Germany Sergej Braun is pretty serious. He is a two-time WKU World Champion, WFMC World Champion, and a Mix Fight Champion. He had to participate in the previous edition of SENSHI, but due to a COVID-19 infection, he had to miss his fight at the eighth edition of the gala. Apart from that, he has 3 wins at SENSHI.
Battle #13: Florin Lambagiu (Romania) vs Andrei Chekhonin (Russia)
Category: 85 kg
Ruleset: KWU Full contact
Fasten your belts for the last bout of the night! The National Sambo Champ of Romania, Florin Lambagiu, will be battling Andrei Chekhonin, WAKO Pro Low Kick World Champion, 2020 under KWU Full Contact Rules in the weight category 85 kg.
The nickname of Lambagiu "Rambo" is famous for his punching power, being one of the best body punchers on the Romanian kickboxing scene, and has a powerful left hook. In 2018 he becomes also a national champion in kickboxing.
Senshi 9 will be broadcasted on Bulgaria ON AIR, MAX Sport, Boec.BG and the US online channels FITE, Boec.COM, Kwunion.com, Kyokushin Karate News, and Fightо.News.
SENSHI 9 is brought to you by KWU International Professional League, Armeec Insurance Group, MAX Sport, Bulgaria Air, M-Car Group – BWM.
Media partners of SENSHI 9 are Boec.BG and Boec.COM, Bulgaria ON AIR, FITE.tv, Gol.bg, Topsport.bg, kwunion.com, Russian Union Of Martial Arts – RSBI.RU, KyokushinКarate.News and Fighto.News
---
Follow us on social networks:

Facebook & Instagram Hashtags: #kwucamp#kwunion

Facebook: https://www.facebook.com/KWUnion
Twitter: https://twitter.com/KWUnion
Instagram:https://www.instagram.com/kwunion
VKontakte: https://vk.com/kwunion