Another exciting fight will rock the fans at the upcoming SENSHI 13 fight night.
Japan's Jo Miyahara will face Italy's Renato Prenga on September 10th on the beach of Saints Constantine and Helena, Bulgaria. The event kicks off at 7:00 p.m. EEST.
The fight will be conducted under the KWU Full Contact rules in the -80 kg category.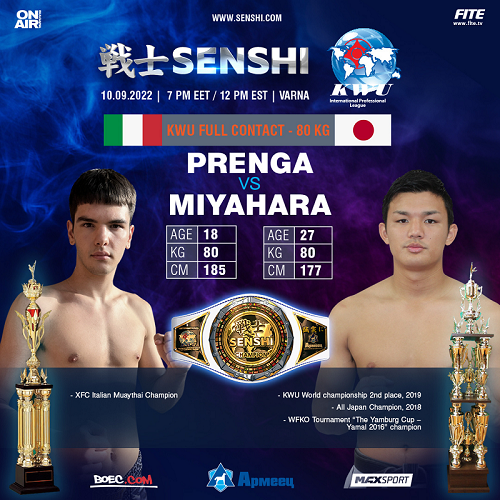 The 27-year-old Japanese will be getting on the SENSHI ring for a second time. Jo faced Bulgaria's Nikolay Yorgov three years ago, but he lost in his debut. Miyahara is a 2018 All Japan champion, 2019 WKF Grand Prix medalist, and 2016 WFKO Tournament "The Yamburg Cup" champion.
His opponent, the 18-year-old Renato Prenga, is XFC Italian muay thai champion.
---
The fight night will be broadcast live on Bulgaria ON AIR and Max Sport 2 for Bulgaria, as well as in real-time worldwide on American television FITE, Senshi.com, kwunion.com Boec.bg, Boec.com and Kyokushin Karate News.
戦士 SENSHI is organized in cooperation with the Professional League of the Kyokushin World Union (KWU International Professional League), as well as with the special support of Armeec Insurance Company, MAX Sport, Bulgaria Air, and M Car Group – BMW dealer.
戦士 SENSHI's media partners are Boec.BG and Boec.COM, the national television Bulgaria ON AIR, the American online martial arts television FITE, Gol.bg, Topsport.bg, kwunion.com the information portal Kyokushin Karate News, Fighto.News and Novinata.bg.