One of the most respected and hard-working kickboxers of Bulgaria – Atanas Bozhilov, will be making its record 11th SENSHI appearance.
The fighter of the "Fight Factory" club will participate in the upcoming SENSHI 12 event which is set to take place on July 9th in the resort town Saints Constantine and Helena, Bulgaria. This SENSHI will be a beach edition due to the fact that the ring will be placed on the sand.
The 36-year-old Bozhilov will be facing Georgia's Giorgi Bazanov who will be making his SENSHI debut. The fight will be conducted under the KWU Full Contact rules in the -75 kg category.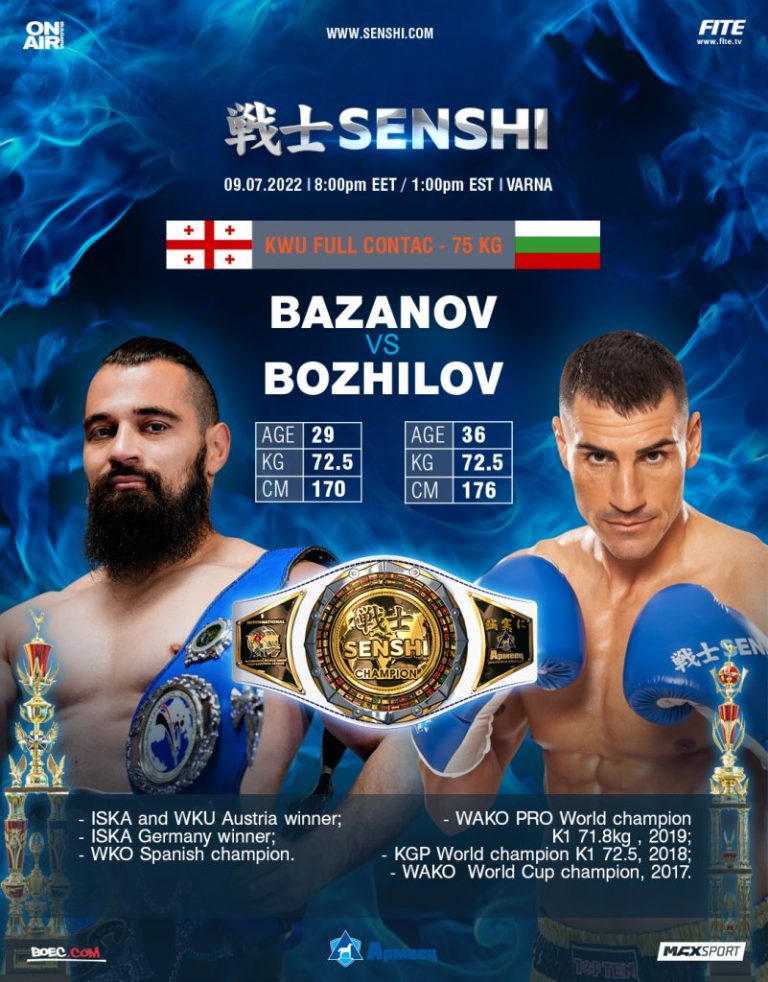 The Bulgarian fighter has 9 victories under the SENSHI banner. The last time we saw him under the bright lights, Bozhilov defeated Romania's Cezar Matei. "Nakata" has 27 wins and only 2 losses in the pro ring. 2021 was one of his best years. Bozhilov defeated Slobodan Mijalovic at SENSHI 7. Then he beat Mario Nani at SENSHI 8 and in December he demolished Philipp Hafeli at SENSHI 10.
The 29-year-old Bazanov is one of the most recognizable names on the Georgian fight scene. Earlier this year he returned to the ring following a four-year hiatus. The Georgian has fought in some of the finest organizations in Europe and Eastern Europe.
---
The fight night will be broadcast live on Bulgaria ON AIR and Max Sport 1 for Bulgaria, as well as in real-time worldwide on American television FITE, Fight Box, Senshi.com, Boec.bg, Boec.com, and Kyokushin Karate News.
SENSHI is organized with the special support of Armeec Insurance Company, MAX Sport, Bulgaria Air, and M Car Group – BMW dealer.
SENSHI's media partners are Boec.BG and Boec.COM, the national television Bulgaria ON AIR, the American online martial arts television FITE, Gol.bg, Topsport.bg, the information portal Kyokushin Karate News, Fighto.News and Novinata.bg.