Another unpredictable clash will be part of the 12-th edition of SENSHI!
The Bulgarian KO machine Aleksandar Petrov will get on the ring of SENSHI in search of his third victory under the banner of the elite international organization. He will face the tough Spanish fighter Ruber Garcia. SENSHI 12 – the international professional fight night will take place on July 9 at 8 pm in St. Constantine and Helena, and the 13 battles will be held in an exotic atmosphere on the beach.
The fight will be under the KWU Full Contact rules in -85 kg. category.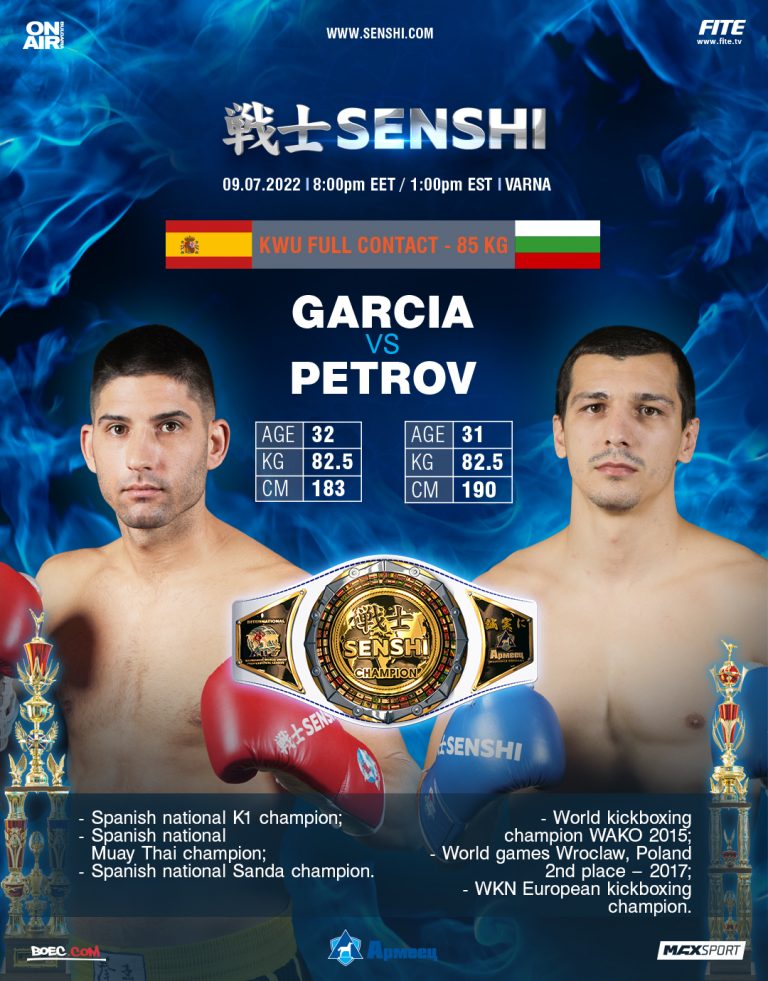 The 2x World Amateur Kickboxing champion and European K-1 champion Aleksandar Petrov won both of his SENSHI fights so far. At the end of 2021, he overcame the adversity of Filip Seculovic and in February he scored a victory over Boban Ilioski.
However, the 31-yers old Bulgarian will not have an easy task ahead of him. He will face the Iberian, who took by surprise everybody on the tenth edition of SENSHI. Garcia overwhelmed the Russian Andrey Chehonin after a decision in an additional fourth round.
The fight show will be broadcast live on Bulgaria ON AIR and Max Sport 1 for Bulgaria, as well as in real-time worldwide on American television FITE, Fight Box, Senshi.com, Boec.bg, Boec.com and Kyokushin Karate News.
SENSHI is organized with the special support of Armeec Insurance Company, MAX Sport, Bulgaria Air and M Car Group – BMW dealer.
SENSHI's media partners are Boec.BG and Boec.COM, the national television Bulgaria ON AIR, the American online martial arts television FITE, Gol.bg, Topsport.bg, the information portal Kyokushin Karate News, Fighto.News and Novinata.bg.