Fighters from the BKK, as KWU representatives,
and fighters from IKK and EMAR representing a unified Team GB attending the Kyokushin World Union's (KWU') 6th World Youth and 2nd European Adult Championships in Varna, Bulgaria on the 7th-9th December 2018.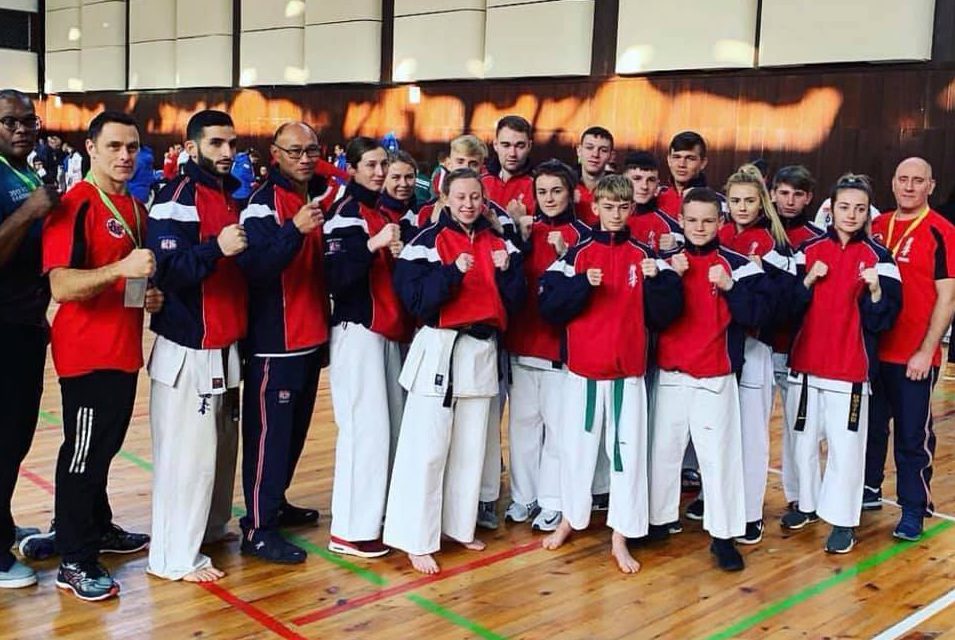 This was a landmark occasion for the BKK in taking U16 competitors to a contact-based tournament, and we're pretty sure the handful of parents that travelled with the team were more nervous than the squad.
The adult team provided high hopes of podiums with experience and consistency at European level with Luke Baldwin, Emma Markwell and Hayley-Beth Rowlands flying the flag.
3 days of tournament fighting with over 700 competitors saw very high-levels at all ages.
Our U18 team all had tough first round draws which was to be expected at such a prestigious championships; Ashley Black's first taste at World level drew a strong fighter from Armenia, Mia Morgan's opponent from Poland, Russian's for Holly Harvey and Charlie Denton, Luke Sabey's dream draw from Japan, and Rhys Meredith making it all the way through to the quarter finals beating opponents from Belarus and Romania, missing out on a semi final place to the eventual winner from Russia. IKK GB representatives Callum and Harry had tough draws from Bulgaria and Kazakhstan respectively.
With relative inexperience amongst our U18s at such a high standard of competition, all without exception showed determination and spirit on the mats, and conducted themselves commendably off the mats, representing the country and BKK proudly.
The Adult tournament was equally tough, and although pitched at European level, categories saw multiple World Champions on display vying for the KWU European title in only its second edition of the championships.
Luke Baldwin was drawn against former British Open champion, Drodz from Russia who Luke had previously fought at K2 in Crawley. An improved performance from Luke but ultimately Drodz proved too powerful over 2 mins.
Emma Markwell looked strong, and full of conviction on her way to the semi finals where she met and took the fight to Shemina, her Russian opponent she'd fought earlier in the year at the IFK European Tournament in Armenia. Emma put Shemina on the back foot early in the round with combinations, and strong body and low kicks, keeping her off balance. It was clear the early onslaught and aggresion took Shemina by surprise, but she did enough to rally and bring about a draw going into the first extension.
Both looked to take mat centre at the start of the second round; strong chest punches and knees from Shemina saw Emma increase her own punch count and knee combinations as well continuing to deliver heavy low kicks unbalancing her opponent on a number of occasions. As the fight headed into final third, Emma increased her pace forcing Shemina to match her. Fighting to hold the centre of the mat, both fighters matched each other, although Emma's low kicks clearly causing damage on her opponent.
With both fighters ready for a second extension and encho-sen, three judges unexpectedly raised flags for the Russian. Delight for Shemina who's leg was visibly damaged after the fight, it was a solid but disappointing and nevertheless solid bronze medal performance for Emma.
Hayley-Beth Rowlands reached her first career major tournament final, with stoppages by punches and ushiro geri, and a commanding semi-final flags decision against Ukraine and Russia fighters respectively, setting up the final against Tsakiri of Greece.
Any signs of nerves were gone early in the fight as Hayley set about stemming her opponent's aggressive start with stiff punches and hard leg kicks of her own. With a high-pace style of fighting, Hayley took control using angles to keep Tsakiri off balance, throwing direct and hook punches coupled with chudan mawashis and hizas to wear her opponent down. An attempted ushiro mawashi geri came close to connecting but for her loss of balance.
As much as Tsakiri tried to counter attack, Hayley was the clear aggressor in ascendance not giving her opponent any space or time to work. She was able to use her technical and strength superiority to continually move forwards, driving the Greek out of bounds in the final seconds of the round.
A unanimous decision after 3 mins meant Hayley became the -50kg KWU European Champion, and award for Best Female Technician.