Dear Shihan, Sensei Osu!
I hope you are so well. Thank you very much for your cooperation.
Many Japanese Champions of each organization will participate in THE KARATE GRAND PRIX 2019.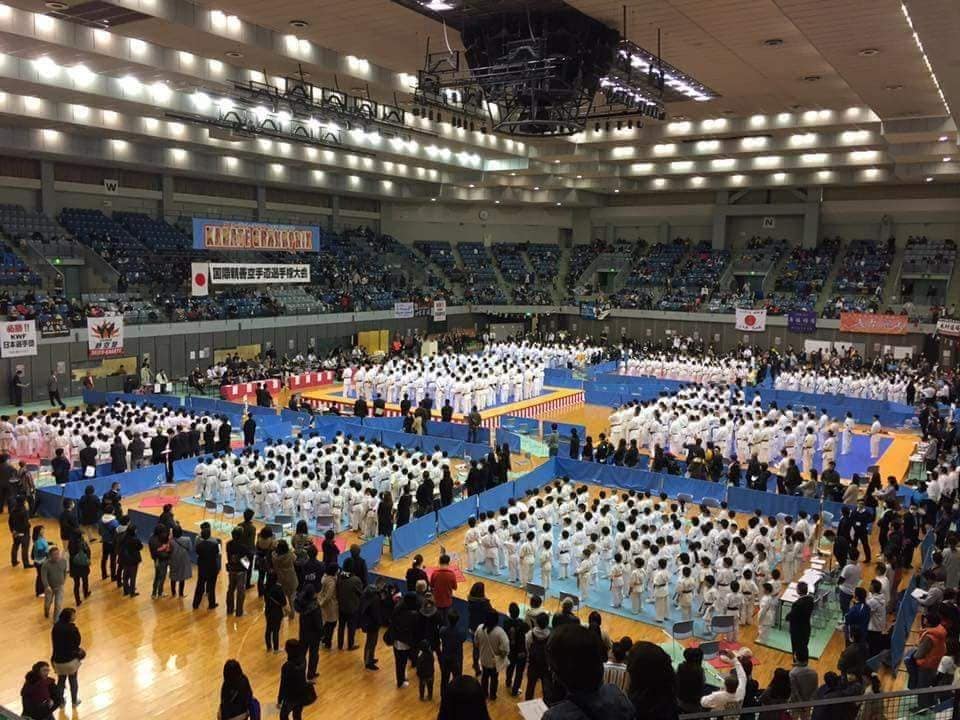 Japanese players: 662
Foreign players: 41
Total: 703
I would like to send you PRIOR NOTICE of The Karate Grand Prix 2019. Please see text bellow.
I am looking forward to seeing you in Japan soon !
Best regards
KWF Japan
Noriyuki Tanaka
---
Dear Shihan and Sensei
I would like to express my appreciation to hold the "KARATE GRANDPRIX 2019".
In the competition, 6 Tatamis would be prepared since 703 competitors from14 countries.
I am looking for Judges. If possible, please send the name of Judges and his Dan degree. Appreciated your co-operation.
e-mail : noriyuki@kyj.biglobe.ne.jp (until 9th March)
[Schedule 24th March, 2019]
All participants have to come to Chiba Port Arena by themselves.
~8minutes by train to JR Chibaminato Station(Chiba Port Arena) from JR Kaihin-Makuhari Station(Apa hotel).
~15 minutes by walk from JR Chibaminato Station. (We recommend to take a taxi.)
8:30 Sport Hall Open
8:45 Judge meeting
9:20 All competitors have to come to their Tatami
9:30 Opening ceremony Ⅰ
9:40 All matches start!
15:50 Opening ceremony Ⅱ (Participate all Foreign competitors)
16:10 Semi-finals and Finals (No 31 ~No 37 only)
18:00 Awards and closing ceremony
18:30 Dismiss
***CAUTION***
1. All competitors are required insurance before the matches.
2. Registration is….
– 23th March 2019
– 1:00 pm
– Lobby of the Tokyo Bay Makuhari ,1F
– Only the representative in each team is allowed for the team registration
– Required: Karate uniform, protection, agreement form, health insurance certificate (original), passport (original), medical certificate (original),
– Registration fee: No1~No39: 7000yen, No40~No50: 8000yen
Weight –in: with T-shirt and Karate pants. Plus 1kg would
be accepted (CategoriesNo25~50), 500g (No1~24).
3. Groin cup for the senior women is optional and knee pad is prohibited (KWF rule)
4. Competitors must be in your court when the calling or disqualified
5. Head gears for the class of boys and girls will be provided by operating staff
6. Health insurance card or the copied is required for every competitors
7. Competition venue is not allowed for any food.
8. Lunch & beverages will be prepared only for the Judges, operations staff and the guests, not for the competitors
9. Warm-up is allowed only in Sub arena
10.Please bring back own garbage by yourself
11.Please reply confirmation e-mail to KWF Japan after reading this PRIOR NOTICE
***RULES and POLICY***
One push to get out of close combat is acceptable.
But, after that, an attack must accompany it.
Kumite rules : KWF kyokushin kumite rules.
*chui 1➡ genten1(chui 2) ➡ genten 2 (chui 3) ➡
genten 3 (chui 4)= shikkaku, Wazaari >genten 3
I would like to evaluate more Karate technical part of the
matches except fouls (pushing, grabbing, pretending etc…).
I would appreciate if all of you could co-operated for this Budo tournament with the Dignity and Majesty.
Osu.
Representative of KWF JAPAN
Noriyuki Tanaka