On May 15, we learned the sad news that Shihan Noriyuki Tanaka passed away.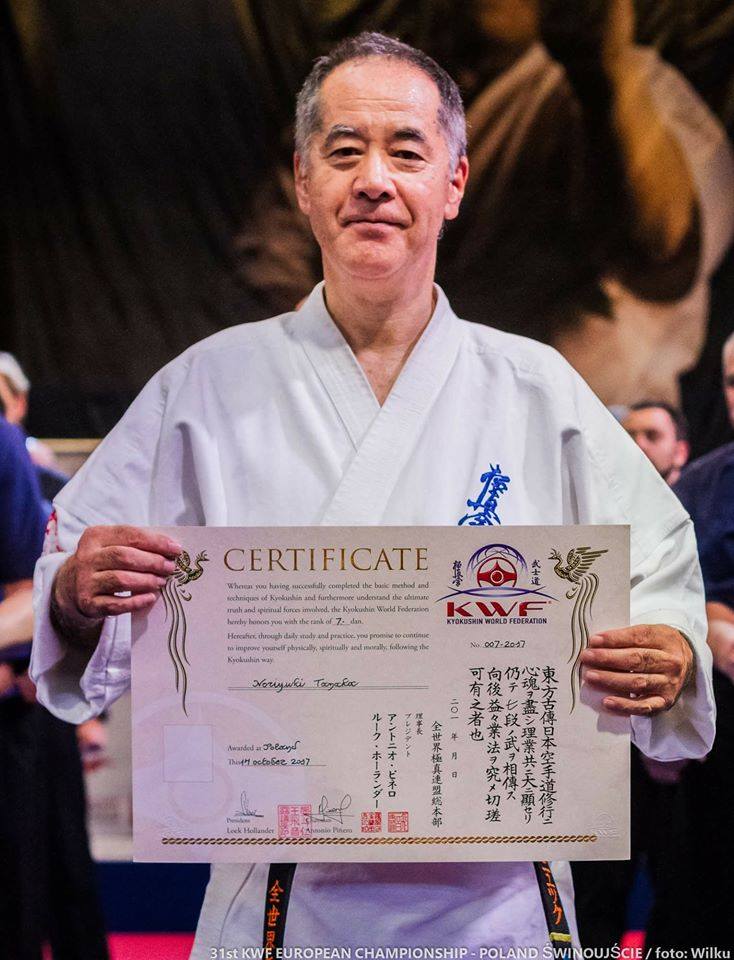 Noriyuki Tanaka started his path in karate in 1977 in Osaka. In 1983, he was the winner in the heavyweight category at the Chiba Prefecture Tournament. In 1997, he became top four fighters at the All-Japan Tournament among veterans in the heavyweight category.
Until 2001, he worked as a teacher at the Chiba Prefecture High School.
Shihan Noriyuki Tanaka was a true Teacher. His dojo in Chiba was not just a place for practicing karate Kyokushinkai. It pursued a special mission, which Shihan Tanaka, as a leader of the dojo, formulated as "raising modern samurai". Through all his work, he sought to pass to his students via physical trainings the main values – the importance of nurturing discipline, patience, respect and appreciation. He taught children to show respect for parents, gratitude to people and stay fair whatever happens.
Shihan Tanaka devoted himself entirely to the promotion of Kyokushin karate – an art that, he was convinced, along with other Japanese martial arts, was "a vibrant flower of Japanese culture".
Being a KWF representative in Japan, Shihan Tanaka and his students have always actively participated in international competitions both within the framework of KWF and KWU, where they always demonstrated high-level performance and became prize-winners. For KWU, Noriyuki Tanaka has always been a great friend and a reliable partner, whom we could always count on.
In October 2017, at the opening ceremony of the 31st KWF Kyokushin European Championship, Shihan Noriyuki Tanaka was awarded 7th dan as the most active KWF international representative.
Shihan was the organizer of one of the largest international Kyokushin tournaments – KWF International Open Tournament [The Karate Grand Prix]. The tournament was held annually in the city of Chiba, it always gathered hundreds of athletes from different countries and organizations. Following the tradition, despite the severe illness that Shihan has already been fighting, this March the tournament was held as always. All competitors, karatekas, coaches and Kyokushin enthusiasts will forever remember [The Karate Grand Prix] 2020, as an example of endurance and endless dedication to the work, which Shihan showed us.
Respect, decency and devotion are what Shihan Noriyuki Tanaka taught his students and everyone who knew him, by his own example. Such people never actually leave, his teaching remains alive with his students, who, in their turn, will pass on to the next generation all the values that Shihan has instilled throughout his whole life.
We will always cherish the warmest memory of him in our hearts.
The most sincere condolences to his family and his beloved ones.
With endless gratitude and love.
Kyokushin World Union