From the beginning of March, the world changed and didn't exist like before till now on. The pandemic creates an imbalance all around the world. In the summer KWU organized the world cup for U21 fighter, and now we organized a german tournament and KWU championship in October. I think it's not needed to talk about the problems, which we had because of the pandemic, to organize a good championship. Every one of you can imagine it. Anyway, the main goal is reached – we chose the best fighters in Germany for today. These fighters will participate soon at the highest-ranked championships in the world. Because of the pandemic, a lot of invited and already registered teams all over Europe couldn't come at the last moment.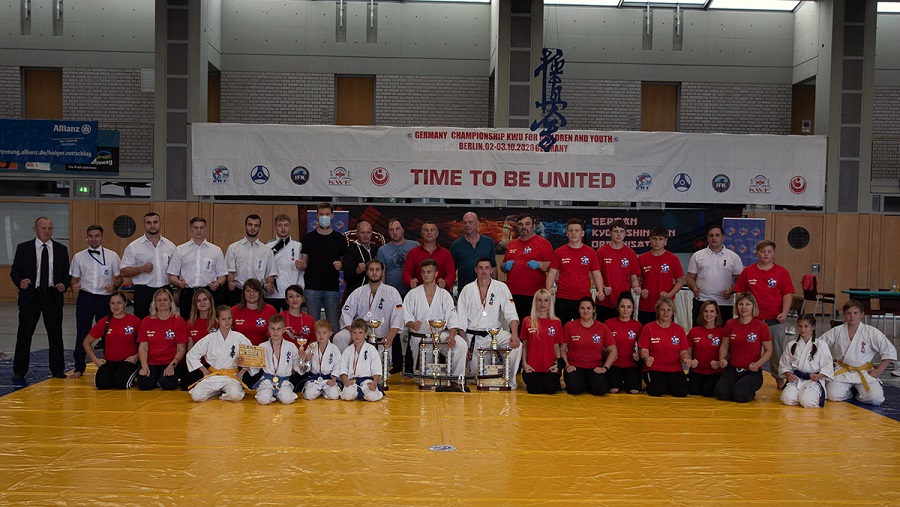 The number of participants of the German KWU championship was only about 50 people. A big thanks to the athletes from the Netherlands and Greece, who came to take part in our tournament. Also, a big thank goes to our judges with their leader – Andrey Perminov, our main judge in KWU Germany. Also, I have to show up two facts. 1. In the light and heavyweight men, the division went the first place to the students of Dankezu dojo. And also the second place of the middleweight goes to Artem Sergeev, a student of Alexey Demanov. 2. The 17 years old fighter – Steven Demanov took part for the first time in the adult category and won his title in the lightweight! And last, but not least, a big thanks to our organizer team, who stay there for the last three days and helped in everything that was possible. The victory of our guys is a piece of the result of your help!
---
Boys 12-13 years -40 Kg.
I. Place – Kroll Sergey – Dankezu
II. Place – Chamdin Stanley – Sweden
III. Place – Kögler Yannick
III. Place – Markos, Said – Sweden
Boys 14-15 years -65Kg.
I. Place – Ladyshenskij Lior – Dankezu
II. Place – Belz Maxim – Dankezu
III. Place – Bacak, Kerem – DKO
Boys 14-15 years + 65Kg.
I. Place – Kroll Ivan – Dankezu
II. Place – Nebel Ron – Aktivsport Saxonia
III. Place – Miller Albert – Dankezu
III. Place – Daniel Beck – WKB
Boys 16-17 years -65 Kg.
I. Place – Tjumenzew Dmitrij – Dankezu
II. Place – Kögler Niklas – Aktivsport Saxonia
Boys 16-17 years +65 Kg.
I. Place – Miller Daniel – Brauns Gym
II. Place – Slabowski Louis – Brauns Gym
III. Place – Michael Beck – WKB
III. Place – Miguel Greene – Kenbukai
Girls 16-17 years
I. Place – Belimov Milena – Shin Bonn
II. Place – Krause Jessica – Aktivsport Saxonia
III. Place – Linger Laura – Dankezu
III. Place – Arangold Evelina – Dankezu
Adults Men -75 Kg.
I. Place – Demanov Steven – Dankezu
II. Place – Mojtaba Hussaini – WKB
III. Place – Davy Brand – Holland
III. Place – Taki Azim – DKO
Adults Men -85 Kg.
I. Place – Ritter Thomas – Shin Bonn
II. Place – Sergeev Artem – Dankezu
III. Place – Malinowski Wadim – Shin Bonn
III. Place – Dik Wladimir – DKO
Adults Men +85 Kg.
I. Place – Demanov Ivan – Dankezu
II. Place – Oscar Kotulla – IBK
III. Place – Kleomenis Toumpanos – Greece
III. Place – Wojciech Cysdorf – Kenbukai
Women
I. Place – Mikhalova Anastasia – Shin Bonn
II. Place – Schmidt Andrea – IKON
III. Place – Schulz Helen – DKO
Best Fighters 2020
Demanov Steven – Dankezu
Malinowski Wadim – Shin Bonn