March 25-26, 2017 the Honbu of IFK Canada Kyokushin Organization,
Contact Kicks Martial Arts
,
hosted a Knock-Down Fighting Seminar with Sensei Mikhail Zimerman 3rd Dan. Sensei Zimmerman is a multiple Canadian Kyokushin Champion and International competitor.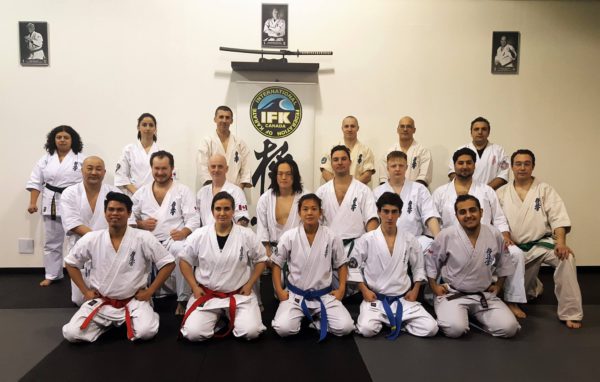 Saturday began with introductions from Country Representative, Sensei Steve Fogarasi, who explained to the students the importance of getting instruction and gaining knowledge from different teachers, to help you not only as a knockdown fighter, but to help you become a more all-round better karateka.
Sensei Zimmerman's experience speaks for itself:
23 years in Kyokushin Karate
3 Times country representative at the IFK World Championships (placing 5th in 2002 and 6th in 2005)
Multiple national and North American champion
Multiple holder of the Gold Cup and Kanreykai Championships
2 Time holder of the Super Fight belt in Gold Cup
5th place in Team Kata, World Kata Championships in 2003 – Poland
Master's Degree in Physical Education (Pedagogy) from McGill University
15 years teaching Kyokushin Karate including 8 years teaching martial arts as Physical Education courses at John Abbott College
Sensei Zimmerman kicked of the seminar by introducing himself and giving a brief of what would be covered over the two days, including
Fighting Fundamentals

Pads Work

Partner Training

Tournament Fighting
Day One would focus on defensive tactics and Day Two would focus on Tai Sabaki and Counter Striking
Sensei Zimmerman's extensive knowledge not only in Knock down, but physical education definitely came into play. Explaining each move not only from the martial perspective, but also from the physics as well. For example, something as simple as standing in fudo dachi. Explaining that this isn't a "neutral" static stance, but should be treated as a ready stance, with the ability to explode into movement without hesitation, as kumite dachi is used.
Sticking to the basics of stand-up Kyokushin style fighting, Sensei Zimmerman took us through many drills based on his experience. He always took the time to explain the movements and remind us all, that these tactics came from his personal experience that worked for him. Though we are practicing them, we ultimately need to find out what works best for us on an individual level. And this can only be done through practice and repetition.
Sunday was a true continuation and Pt. 2 of Saturday's defensive work, now including Tai Sabaki and Counter Striking, utilizing positioning and counterbalance striking with fluidity. Always reiterating the importance of generating "power" from the ground up, through the legs and hips, through proper rotation.
The day and seminar closed with Sensei Zimerman expressing his gratitude for working with everyone, and reminded the students that everything they were taught, over the last two days, to utilize and make their own. It might not happen immediately, or overnight, but with practice, sparring and tournament experience we will develop what we were taught, into techniques of our own.
Thank you to Sensei Mikhail Zimerman for an enlightening weekend!
For more photos of the event, click here!

OSU!