XII KWU INTERNATIONAL SUMMER CAMP KAMCHIA
Organizers are: Kyokushin World Union – KWU and Bulgarian Karate Kyokushin Federation – BKKF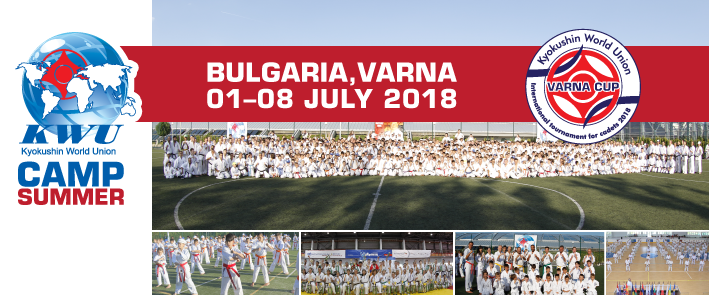 International summer camp will be held in accordance with the international calendar of Bulgarian Karate Kyokushin Federation for 2018 with purpose:
strengthening the friendship

between members of international organizations of KWU;

increasing the level of mastery

of participants (they must be

at age over 14 years old

and prize

winners of international

and national tournaments)

improving the qualification of

coaches;

examinations for new style

qualification

s

;
XII KWU International summer camp will be held from 01.07.2018 to 08.07.2018
Venue of the International Summer training camp: Kamchia, 34 km to the South of Varna, Bulgaria
Instructors :
Kancho Hatsuo Royama – 9 dan
Shihan Andre Drewniak – 9 dan
Shihan David Pickthall – 7 dan
Shihan Alexandr Tanushkin – 7 dan
Shihan Marin Mitev – 6 dan
Shihan Ivo Kamenov – 6 dan
Shihan Akio Koyama – 8 dan
Shihan Asen Asenov – 5 dan
Shihan Ramil Gabbasоv – 5 dan
Sensei Nikolay Rachev – 5 dan
Sensei Stoyan Dimov – 4 dan
Sensei Tihomir Atanasov– 4 dan
Sensei Zahari Damyanov – 4 dan
Sensei Aleksandar Pichkunov – 4 dan
Sensei Sergey Plekhanov – 4 dan
Sensei Kobayashi Hitomi – 4 dan
Sensei Kataro Yamashita – 3 dan
Sensei Dmitry Savelyev – 3 dan
Sensei Stilyan Petrov – 3 dan
Sensei Petar Martinov – 3 dan
Sensei Inoue Yuta – 3 dan
Senpai Yokozawa Taku – 2 dan
---
Deadline for preliminary applications – 01.05.2018
Deadline for final applications – 15.05.2018
e-mail: kwu_bulgaria@abv.bg
At the XI International Summer camp 2017 took part more than 1250 participants from 25 different countries: Azerbaijan, Armenia, Belarus, Bulgaria, Bosnia and Herzegovina, Great Britain, Germany, Greece, Iran, Hungary, Spain, Kazakhstan, Netherlands, Poland, Romania, Russia, Slovenia, Serbia, Tajikistan, Tunis, Turkey, Ukraine, France, Sweden and Japan
---
KWU "VARNA CUP" 2018
INTERNATIONAL TOURNAMENT FOR CADETS – 18-21 years old – 03.07.2018 – Kamchia 2018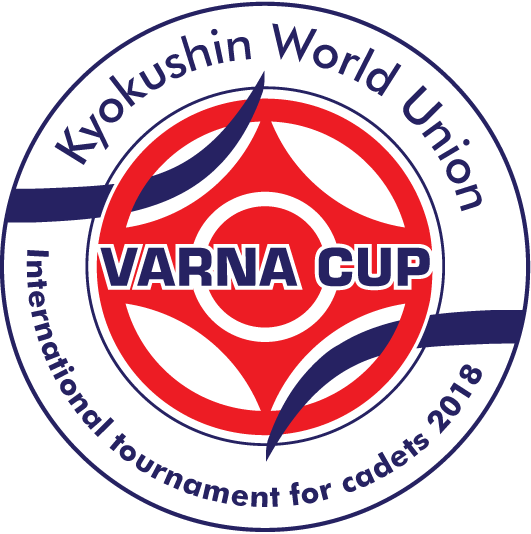 ORGANIZERS: KWU and BKKF
Date: 03.07.2018 (Tuesday)
Venue: Sport hall "Kamchia"
Participant must take part at each activities of the International camp;

The entry fee will not be charge;

During the tournament there will be 4 demonstration fights

Rules: KWU Competition Rules
CATEGORIES:
Cadets Men 18 – 21 years old: -60, -65, -70, – 75, -80, -85, +85 kg.
Cadets Women 18 – 21 years old: -50, -55, -60, -65, +65 kg.

The organizers retain the right to merge weight categories or change their limits, taking into account the number of




participants in categories.

NECESSARY DOCUMENTS
1. Pre-competition medical examination;
2. Budo passport;
3. Copy of insurance policy and list of insured persons;

Mandatory protections – gloves, protector for shin and arch of the foot and chest protector for women and for competitors -18
years helmet
All protectors will be provided by KWU

Competitors must be with clean dogi, tidy appearance, cut nails, no jewelry and makeup!

JUDGES
Mandatory judge uniform – dogi

AWARDING OF CHAMPIONS AND PRIZEWINNERS
Champions and prize-winners (1st-3rd places) are awarded with medals and diplomas as well as cups of corresponding grade and special awards.
---
UPDATE (June 14): KWUCAMP and VARNA CUP provisions
---