A bit of snow makes people behave in an unbelievable way
With cutting winds gusting over the frozen ground of the Brecon Beacons it was one of the coldest days of the winter.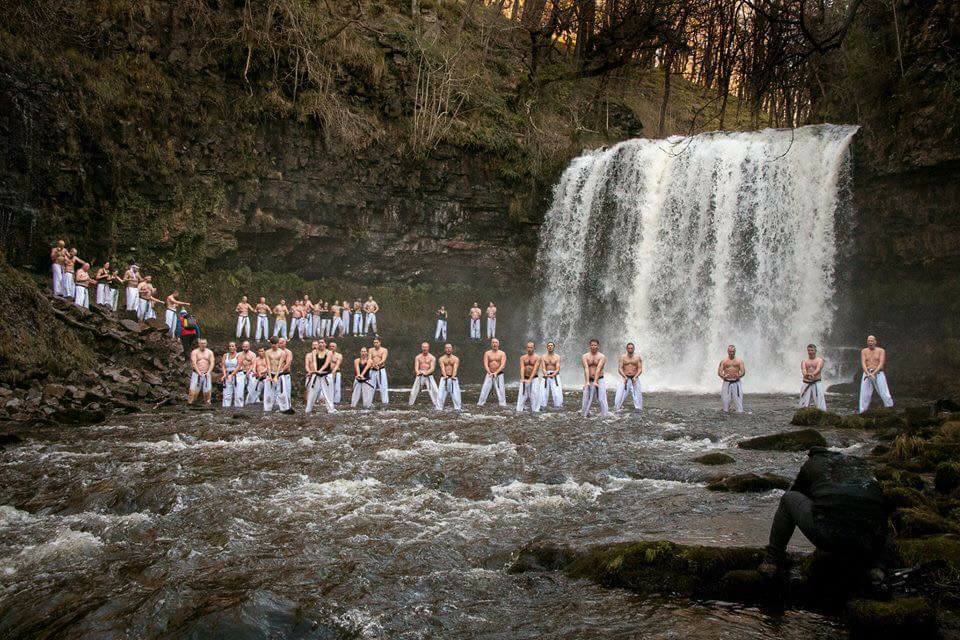 But that did not stop these karate enthusiasts stripping off to train under the icy waters of Sgwd-yr-Eira falls in Ystradfellte .
It's the 36th year in a row instructor Terry Prescott has done it. He's a sixth dan black belt.
"It's a traditional Japanese style karate and it is quite disciplined and demanding," the 55-year-old said.
"The first Sunday after New Year we go waterfall training to commit to the New Year. It is the kind of thing you commit to, regardless of whether it is snowing or icy.
"It's the 36th year I've done it. For me it is a commitment to the tradition."
Cardiff's Kyokushinkai Karate Club practice under Sgwd-yr-Eira every January (Image: Macca Collection)
The World War Two bunker at the bottom of Pen y Fan you might never have even noticed
One year the path was closed. But that did not stop martial artist and electrician.
"I did not want to break the cycle so I went down there," the dad-of-three said, adding that it was an "exhilarating" experience.
"There was a bit of debris there but we had the attitude that we could not be beaten so myself and one of my students went and did it."
"That water was pretty cold," Terry, from Taff's Well, Cardiff , said.
"I've seen people go in there apprehensive. But then you're up on adrenaline and it's exhilarating.
"No one ever leaves and says 'I'll never do that again'."
In the past people have travelled from as far as Norway to join the martial artists from Cardiff Kyokushinkai Karate Club. This year two men travelled from Ireland.
In the past they have been joined by martial artists from around Europe and the UK (Image: Macca Collection)
This dance-loving pensioner goes for mountain walks every day – and he's about to turn 104
Student and instructor Kevin Evans was also there. The dad-of-two, 45, said: "It gives us renewed energy for the New Year. It's extremely cold and character building.
"It is something you think is going to be difficult and you have to overcome that. It was bloody freezing, if I'm honest, the coldest it has been there for years."
Kevin was shaking when he came out and said: "When you go in you're in a totally different zone. You blank everything out and try and block out the cold. When you do come out you feel like you've achieved something.
"But when you're getting changed you start shaking so you have to get dry before the hypothermia sets in."
As they practised stunned passers-by stopped to watch and take pictures.
This year they were joined by enthusiasts from Ireland and Dirty Sanchez star Matt Pritchard (Image: Macca Collection)
Instructor Terry Prescott has practiced in the water for the last 36 years (Image: Macca Collection)
'A bit of snow makes people behave in an unbelievable way' Police verdict over parking in snow
"There were a fair few walkers up there this year – usually it's pretty empty," Kevin said.
"I think they all thought 'What a bunch of idiots'. But a lot of them were taking photos. They were all wrapped up in waterproof clothes and gloves and hats and scarves and thinking, 'They must be crazy going in there'."
The wind was biting as they walked back to their cars after training.
"With the wind chill, walking back to the car you've got to make sure you're wrapped up warm," Kevin said.
"We went back to the pub and the landlord put on soup and rolls for us and there was a big warm fire in there as well."
Green belt Hayley Clode went under the falls for the third time.
"It is a lot about perseverance and endurance with the cold water," the 33-year-old mum-of-two said.
"It sets you up nice and ready for the year. It's not easy but it's not meant to be. It was a bit of a shock when we got there and realised how cold it was. That made it more difficult."
Source: walesonline.co.uk