The KWU held its 5th World Youth Tournament in Varna, Bulgaria
from 3-4th December, and was hosted by the Bulgarian Kyokushin-kan Federation on behalf of the KWU.
The BKK, as an IFK federated member of the KWU, selected 5 fighters, three from Wales (Dylan Baldwin, Luke Jones, Jaime-May Rowlands), and two from England (Callum Pearce, Olivia Pickthall) to represent Team GB.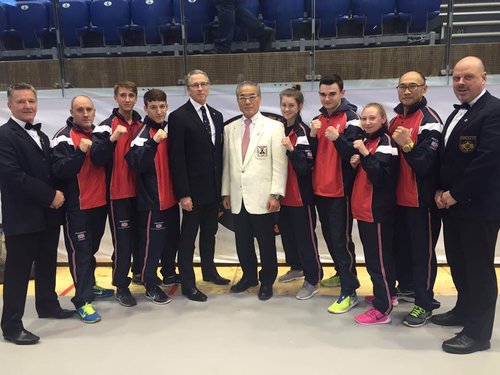 The under-18 event, with competitors from 12 years upwards, was perhaps the largest and strongest tournament for Kyokushin rules with over 666 competitors from 33 countries, across 32 categories.
The logistics of transporting all the competitors to Varna plus registrations was quite a challenge. Some country teams were united (under a single team of multiple organisations) and others had separate teams primarily from member countries IFK, Kyokushin-kan, KWF and Shinkyokushin but there were also representatives from Rengokai, WKB and other independents from Japan.
The team left the UK in the early hours of Thurs 1st Dec arriving in Sofia with a long stop-over, finally arriving at the team hotel in Varna closer to midnight; some of the team had been on the move for close to 24hrs and departing Sofia for Varna gave them their first contact with other countries also on the same flight. Speaking with other country coaches and teams, their travels into Varna were even longer.
The following was long and arduous day which saw the GB team safely weighed at 3.00pm and teams still arriving at the hotel late into the evening everyone was told to be ready to transfer to the venue at 8am the following morning for a 10am start; the last fighter completed weigh-in and medical at 1.30am.
Full report by Sensei Wai Cheung  HERE on BKK website