On April 4 in Moscow, Russia was held meeting of leaders of KWU
Issues of KWU development and international cooperation were discussed. Also, a report of KWU General Secretary on preparation to holding the 3rd KWU World Championship in weight categories was presented.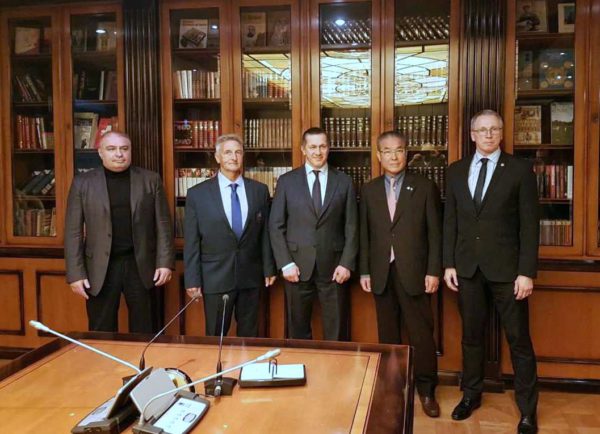 Here are decisions that was made:
---
Meeting of KWU Co-Chairmen
Date and time of the event: 04/04/2017, 15:00
Location: The House of the Government of the Russian Federation
DECISIONS
1. KWU continues to move along the path of uniting the world Kyokushin into a single sports movement in order to take an honourable place among the Olympic sports in the future.
2. To transfer the location of the 3rd KWU Kyokushin World Championship among men and women in weight categories from Japan to Russia.
3. To hold the KWU International Summer Camp. The event organised with the support of the Bulgarian Kyokushin Karate Federation, that will be held in Varna (Bulgaria) from 02.07 to 09.07.2017. The summer camp will be attended by instructors and coaches from IFK, KI, KWF and other invited Federations of Kyokushin. The expected number of participants is 1500 people.
4. In connection with the exclusion of Shihan Tsuyoshi Hiroshige from the ranks of the international organisation KI, KWU decided to replace the representative of KI in the Judging Committee of KWU with Shihan Koyama Akio.
The election of the Chairman of the Judging Committee of KWU will be held within the framework of the KWU International Summer Camp in Bulgaria in July, 2017.
KWU co-chairmen meeting decisions 04.04.17
---
Совещание сопредседателей KWU
Дата и время проведения: 04.04.2017, 15:00
Место проведения: Дом Правительства Российской Федерации
РЕШЕНИЯ
1. KWU продолжает двигаться по пути объединения мирового Киокусин в единое спортивное движение, чтобы в будущем занять почетное место среди олимпийских видов спорта.
2. Перенести место проведения 3-го Чемпионата мира KWU по киокусинкай среди мужчин и женщин по весовым категориям из Японии в Россию.
3. Провести Международный летний лагерь KWU. Мероприятие, организованное при поддержке болгарской Федерации киокусинкай, которое будет проходить в городе Варна (Болгария) с 02.07 по 09.07.2017. В летнем лагере примут участие инструкторы и тренеры от IFK, KAN, KWF и других приглашённых Федераций. Ожидаемое количество участников составляет 1500 человек.
4. В связи с исключением шихана Цуёси Хиросигэ из рядов международной организации KAN заменить представителя KAN в Судейской коллегии KWU на шихана Кояма Акио.
Избрание председателя Судейской коллегии KWU будет проходить в рамках Международного летнего лагеря KWU в Болгарии, в июле 2017 года.
Протокол совещания сопредседателей KWU 04.04.17
---