On June 19 In 2021, another, 8th Open Seminar of the Małopolska District Karate Association was held in Wieliczka.
The host was the Wieliczka Kyokushinkai Karate Club led by sensei Krzysztof Kopciowski (3rd dan). Under the leadership of shihan : Andrzej Drewniak (9th dan), Andrzej Krawontka (5th dan), and Robert Kopciowski (5th dan), over 100 adepts of the hardest karate style met at the Sports Championship Hall.
Participants were karate players from 11 clubs in Małopolska, but also invited guests from Silesia (Dąbrowa Górnicza, Żory, Zawiercie) and Podkarpacie (Niebieszczany). The presence of the seminar was also graced by the Krakow figthers – former medalists of the World Championships, European Championships and Polish Championships in the persons of Anna Lisowska (2nd dan), Michał Werner (3rd dan), Kamil Mastaj (1st dan).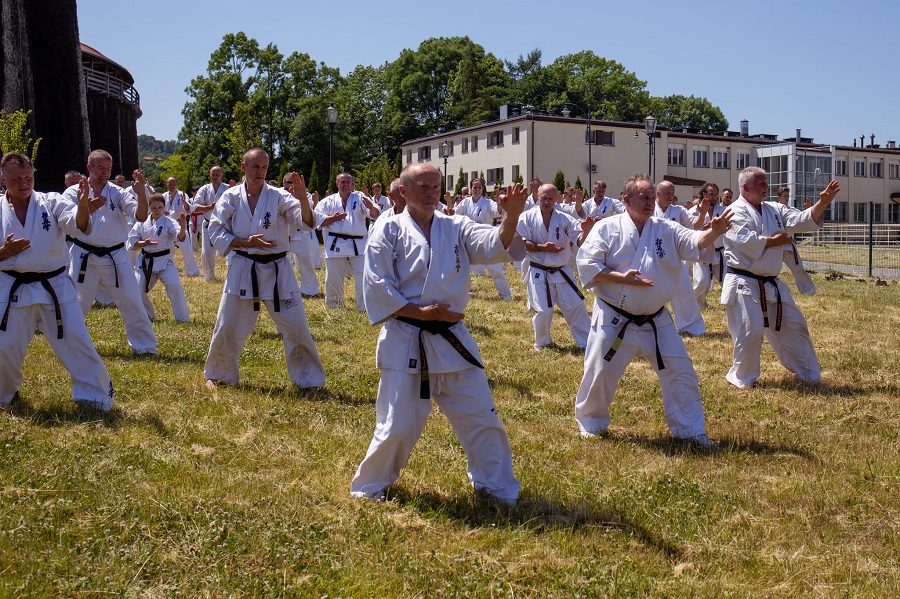 The grouping was focused on kumite, which is the heart of karate, so after welcoming the guests, there was a warm-up with strength exercises in pairs and a combination training on tai sabaki (descents) and perfecting high kicks (kakato oroshi) led by sensei Krzysztof R. Kopciowski (3rd dan). The next item on the program was a 45-minute kumite in the age groups: 12-13 years, 14-15 years, 16-17 years, and +18 years, which is also an examination for participants taking higher grades (kyu). In order to distinguish those entering the test, the candidates for higher grades were marked with self-adhesive numbers on their backs by sensei Arkadiusz Sukiennik (4.dan) (secretary of the board of MOZK).
Osu!
Photos Maciej Grzymek