KWF France 1st Spring camp was held in Gravelines, France
International residential camp under the direction of Shihan Jérôme deTimmerman (5th DAN) and Shihan Paul Lorist (5th DAN NETHERLANDS)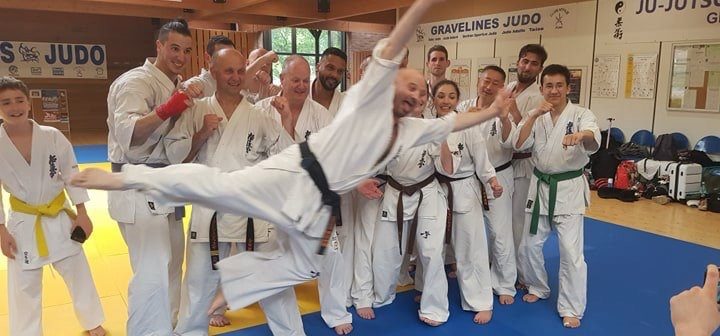 And the French staff Sensei Alain Leclercq 4th dan, Sensei Matthieu Morelle 3rd dan, Sensei Christophe Laigle 3rd dan sports doctor- anesthetist-hypnotherapist and Pascal Chasselat kine-osteopath and the participation of Shihan Robert Wajgelt and Sensei Waldek Lesniewski of Poland.
Internship in Kyokushin tradition with Kihon sessions – Kata – Boot Camp – Kumite but also an introduction to mental preparation, recovery under hypnosis, stretching, theoretical courses on sports nutrition. Trainees will have enjoyed the joys of morning running at 7 am on the beach of Gravelines and the icy water of the North Sea as the swimming pool of the magnificent sports complex of Sportica. A huge thank you to the agents of Sportica (security agents, catering agents – the chef cuisto) who have made up for the failures of the commercial service by their welcome, kindness and dedication!
Thanks to all the trainees for their efforts and good moods as well as the whole instructor body especially Shihan Paul and Robert, Sensei Waldek and "Doc" and Pascal who came from far away. The appointment is made for next year. OSU!