On November 4-7, 2019 in Varna, Bulgaria will be held the kumite seminar with the World champion and the champion of Japan Shihan Kenji Yamaki (8 Dan), World champion Sensei Zahari Damyanov (4 Dan) and World Championship medalist Sensei Alexander Pichkunov.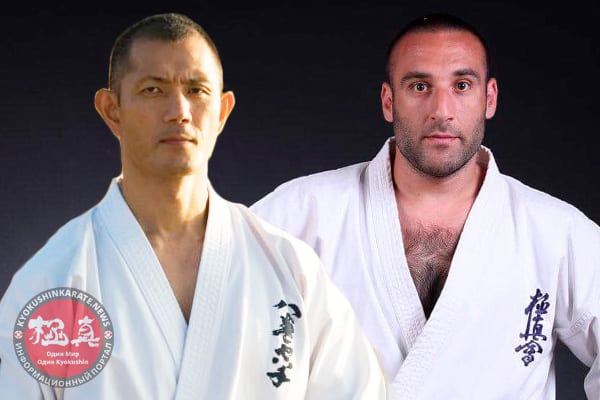 The terms of participation: participants from the age of 16 and not lower than 4 kyu.
The organizers cover the costs of accommodation and meals during the Seminar (11/04/06/2019 inclusive).
Participation in the seminar is free.
Applications for participation are accepted only on the official form until 10/20/2019: kwu_bulgaria@abv.bg
Shihan Kenji Yamaki, 8 Dan: March 22, 1995, officially passed the test hyakunin-kumite, "100 Man Kumite", with the result of 83 wins, 12 draws, 5 losses
The 6th World Open Tournament, November 3-5, 1995 – 1 place (win Hajime Kazumi)
The 5th World Open Kyokushin Karate Tournament, November 2-4, 1991 – 5 place (lost Hiroyuki Kurosawa)
4th World Open Kyokushin Karate Tournament, November 6-8, 1987 – Top32 (lost Ademir da Costa)
The 10th All Japan Weight Category Karate Tournament, 1993 – 1 place (win Kunihiro Suzuki)
The 26th All Japan Open Karate Championship, 1994 – 1 place
The 25th All Japan Open Karate Championship, 1993 – 7 place
The 24th All Japan Open Karate Championship, 1992 – 7 place
The 22th All Japan Open Karate Championship, 1990 – 8 place
The 21st All Japan Open Karate Championship, 1989 – 1 place
The 20th All Japan Open Karate Championship, 1988 – 3 place
The 18th All Japan Open Karate Championship, 1986 – 3 place
Sensei Zahari Damyanov, 4 Dan:
The 11th World Open Tournament, November 20-22, 2015 – 1 place (win Djema Belkhodja)
The 10th World Open Tournament, November 4-6, 2011 – 5 place
The 5th World Weight Category Championships, April 28, 2013 – 3 place, +90kg
The 4th World Weight Category Championships, August 21-23, 2009 – 2 place (lose Mikhail Kozlov)
The 40th All Japan Open Championship, November 1-2, 2008 – 2 place (lose Makoto Taniguchi)
The 23rd European Weight Championships, 2009 – 1 place, +90kg (win Dmitry Lunev)
The 24th European Weight Championships, 2010 – 1 place, +90kg (win Sergey Uvitsky)
The 26th European Weight Championships, 2012 – 1 place, +90kg (win Djema Belkhodja)
The 27th European Weight Championships, 2013 – 1 place, +90kg (win Alejandro Navarro)
The 28th European Weight Championships, 2014 – 1 place, +90kg (win Djema Belkhodja)
The 29th European Weight Championships, 2015 – 2 place, +90kg (lose Alejandro Navarro)
All American Open 2014 – 2 place (lose Aleksandr Eremenko)
All American Open 2013 – 1 place (win Darmen Sadvokasov)
All American Open 2012 – 1 place (win Goderzi Kapanadze)
All American Open 2011 – 1 place (win Goderzi Kapanadze)
All American Open 2008 – 1 place (win Sergio Da Costa)
All American Open 2007 – 3 place
The 3rd U.S. Weight Championships, 2007 – 1 place, -90kg (win Shohei Yamamoto)
Sensei Alexandr Pichkunov:
The 3rd World Championship (IKO), 2005 – 3rd place, + 95kg
The 7th World Open Championship (IKO), 1999 – 3rd place
Russian Cup, 2001 – 1st place
Russian Championship, 2004 – 2nd place
Russian Championship, 1999 – 3rd place