We received an email from Sensei Ismail Yildirim, IFK Country Representative Turkey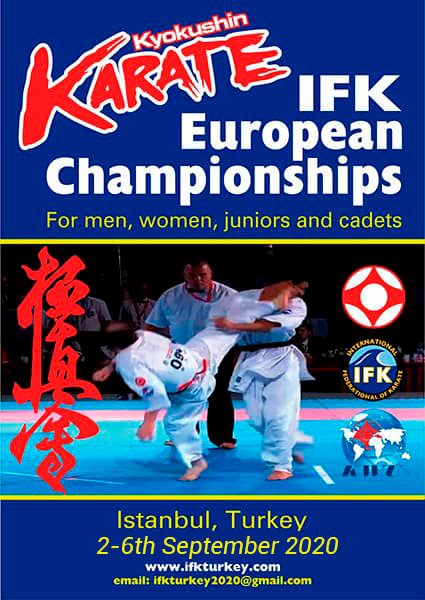 Dear All
I hope you are all well, particularly in these troubling times the world is dealing with.
I would like to express my thanks and gratitude for all the support I have received in having to re-schedule the European Championships in Istanbul due to the Coronavirus.
As you know, after consultation with the IFK Board, the tournament has been rescheduled to 2-6 September 2020. The venue, hotels and package price remain the same even though it is peak season in Istanbul. All deposits paid and fighters officially registered will be transferred to the new date.
In re-scheduling, we were able to secure the deposits paid. If we had to cancel then, unfortunately, these would have been lost. I and the organizers have already ordered and paid for trophies, medals, t-shirts, certificates, transfer arrangements and of course the venue. So, to cancel would have been costly for us all.
Flights can hopefully be re-arranged for a fee and as Turkey is going to be canceling all European flights hopefully a full refund will be offered or free amendment.
I hope everyone will remain positive and continue to look forward to what will be a fantastic tournament. We already had nearly 900 competitors registered and with the new date, hopefully, we can attract even more.
We need your support now more than ever. Onwards and upwards.
Time to be United.
Osu!