Three Days of Karate Training and Fun
The IFK Canada Kyokushin Summer Camp and Retreat is an international camp open to all kyokushin students from any organization.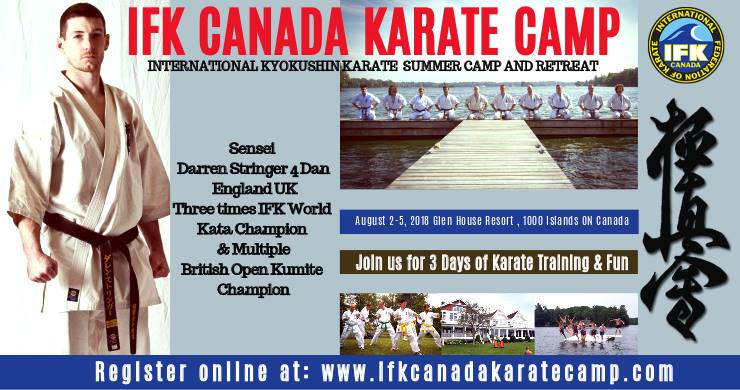 Ages 6 and up are welcome. The camp starts on Thursday 6 PM and ends on Sunday at noon, with 2 training sessions a day by top Kyokushin instructors. Although hosted by the IFK Canada, our summer Karate Camp is open to all Kyokushin practitioners and organisations from around the World.
Prepare to have a great time, wonderful vacation, and learn something new!
Special Guest
Sensei Darren Stringer 4 Dan, England UK
Sensei Darren Stringer is one of the few "all rounders" in the organisation today. He is at home performing in Kata competitions as he is fighting in full contact knockdown tournaments.
-3 times IFK World Kata Champion
-2 times British Open Kumite Champion

Camp Leaders:
– Sensei Steve Fogarasi 4 Dan
– Sensei Jonathan C. Hemond 3 Dan
– Sensei Mikhail Zimerman 3 Dan