IFK Kyokushin Argentina is founded in early 1995, by Julio Romero, today 6th Dan, when he makes contact with Hanshi Steve Arneil, founder and President of "International Federation of Karate-do Kyokushin" (IFK).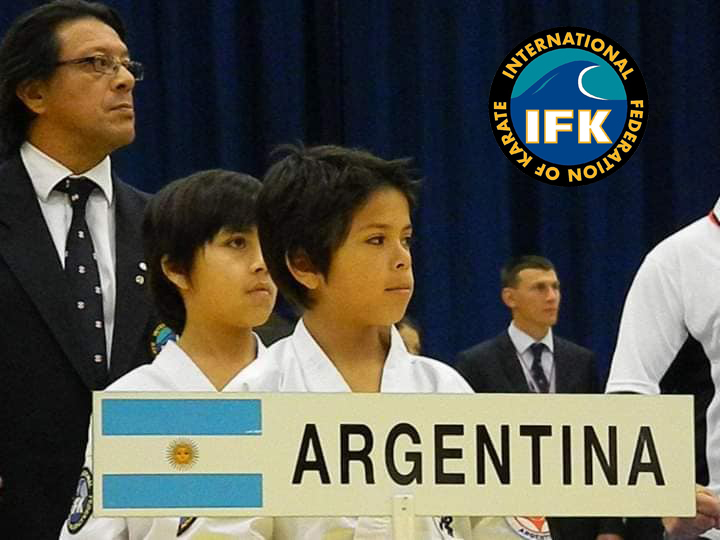 Julio Romero began in the Martial Arts at the beginning of 1979, in a system of the so-called traditional ones. Karate system in which it remained for a little more than 7 years. During this period, he obtains some National awards. Having met Kyokushin through the film "The strongest Karate", he joins to Kyokushin KaiKan Argentina, in these moment directed by Sensei Jorge Raúl Arturo, Representative in Argentina of "International Kyokushin Karate-do Kyokushin kai Kan" (IKO), introducer of Kyokushin in the country. He remained in this organization for a little more than 8 years. During this period of time, he served in different tournaments, sometimes as a competitor,
sometimes as a referee, and always as teacher and coach. He participated in many courses, trained karatekas for National, South American Tournaments (Chile '87; Uruguay '89); 4th World Japan '87.
In 1988 he organized the reception in Buenos Aires of Akiyoshin Matsui (consecrated World Champion in the 4th Kyokushin World Championship in Japan), who arrived accompanied by Shihan Yuzo Goda, Seiji Isobe, Ademir Da Costa.
In 1994 he participated as a coach in the so-called Mundialito Oyama, a posthumous tribute to Sosai Oyama, held in São Paulo, organized by Shihan Seiji Isobe.
In 1995, he joined IFK Kyokushin, founded by Hanshi Steve Arneil. The same year IFK Kyokushin Argentina is founded. In 2020, the 25th anniversary of IFK Argentina will be celebrated. During these 25 years, they have participated in deferents Kyokushin IFK events, courses and competitions: 1997, 1st IFK Kyokushin World Championship in Russia; 1998, Africa Open (2nd Place); 1999,1st IFK Kyokushin World Championship, Switzerland; 1999, 3rd European Kumite Championship (3rd place); 2011, World Children's Championship, England; 2013, 4th IFK World Championship, England; 2016, 3rd World Seminar of Black Belts IFK Kyokushin.
Julio Romero was graduated to 6th Dan by Hanshi Steve Arneil, in person. 2016 1st Kata South American Championship, "Argentina 2016", 1st place for children; 1st position novices, 1st position experts "brown and black belts"; 1st place children team; 1st place adult novices: 1st place adult team experts. 1st U21 South American Championship, Uruguay 2018, 1st place male cadets (16-17 years old); 3rd place junior ladies (13-15 years old). Chile South American Championship 2019, 1st place light category adults; 2nd place youth category, lightweight ladies; 4th place light youth ladies.
IFK Argentina has participated in many courses around the world, directed by Hanshi Steve Arneil: Russia and England '97; South Africa '98 (Kumite); Switzerland '99 (kata), Spain '99 (Kumite);
Argentina 2000, Summer Camp Argentina (1st Summer Camp IFK in South America, directed by Hanshi Steve Arneil); Argentina 2001, 2nd Summer Camp in Argentina directed by Hanshi Steve Arneil; Argentina 2001 (Course with Shihan Jeff Wybrow); Switzerland 2001, 1st World Seminar of black belts IFK Kyokushin; Argentina 2002 (course with Shihan Eduard Gabathuler Representative of IFK Switzerland, and Tomas Imm, at that time representative of IFK Germany); Switzerland 2004, 2nd World Seminar of Black Belts IFK; Switzerland 2008 Summer Camp IFK Switzerland, and Kata international Tournament; Kobudo courses in Paris, France; IFK Great Britain International Summer Camp (British Karate Kyokushin Kai); Argentina 2009, 3rd Summer Camp directed by Hanshi Steve Arneil.
2011, England. Juniors World Championship; 2013, England, Youth, and Adults IFK World Championship; 2013, Argentina, visit to Argentina Senseis Dolores Jaros, and André Emmeneger, Runners-up of the World in Kata. Classes taught by both to IFK Argentina students; 2013 Referee Course 1st World KWU Sofia, Bulgaria; 2018 12th Summer Camp KWU, Kamchia, Bulgaria; 2019 1st Summer Camp KWU, Argentina directed by Shihan Alexander Pichkunov, Secretary General Kyokushin World Unión (KWU).
2020, 25th anniversary.