«ARMENIAN GRAND PRIX 2020» OF KYOKUSHIN KARATE
International open tournament among children, girls, juniors, men and women in kumite and kata on May 10, 2020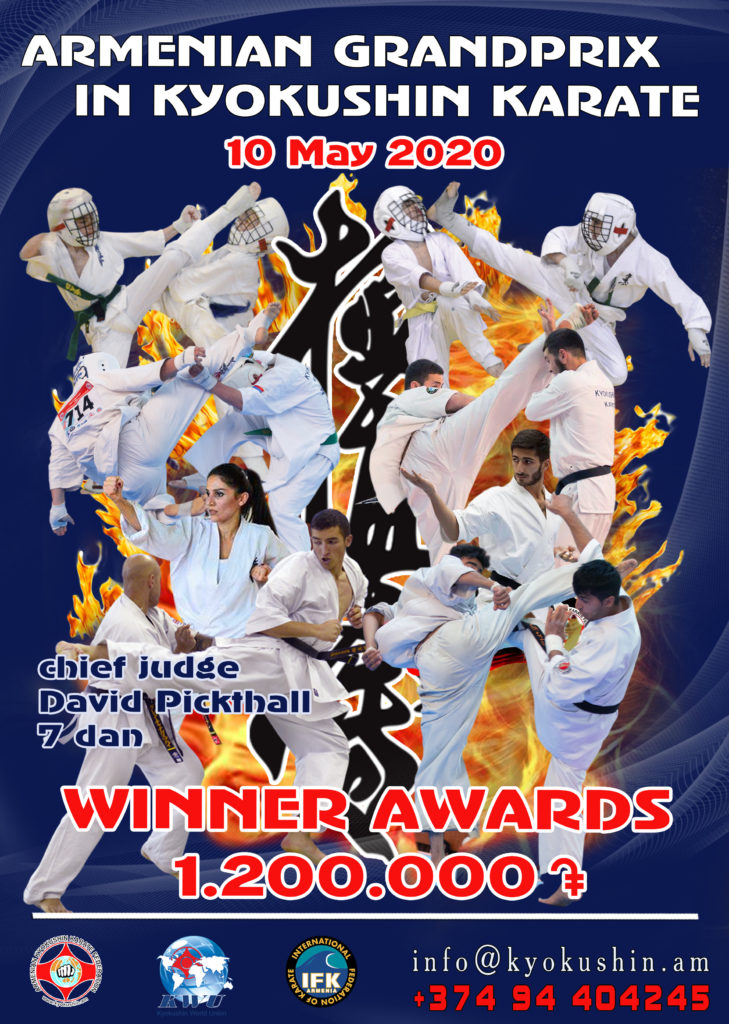 The Armenian Kyokushin karate federation realizes both the whole initiative and the organization of the tournament.
The chief judge of the competition is Shihan David Pickthall (IFK Vice President)
Competitors above 12 years old will compete according to the rules of KWU.
The KUMITE competitors above 12 years old will compete in the framework of
the KWU rules.
Requirements to the Participants, Permission criteria.
The following requirements should be strictly maintained by participants to be admitted to take part in the tournament.
Medical dispensary examination certificate,
Qualification certifying document (budo-passport),
Valid passport or certificate of birth,
Team Application certified by the official representative,
Clean dogi with a belt corresponding to the rank, a neat haircut, and protective means.
Even if any sportsmen breaks a single point mentioned above, he will not be permitted to take part in the tournament. If the sportsman`s name and surname is announced and he doesn`t turn out on the tatami during a minute, he will lose the
fight.
Expenses
All the expenses connected with the tournament organization are met by the Armenian Kyokushin karate federation. The hotel expenses, the expenses connected with the arrivals of teams are met by the organizations and teams heading them.
Awarding
A set of 3 prizes is performed (the second 3 places) in the competition of
each category.
In the male category, a cash prize 1st place – 200.000 drams, 2nd place –
100.000 drams, 3rd place – 50.000 drams;
Winners in a group of 16-17 years old and women with valuable prizes;
Both the winners and the prizewinners of the tournament will be awarded
with medals, cups and diplomas in accordance to the degree.
The preliminary applications are admitted up to the 20th of April:
Address: Yerevan, str. Estonakan 12/1
E-mail: info@kyokushin.am
Telephone numbers: (+374 94) 40-42-45
The following order is an official invitation of participation in the Tournament of Armenian Kyokushin Karate federation.
President Shihan Andranik Hakobyan.
DOWNLOADS: