All Russian Kyokushin Championship 2019
was held on June 1-2 in Moscow Center of Martial Arts and was a qualification tournament for the 4th KWU World championship in Kazakhstan in December.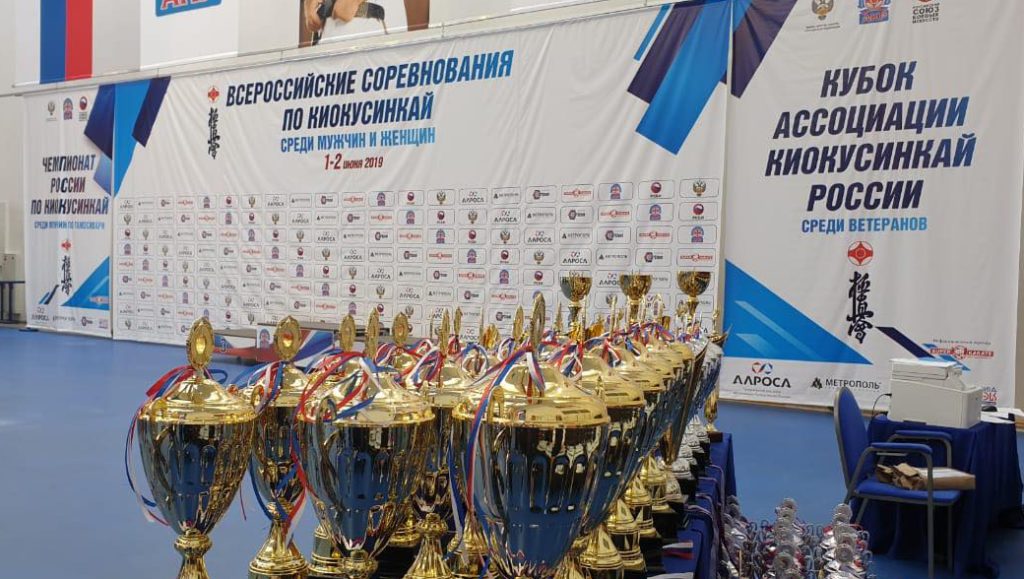 Congratulations to all participants! Osu!
Here are the results after second day:
Women -50 kg.
1.Rima Artemova
2.Elisaveta Kundel
3.Anna Kuznetcova
Women -55 kg.
1.Anastasija Kosyanova
2.Ekaterina Arapova
3.Natalia Konovalova
Women -60Kg
1.Ekaterina Shemina
2.Natalia Baseimbaeva
3.Anna Cheremiskina
Women -65Kg
1.Elisabeth Fiks
2.Ksenia Doronina
3.Anastasia Gumenih
Women -70Kg
1.Elena Zaykovskaya
2.Kristina Golovanova
3.Polina Popova
Women +70Kg
1.Valeria Kolesnikova
2.Olga Ivanova
3.Svetlana Tuchkova
Men -60Kg
1.Oleg Kolokolcev
2.Sergo Armenyan
3.Nikita Trofimov
Men -65Kg
1.Ivan Tumashev
2.Gerogi Krutih
3.Vladislav Kolesnikov
Men -70Kg
1.Artur Krimov
2.Artem Solovev
3.Khasai Magomedov
Men -75Kg
1.Artem Nazaretyan
2.Victor Belyaev
3.Dmitry Ryakhovki
Men -80Kg
1.Eldar Ismaildze
2.Alexandr Sorokopudov
3.Alexandr Drozd
Men -85Kg
1.Stanislav Stepankov
2.Evgeni Otopkov
3.Alexei Fedoseev
Men -90Kg
1.Nazar Nasirov
2.Dmitry Solovyev
3.Artur Tilov
Men -95Kg
1.Vitalii Ishakhneli
2.Nikolay Maslenikov
3.Alexandr Grachev
Men +95Kg
1.Igor Zagainov
2.Vasilii Samadurov
3.Konstantin Fedorov