The Uruguayan Kyokushin Kai Association (A.K.K.U.)
is pleased to present and would like extend the invitation to its 2017 Summer Camp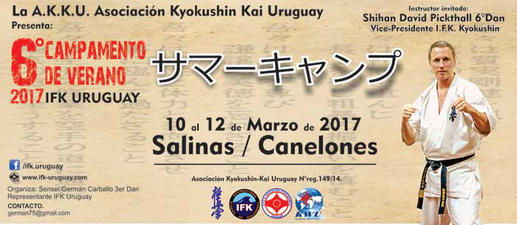 When: Thursday through Sunday – March, 9th – 12th, 2017.
Where: Recreational Military Center, Salinas, Km 39,500.
Guest Instructor: Shihan David Pickthall 6th Dan, IFK Vice-president
Registration form:  www.ifk-uruguay.com/form-camp.html
The entry form must be completely filled out and submit before December 31st, 2016.
The reservation will only be confirmed once full payment is received. Only full payment guarantees a room, food and a spot on the summer camp. Full payment must be received by January 20th, 2017
Travel Information: Transportation from and to the airport and training center will be coordinated individually with international participants.
Contact: For further information please feel free to contact:
Claudia López – International coordinator Email: claudialopez@outlook.com