Spain, 2020 September 20th,
Dear KWF members, Shihans, Senseis, Senpais, and all other Kyokushin friends, Some time ago I addressed you about the radical changes in the world as a result of the outbreak of COVID 19. Five months have passed and the consequences of COVID 19 are still incalculable. There is still no medical solution available yet that will put an end to this pandemic.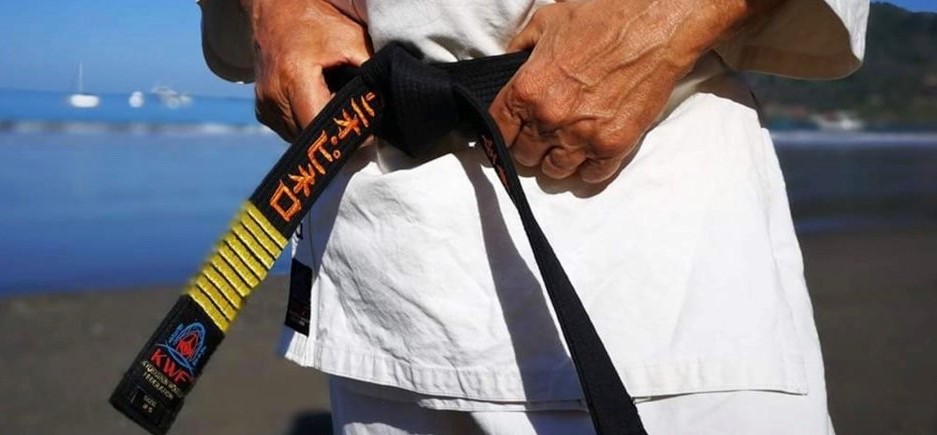 We are starting to find it difficult to cope with the limitations that are affecting our lives. We have had to celebrate our vacations differently, we mainly work from home and practicing Kyokushin in isolation rather than together. Social distancing has become the standard in the world and has great consequences on how we treat each other as human beings.
In February we were able to give to our beloved Shihan Loek Hollander his last farewell in an appropriate way. Shihan Hollander stood at the cradle of the KWF. His whole life was dedicated to Kyokushin. For me personally, his death means the end of a 52-year lasting friendship. For the KWF his passing means that we will have to miss a charismatic leader; a man who was able to connect people and bring them
together.
Unfortunately, it was not possible to pay Shihan Nuriyuki Tanaka the same respect at his passing. Shihan Tanaka was a respected member of the KWF-board. We will miss his enthusiasm and commitment to the KWF. The World Cup tournaments in Chiba which he organized together with his wife and many other Kyokushin friends an annual highlight within KWF. Both are forever in our thoughts and we are indebted to them for what they have done for Kyokushin. We wish their family and loved ones the strength to bear this incredible loss.
Within our KWF a lot of activities such as championships, summer camps, and exams have been canceled. Dojo's are having a hard time because students stay away since training together is not possible. For many of us, it seems to be a lost year, but it does not have to be. Let's all pick up the gauntlet and start this a new season.
A season in which COVID 19 will hopefully come to a standstill. A season in which we have to support each other like we used to do, more than ever. Kyokushin will help us make this start. In some countries, the measures have become more flexible whilst in others, extra measures are being taken. Most of all it is important that we do the things we do safely and that we use our common sense. During the training, we always use enormous willpower on success and victory. Every day we strive for a better tomorrow. Now we have to use this willpower to overcome this crisis together and get back on our feet even stronger than before.
Let us use this time also to think about the future. In my previous letter, I already mentioned that this time is an opportunity to strengthen the mental component of your Kyokushin. I referred to the period in which Sosai isolated himself from the world into the mountains to train alone. Currently, the world seems to slowly retreat from us and forces us to think about the things that really matter. What worries me most is that intolerance in the world is taking on ever-increasing proportions. Like Sosai, let us use Kyokushin to make the world more beautiful and a little friendlier. We are all equal and we all deserve the same rights and opportunities in our lives. Friendship is an important element in our organization; the abilities to trust each other, support each other, and try to understand each other are core values within
Kyokushin. No matter how difficult this can be sometimes. Stay in touch with each other and before you form an opinion look into the motives of others, immerse yourself in people, and their motives. Therefore, besides our focus on strengthening our physical skills and strength, we need to balance it with the spiritual and mental component in our daily training.
Sosai Oyama said that the fundamental truth of Kyokushin is one. Sosai also said that Kyokushin would continue to develop over the years. That there would be a modernization of Kyokushin, training methods, the classification system for championships. He even predicted in the implementation of protective equipment. Sosai Oyama constantly studied new methods and compared them with the old ones,
investigating from new angles. Of course, Kyokushin and the bushido code have their origins in a distant past. However, Kyokushin as well as bushido can only survive if they are seen and lived in a contemporary perspective. It is essential that actions today are determined by the motives based on the existing code translated into modern life. I challenge you to use this COVID time to find your way in this.
Nevertheless, let's not forget to enjoy everyday things that we have long taken for granted. The pleasure we get from our training, a student's beautiful kata, or an understanding of something that suddenly reveals itself. Personally, I experience this period as a test of my dedication to Kyokushin. In my training the search for harmony, health, and personal growth in budo is key. As I've always been telling you, this helps me to get better as a person. I invite you to join me on this journey along the path that Sosai has paved for us: The Kyokushin Way.
I wish you all the best and hope to see you soon.
OSU!
Antonio Piñero
President KWF