DATES  From Thursday 25th until Sunday 28th May 2017 (Long Holiday Week-end).
PLACE Ethic Etapes Center – 1, rue du Stade 41206 Romorantin-Lanthenay (centre of France)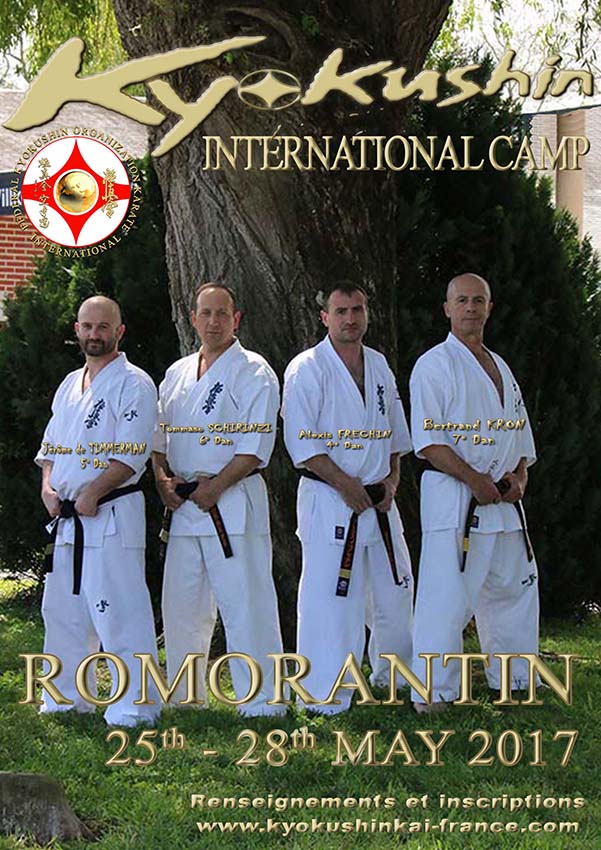 Access Map (Romorantin-Lanthenay)
Access Map (Hotel & Dojo)
GPS adress for Hotel – 1, rue du Stade / ROMORANTIN
GPS adress for Dojo – 15, rue des Champs-Ragot / ROMORANTIN
Romorantin-Lanthenay is situated in the Loir-et-Cher (Loire Valley area) in the western-centre of France at 41 km from Blois, the department capital, 172 km from Paris.
TEACHERS
Shihan Bertrand Kron (7th Dan – France)
Shihan Tommaso Schirinzi (6th Dan – Italy)
Shihan Jérôme de Timmerman (5th Dan – France, National French coach)
Sensei Alexis Fréchin (4th Dan – France)
[bctt tweet="18th INTERNATIONAL KYOKUSHIN CAMP France 2017″ username="kwunion"]
LANGUAGES
Français
English
Español
Italiano
SCHEDULE
Welcoming

on Thursday

before

10:00 am

! (best possibility to arrive

on Wednesday

),
End of the camp

on Sunday

after lunch (mandatory)
o   Common courses and groups, outside closed field or main regional Dojo depending of the weather
o   Kihon, Ido Geiko, basic and advanced Kata, Bunkai, Bunkai kumite, Kumite, Taiki Ken, Shiwari and surprises…
o   All level from beginners to advanced high ranks
BRING
2 dogis, 1 track-suit, old training shoes. Shin pads and fighting gloves. Personnal pharmacy. Towels.
ACCESS
Nearest airports:
South Paris (Orly) – 170 km
North Paris (Roissy Charles-de-Gaulle) – 230 km
Train
Terminal to Romorantin station then 10 minutes walking.
Road via motorway A85, exit 14, then 5 km to Romorantin
South of Paris – 170 km
West of Genève – 400 km
South of Rotterdam – 600 km
South of Bruxelles – 500 km
North of Barcelona – 800 km
North of Roma – 1200 km
East of Varsovia – 1500 km
REGISTRATION
The camp is open to everybody from Martial Arts, all karate styles or Kyokushin groups.
FEES
Fees includes courses, accommodation and meals (same fees for students or accompanist).