The elimination tournament has taken place in the very end of August
and this influenced the final composition of the Russian team.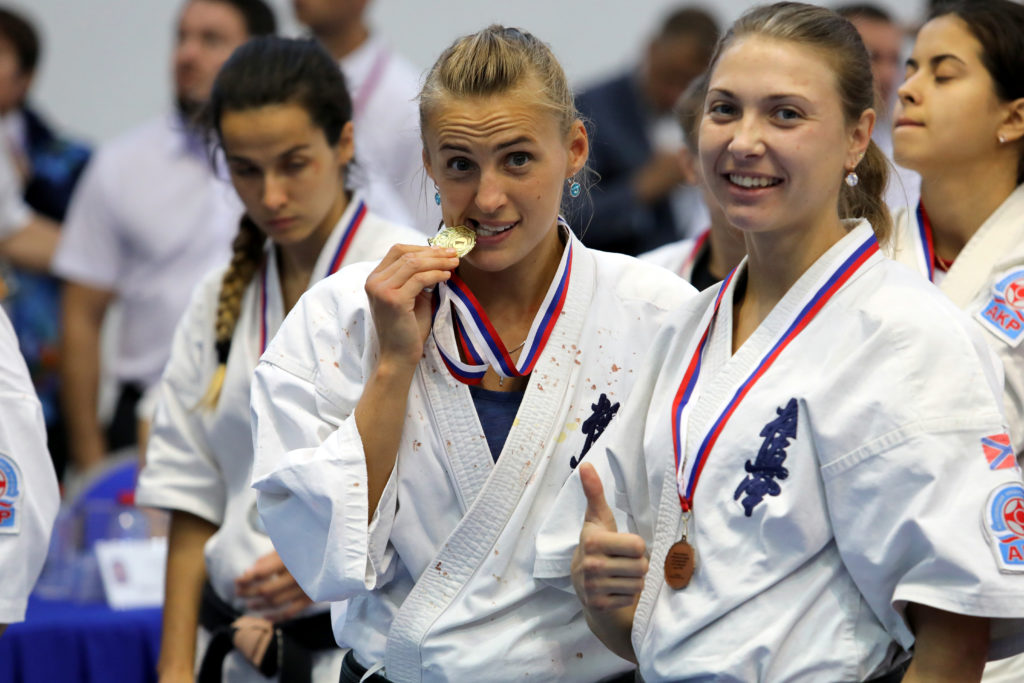 Not many Kyokushin athletes have the experience of getting into the top of their physical shape in the end of the summer. This is why very few fighters were in their best conditions and it was easy to notice.
Some of them had to compete just after going through pre-season camps' challenges, some did not fully recover after participation in IFK and WKO World Championships…
If the elimination took place at least in September, results in some weight categories could be different.
However, it would be inappropriate to delay forming of the national team in a country, hosting the World Championship.
So, meet the strongest Russian national team as of today, in which all the fighters deserve their places.
Let's start with a female part of the Russian team.
Five out of six female athletes in the national team are representatives of Russian IFK and only in a weight category under 60 kg a female shinkyokushinkai representative managed to fight through to the victory.
The owners of the black belts from 1st to 3rd dans were selected to the team.
The youngest athlete among females, Alina Polishyuk, in 21, and the oldest, Svetlana Tuchkova turned 34.
All selected national team female representatives have a good international standing and experience of participation in world championships.
Only the youngest one, Alina Polishyuk, does not yet have World Championship medals.
Rimma Artyomova has become a World Championship silver medallist in May of 2017, and Maria Panova, Svetlana Tuchkova, Anzhelika Sabaeva and Svetlana Beryozova already had an experience of becoming the Champions of the World. Moreover, Maria Panova and Svetlana Beryozova had silver medals of World Championsips as well, and Anzhelika Sabaeva was the winner of KWU World Championships twice.
The female national team of Russia for the 3rd KWU World Championship is very strong and will be fighting for the national medal score.
50- kg. Rimma Artyomova – 03.12.1992 / 1 dan
Main achievements:
2017 IFK World Championship silver medallist;
Two times prize winner of IFK European Cup;
Two times prize winner of IFK Championship of Russia
---
55- kg. Svetlana Beryozova – 29.08.1988 / 3 dan
Main achievements:
2013 KWU World Champion;
2013 IFK World Championship silver medallist;
Four times prize winner of European Championships (IFK, KAN);
2017 KWF Championship of Asia winner;
Four times Champion of Russia and 7 times prize winner of the Championships of Russia.
---
60- kg. Alina Polishyuk – 30.04.1996 / 1 dan
Main achievements:
European Champion;
Championship of China winner;
European Cup winner;
Diamond Cup winner;
Open Astana winner;
Three times Champion of Russia
---
65- kg. Anzhelika Sabaeva – 29.04.1989 / 1 dan
Main achievements:
Two times KWU World Champion – 2013 (Sofia, Bulgaria) and 2015 (Khabarovsk);
2016 KWU European Champion;
2014 IFK European Cup owner;
2014 IFK Valencia Cup owner;
Five times Russian Champion and two times Championship of Russia prize winner
---
70- kg. Svetlana Tuchkova – 04.01.1983 / 2 dan
Main achievements:
2013 IFK World Champion;
Champion and silver medallist of European Championship;
European Cup silver medallist;
Championship of Russia winner and two times prize winner
---
70+ kg. Maria Panova – 31.07.1987 / 1 dan / Police major
Main achievements:
2009 KAN World Championship winner;
2013 KWU World Championship silver medallist;
Two times winner and two times prize winner of European Championships (IFK, KAN);
Two times Champion of Russia and six times prize winner of the Championship of Russia
---
Official website of the 3rd KWU World championship among men and women in weight categories: www.kwu2017.com
#KWUCHAMP #KWUCHAMP2017 #KWUNION 
Follow Kyokushin World Union – KWU Social networks: @KWUnion